XTQ automatic commercial industrial textile/clothes washing drying machine (laundry equipment)
Main Technical specifications(15kg~100kg)
Type

XTQ-15H

XTQ-20H

XTQ-30H

XTQ-50H

XTQ-70H

XTQ-100H

rated capacity

Min

10kg

15kg

20kg

35kg

50kg

70kg

Max

15kg

20kg

30kg

50kg

70kg

100kg

Drum

Diameter

636mm

700mm

900mm

1080mm

1080mm

1200mm

Diameter deepness

470mm

500mm

500mm

575mm

730mm

856mm

Overall Dimension

Hight

1300mm

1400mm

1635mm

1800mm

1800mm

2030mm

Length

1240mm

1260mm

1460mm

1610mm

1760mm

1990mm

Width

1000mm

1050mm

1400mm

1650mm

1550mm

1690mm

Drum speed

Washing rotate speed

45r/min

45/min

36r/min

35r/min

33r/min

31r/min

Uniformity speed

90r/min

85/min

80/min

75/min

70/min

65r/min

Mid speed

450r/min

450/min

420r/min

380r/min

350r/min

310r/min

High speed

890r/min

890/min

780r/min

760r/min

680r/min

680r/min

Motor

1.5kw

2.2kw

3kw

4kw

5.5kw

7.5kw

Draining valve

0mm

φ70mm

φ100mm

φ100mm

φ100mm

φ140mm

Filling with water

Hot water pipe

3/4"

3/4"

3/2"

3/2"

3/2"

3/2"

Cold water pipe

3/4"

3/4"

3/2"

3/2"

3/2"

3/2"

Steam pipe

3/4"

3/4"

1"

1"

1"

1"

Power supply

Standard:380+N-3PH-50HZ
Main Features
XTQ series automatic-fully washer extractor:

Automatic washer, Automatic-fully washer extractor, Automatic-fully washing and dewatering machine, Automatic-fully washing and extracting machine, Automatic-fully washer, Automatic washing machine, Washer extractor, Laundry washing machine, Laundry washer extractor, Laundry equipment, Marine washer extractor


1. laundry washer extractor Fully automatic, microcomputer-controlled.
2. Industrial washer extractor has high quality stainless steel, good appearance, long life.
3. Microprocessor,freely programmable,5 standard programmes, 25 possible programmes.
4. Full suspension shock sructure, suspension, combination of shock absorbers and springs for maximum absorption, need no excessive foundations.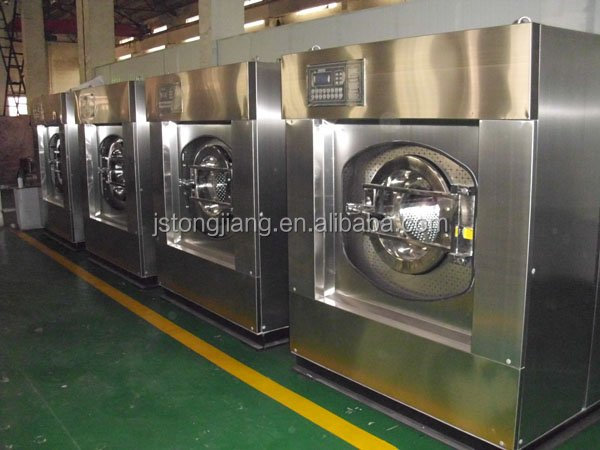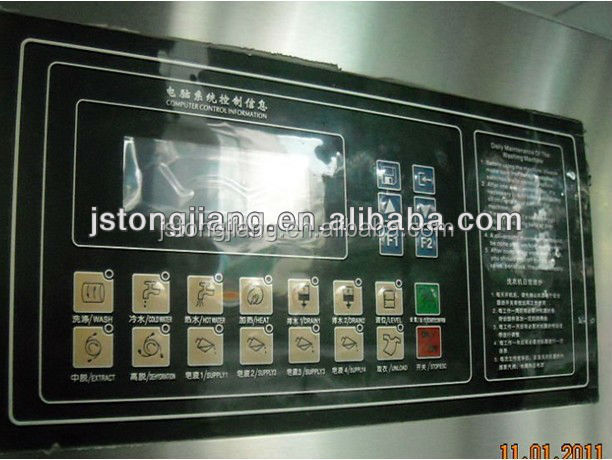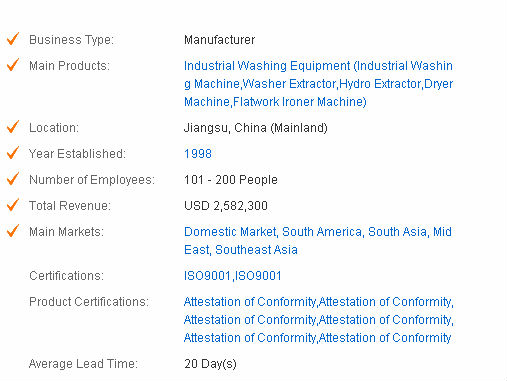 Tongjiang Washing Machinery Factory mainly products entire suspension type washing machine,inductrial washer,hydro extractor,tumble dryer,flatwork ironer,washer extractor,folding machine,transport type carpet cleaning machine and finshing equipment and so on.The products are not only popular in hotels and restaurants,butalso in hospitals,railways,troops,uni-versities and colleges and some washing & dyeing industrials as well as in more than 30 countries in Southeast Asia,Americas,Europeans and South Africa.With beautiful features,durable performance and diverse varieties,our products has wined a leading status in the industry and received good reputation from oversea market.
Product Advantages
1. 18 years laundry machine producing experiences.
2. Free accessories in 1 year.
3. Leading manufacturer in domestic.
4. Convenient transportation ( Near shanghai port ).
5. Attain strict CE and Iso9001 Quality System Certification.