All online China manufactures Superior quality rainbow lady human hair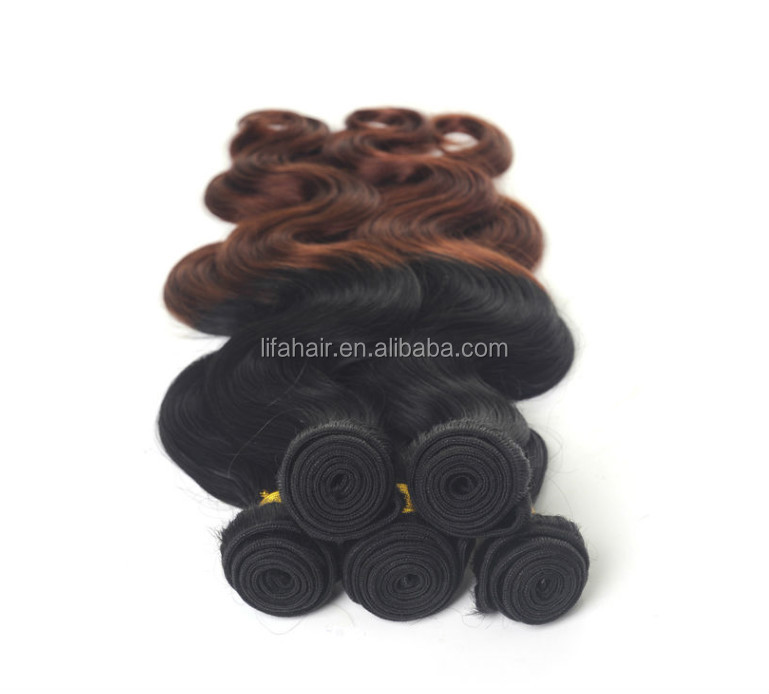 Products Description:
Hair material

100% Virgin Hair

Hair length

8"-34"in stock, other is available

Hair color

1#,1B#,2#,4# ,613# in stock, other color is available

Hair texture

body wave, deep wave, loose wave, straight wave, kinky curl, natural wave, yaki and afro curl.

Feature

Sells by pieces,100grams/pc

1) 100% pure virgin human hair

2) Tangle free & no shedding.

3) Various styles & textures.

4) Top quality with competitive price

5) Soft touch & comfortable feeling.

6) Many stock, prompt delivery.

7) Sample order & Paypal accepted.

8) Not mixed so much short hair, the cuticles are on the same direction.

9) Extremely durable and can keep the texture after washing.

10) It can be well processed by yourself, can be dyed, ironed, etc.

Minimum order quantity

accept a trail order to test, no min order limit.

The more u order, u big discount u can enjoy.

Payment term

1. T/T, Western union, Paypal stock and sample order, we receive full payment before send out.

2. For OEM order of big quantity, 30% deposit before we produce.

Delivery time

within 2day after payment

Ship carrier

DHL, or ups, fedex etc

Packaging list

Transparent poly bag or also pack it with your requirement
Product show: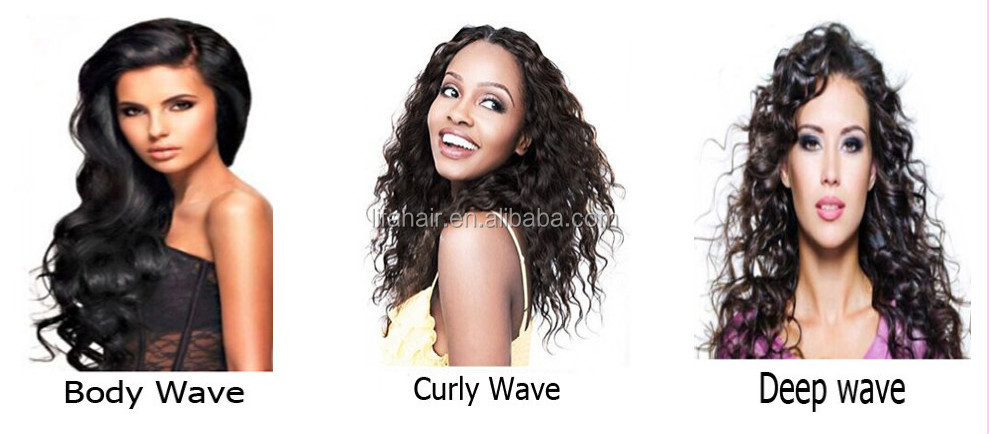 How to Care: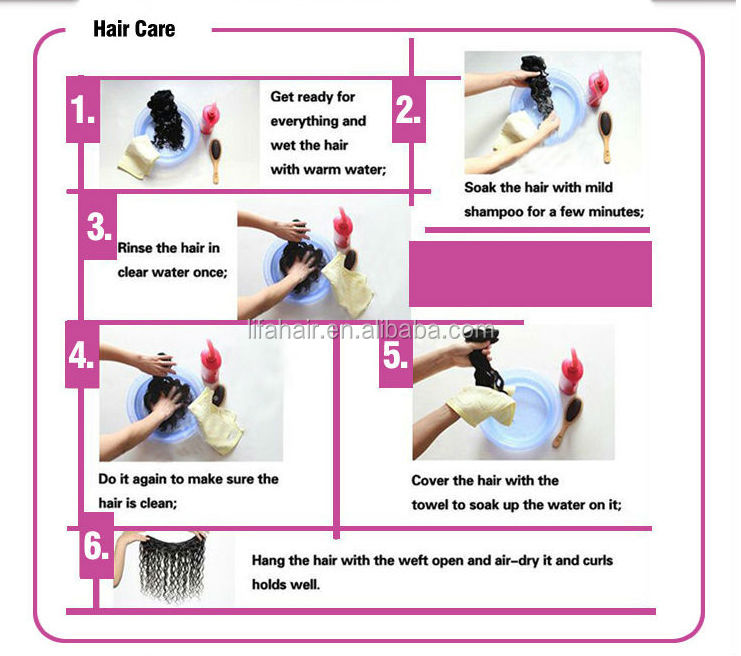 The following provides general guidance for there are of human hair products.
As each individual product may vary, consult your hair stylist for specific instructions
1. Wash and condition hair regularly.
2. Detangle hair gently before washing. Do not rub or twist hair.
3. Add mild shampoo to cool water and swish hair till clean. Rinse thoroughly.
4. Blot out excess water with towel and allow hair to dry naturally. Do not expose to sun
5. Comb curly hair gently with your fingers. Do not brush.
6. Brush straighter hair in a downward motion straight with the ends. Work your way up to the roots.
7. Certain items should not be brushed. EG braids, DOME, ETC. Consult your hair stylist if in doubt.
8. Hair may tangled if general care directions are not followed properly.
Shipment Description: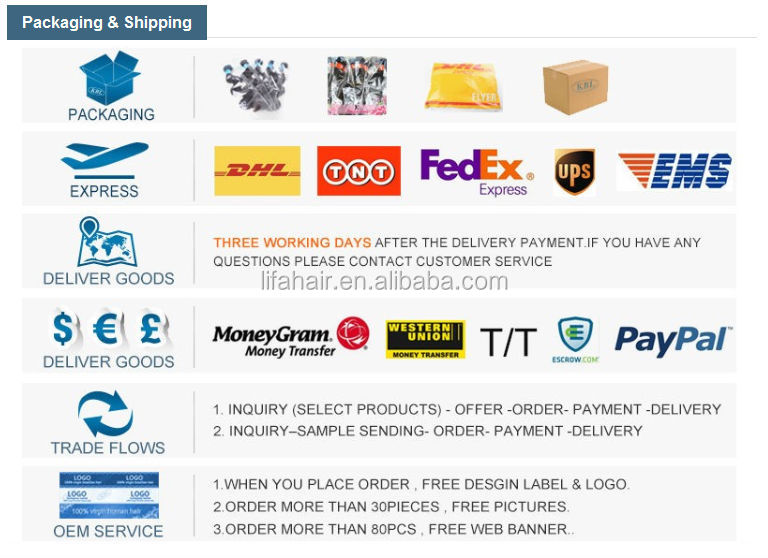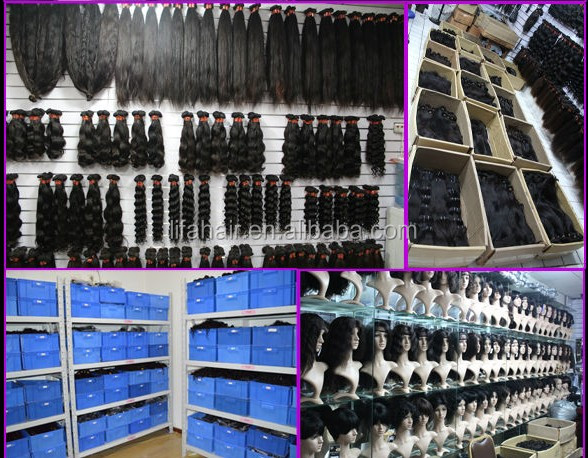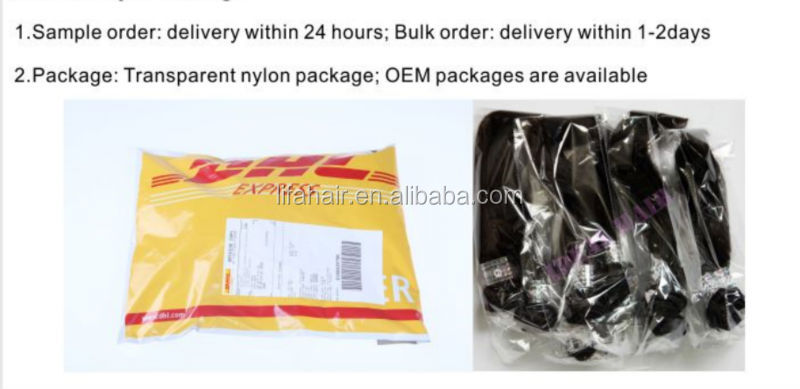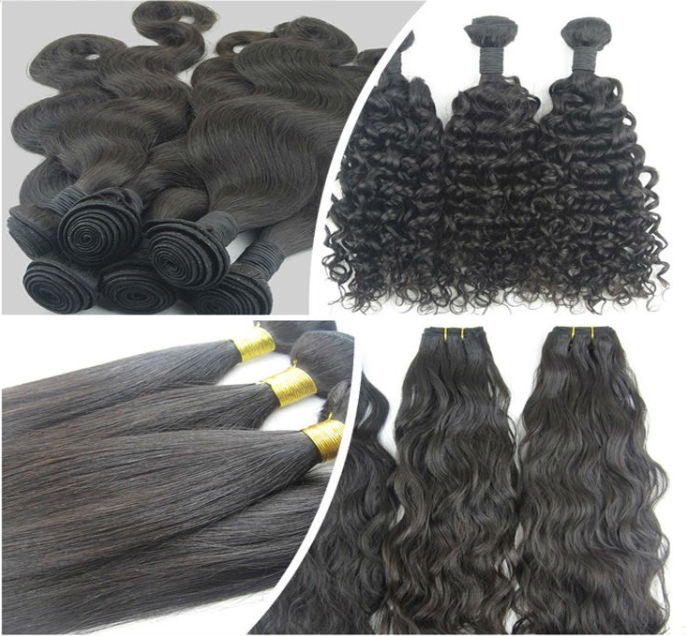 Q1:How many pieces Hair for one head?
Normally 2packs are enought for a full head, at most 3packs.
You can always use the leftover hair later. If you are using hair over 18" long you might need another pack.
If you are getting fusion or micro then you will need to consult your stylist.
Q2. What type of hair care products should I use?
A : Treat this hair just as if it was your own hair.
1, Use good quality shampoo and hair conditioner to care the hair. It's important to keep the hai soft and shiny.
2, You could use gel or spray styling products to keep the hair style.
3, Olive oil will be a good choice to keep the hair healthy.
Q3:Why are my hair extensions getting tangled?
Your Hair Extensions can tangle due to dryness, oil & dirt build-up, salt water, chlorine and not combing (wide tooth comb) out your hair daily.
Make sure to wash & condition your hair at least once a week, twice a week is better.
Use hydrating drops or consult your stylist for more help.
Q4:How long does it last?
This hair can last for a very long time depending on how you maintain it.
Treat it like your own hair and take very good care of it for it to last longer.
If you buy 100% virgin hair and take good care of the hair, it can last for over one year.
Q5: Why the colors of hair extensions don`t seems exactly as the pictures show or description says?
A: Different monitor have different displays. The same color number may have a little color difference.
You could dye the hair if you need different color.
Q6: How to tell human hair with synthetic hair?
A: human hair has natural protein . It is easy to tell by burning and smell : human hair will be ash ,
which will go away after pinching. human hair will smell foul . When burning , the human hair will show white smoke.
While synthetic hair will be a sticky ball after burning and will show black smoke. Moreover,
human hair may have very few gray hair and split ends. It is normal and not a quality problem.