Neutral Silicone Sealant One Component For High Temperature Oven
Application
1. Major used in lamp, electrical appliance industry
2. Anti-shake and shock, support separate parts
3. Widely used in thermo stability environment, as encapsulant and adhesives
Properties
1. One part, neutral, quick cured general purpose silicone sealant, without any obvious unpleasant odor, applied easily.
2. Suitable to used in general appliance structural as sealant and insulator, no corrosion to most metal parts
3. Have strong adhesion strength and good ductility to most kinds of material
4. Excellent weather resistance, with rather good resistance to acid, base, salt and lube oil.
Parameters
| | | | |
| --- | --- | --- | --- |
| Color | Semi-transparent/white/black | Viscosity | cream |
| Specific gravity | 1.0g/cm³ | Durometer(HAS) | 28 |
| Tensile strength | ≥1.6Mpa | Shear strength (Mpa) | 1.2 |
| Elongation | 300% | Application temperature(℃) | –50-+200 |
| Breakdown voltage | 23kv/mm | Volume resistivity | 5X1014Ω•CM |
| Dielectric constant | 3.0(1MHz) | Tack-free time | 8mins(20℃,50% RH) |
Service
1. We provide whole set technical file.
2. We offer customized product due to different demand, especially some special property.
3. Welcome to discuss with us about product and solution.
Shelf Life
When stay unopened, shelf life is six months from the date of manufacture, keep in cool and dry place (-20℃~27℃).
Attention

Complete solidification product is innoxious. But keep out of children's reach and avoid touching with eyes before solidifying, work in ventilated place. And due to work environment and condition is varying; we recommend that test product before using.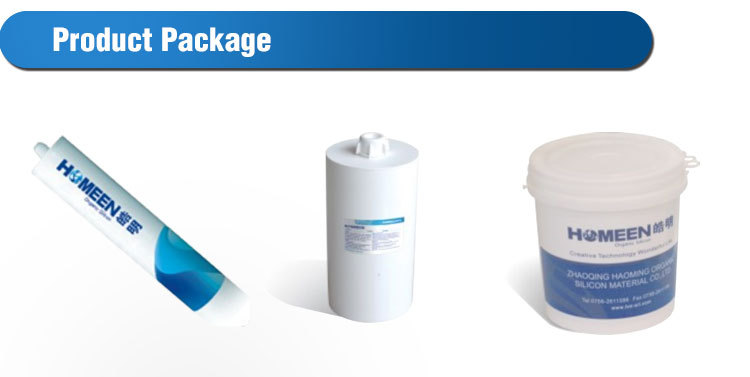 Storage
Silicone encapsulant should be stored at -20℃~27℃.Our sealant has a usable life of 9 months when stay unopened since the manufacture date.
Remark
Completely cured sealant is non-toxic, but do not directly contact with eyes or kids. Should keep ventilate when applying. We suggest that before applying, customer had better have a test to make sure our sealant can highly meet your demand.
PACKAGING

Cartridge 300ml/pc ; toothpaste tube 100ml/ pc.
1. What are the normal package ?
100 ml /300 ml /2600 ml /18.9 L for one part silicone sealant
1 kg /tin for heat sink compound
20 kg / barrel for two parts potting compound
2. Normal application temperature ?
Normally it's -50C - +180C ,depends on specific item .
3. Does your silicone sealant corrode metal and plastic ?
No, it doesn't .All of our silicone sealant are neutral .
4. What kind of silicone sealant are you selling ?
We are selling neutral silicone sealant for LED ,automobile ,Solar PV ,consumer electronics ,craft ,etc
5. Are your silicone sealant Eco-friendly ?
All of our silicone sealants are Eco-friendly ,they have gone through RoHS, REACH tests every year .Some have UL certificates .
6.What is the Shelf life of your silicone sealant
When stay unopened, shelf life is six months from the date of manufacture, keep in cool and dry place (-20℃~27℃).

1. We have been in silicone sealant industry for more than 10 years
2. We have supplied our silicone sealant to many famous brands in and out of China ,which include Philips India ,Videocon ,Midea ,Galanz ,Nationstar ,FOXCONN ,etc .
3.Haoming provide comprehensive range of electronic silicone sealant ,which are widly used in LED ,Solar PV ,automobile ,consumer electronics ,etc .
4. We have a professional R&D team ,products have stable quality .