Best natural SUIGO brand hair conditioner/best hair conditioner /keratin hair treatment shampoo
About Suigo brand
Marring the best in technology with an environmental ideology,Suigo boasts exceptional manufacturing and filling capabilities,whilst never losing focus on its driving ideal: the production of goods using 100% natural ingredients. Flexible and personal,our team can manufacture to your own formulation or can create an individualised formula to meet your requirements. Our specialised Formulation Team was assembled as if a delicate formula in itself,and revolves around the combined skills of a herbalist,an aroma therapist and a formulation chemist. Our Product Development team also works closely with your marketers to create the perfect product for you. The result is a customized,carefully crafted and expertly manufactured product of the highest quality that will cater directly to your consumer base.
Vol:260ml/680ml/1000ml
Feature: Vital Nutrition Hair Condtioner
The vital nutrition conditioner from the SUIGO care line range is formulated with nutri-Injection technology that nourishes the hair and restores the moisture balance,
protecting it from dehydration and external influences such as UV rays and chemical services.
Main Ingredients:
Keratin:Nourishing hair,smooth the damaged hair and repairing the coarse hair.
Vitamin E:Anti-Oxidant,effective avoid the fleeciness and messy hair.
Directions:
Apply to towel-dried hair after cleaning with shampoo.
Massage or comb product through.Leave in for 5-15 minutes.Rinse thoroughly.
Brazilian Keratin , is a family of fibrous structural proteins. Keratin is the key structural material making up the outer layer of human skin. It is also the key structural component of hair and nails.Keratin monomers assemble into bundles to form intermediate filaments, which are tough and insoluble and form strong unmineralized tissues found in reptiles, birds, amphibians, and mammals. Studies have shown topical application of hydrolysed keratin gives significant increases in skin elasticity and hydration.Due to its moisturising properties, hydrolysed keratin has also been incorporated into shampoo and conditioner.Larger keratin structures such as those formed by cornification cannot penetrate the skin so cannot be used as moisturisers. However there are other uses, from hair loss concealing products using fine hair fibres to hair thickening accessories like hair extensions.We use the keratin to strenghthen hair,nourish the scalp and the hair as a keratin hair treatment.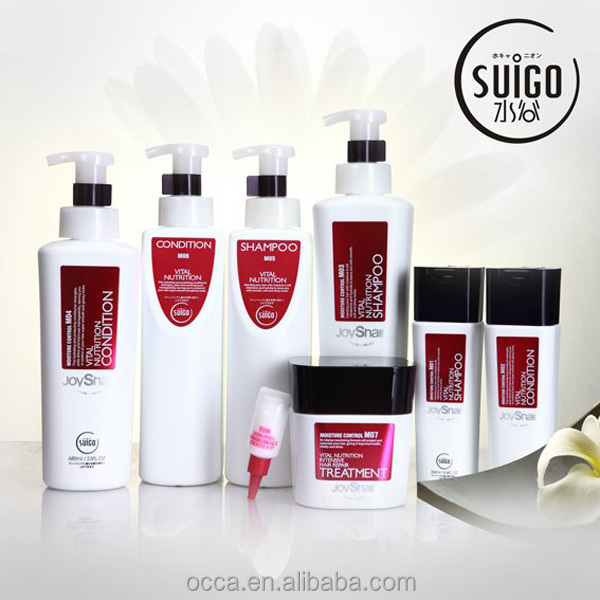 1.About OCCA
As the subsidiary of PLG(HK) Holding Limited, Guangzhou OCCA Chemical Limited is one of the most professional manufacturers of hair & skin care products in China, specially devote in developing professional hair beauty products for high grade salons. OCCA has strong sense with the trend of international fashion and develops lots of styling and perm products to satisfy young and fashionable people. With years of experience in this market, OCCA has gain high reputation among customers at home and abroad due to good quality and excellent service.
2.Our brands of OCCA
We have three brands of professional hair care line.
SUIGO
BYCITY
BALCO
They are all the complete line including shampoo, hair conditioner, hair treatment, styling, perm and color. To suit different market, we design SUIGO as the top grade brand target at highest market. And BYCITY & BALCO target at middle to high market. This enables customers to choose the most suitable products easily according to their market.
Q1: How about the quality of product?
A1: Our company have certificate of GMPC/SGS/ISO. We also have a team of QC to control and inspect every lots of products is in perfect condition before delivery. Because we fully understand that it will be a great trouble if our products have any problems during selling at oversea.
Q2: What you can do if I want to do customization?
A2: If customer has any needs of customization or OEM service, please contact our staff for more information. For appearance change, like Logo, outlook adding, print, language, it would be easy to achieve. For ingredient change, please arrange sample for us .
Q3:What is the current characteristics of China market?
A3:1) Great feedback of quality.
2) Professional products package.
3) Complete products range.
4) Strict marketing control policy.
5) Good brand image.
Q4: How long is the delivery time?
A4: Vary from 15 days to 25 days depending on the styles and quantity of products ordered.
Q5: What service can I get from Factory?
A5:1) Quick responses with full attention within 12 hours.
2) Free samples, courier charges on account of customers.
3) OEM orders are welcomed.
4) Samples and production status updated promptly.
5) Fast and safe delivery for samples and orders.
6) Best service before and after sales.
Q6: How can I get the samples?
A6: We can provide free sample for testing. Air freight should be paid by customer.