Well trimmed pet nails are essential for good care and grooming.
[ Keeping Paws Clean and Healthy ]
" Pliers Style Nail Scissors" have long lasting stainless-steel blade. You also can choose
antibacterial stainless-steel blade to prevent the spread of bacteria. Pliers nail clippers
feature a stainless cutting stop guard and safety lock for easy and safty using . Based on
ergonomic features designed, so that you can use it more comfortable, and more convenient.
Nail trimming should be a regular part of your pet's grooming. It is important to your pet's
well-being to keep the nails properly trimmed.
Material
Handle: Fine plastic handle with non-slip rubber grip
Blade: High stainless-steel blades
Five sizes available ( OEM are welcome )
Item No.

Specification

20NCC-31

Size:16.5*5.0*1.7CM,

Blade thinkness:0.34CM


20NCC-21

Size:14.0*4.2*1.5CM,

Blade thinkness:0.24CM

20NCC-11

Size:13*4.2*1.3CM,

Blade thinkness:0.24CM

20NCB-31

Size:16.5*5.0*1.7CM,

Blade thinkness:0.18CM

20NCB-11

Size:13*4.2*1.3CM,

Blade thinkness:0.18CM

20NCA-11

Size:13.5*5.5*2.0CM,

Blade thinkness:0.18CM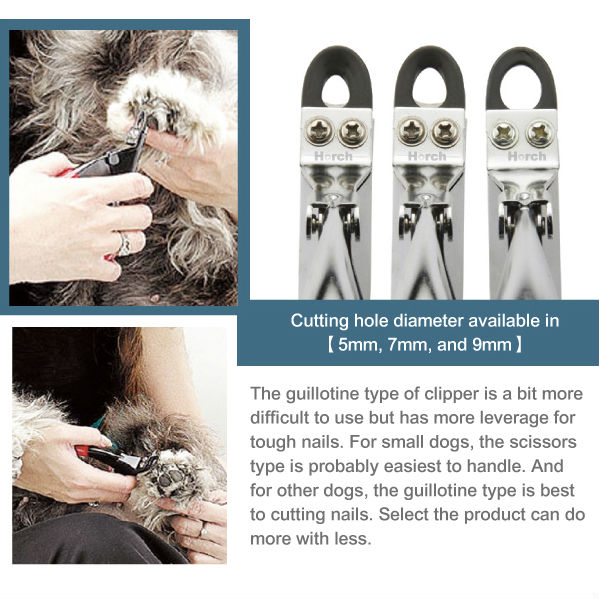 Your dog's nails should be trimmed about once a month, or when you find that your dog's nails have interfered with his/her normal walking.
Horch Design Inc. is located in New Taipei City, Taiwan. We specialize in ID / ME Engineering Design and manufacturing plastic injection product. Our essence is aesthetics, functionality and quality. That's we are most concerned about, if you are also care about it, please give us a chance to do something for you and for the people who need the products. We also can produce according to your requirements and provide ODM/OEM service.