FDA approved banana juice extract preservation polylysine
Company information
Our company has been in this line for many years with good reputation and considerable funds. All the sysems like fermentation system, purification system and synchronized supporting system are all automatical. Meanwhile, the managing system is a successful example, we had obtained ISO9001-2008 quality management system and the ISO22000-2006 food safety management system certification.
Our comany is strong in scientific research, with an experienced Research and Development team, closely and widely cooperates with many biotechnology, food industry research & industry institutions, our company is professionally committed to research, production and popularize biotechnology and natural food additives based on high standards. We are dedicating to building a world-famous brand for Chinese natural food additive industry.
Products Description
Through the painstaking research and repeated demonstration,our company developed a series of food preservative.
E-PL B is a natural biologically active ingredients, which is great helpful for energy drink for long-term preservation. Right can lead to a variety of food spoilage micro-organisms with a broad-spectrum inhibitory effect. This product can significantly prolong the shelf life, easy, harmless to human body and have some nutritional value, does not affect the taste and flavor.
ε-PL MIC (minimum inhibition concentration) Test
Our Services
1.Free sample and Unconditional assume response
2.Supply 100% Natural product, without any synthesize ingredient
3.Provide OEM, technical ,R&D service
Packaging & Shipping
Quality Certification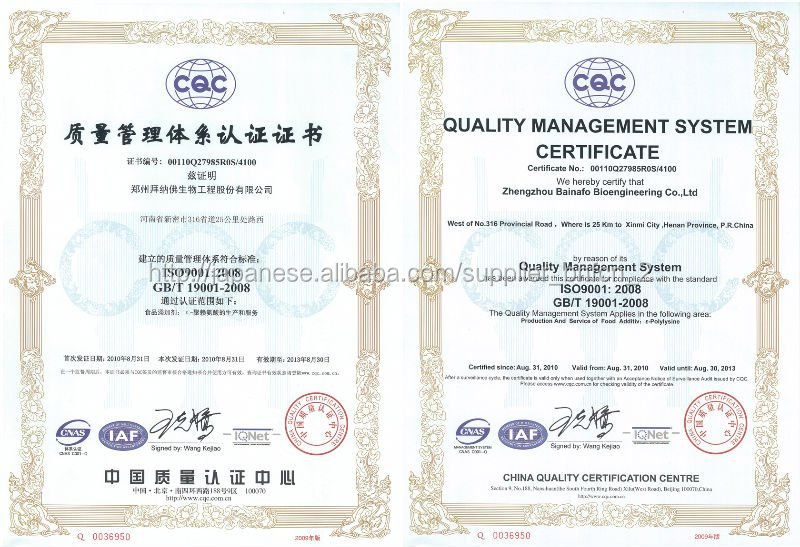 FAQ
Q. How much Polylysine do I need in my application?
A. It varies based on your application, condition, and your expectations, but generally 20-250ppm is recommended. In some applications, Polylysine works best in combination with other preservatives. Our sales staff can give you information specific to your application.

Q. Why Polylysine?
A. Polylysine is unique in that it's natural and works where others don't – on pathogens, mold and yeast. All this and it's virtually flavorless and odorless – providing the extra "bump" you need to your existing preservative system or replacing it altogether.

Q. Where does Polylysine work best?
A. Polylysine works best with moist foods of neutral to higher pH and higher temperature (that's right, HIGHER pH and temperature are NO PROBLEM for Polylysine). Polylysine can be refrigerated, frozen, boiled, baked and gets right to work when it needs to.

For more details, please feel free to contact me, any inquiry from you is appreciated!