Household vacuum packaging machine! Protect your food !
Retard oxidation and extend the freshness of food up to 5 times longer!
Great breakthrough in household vacuum storage system area!
It retards the oxidation and growth of bacteria. Keep your food fresh at least 5 times longer than traditional storage methods. It allows you to buy in bulk and save money!
Work together with reusable vacuum bag, vacuum container/jar, wine bottle stopper and universal lid.
Specification:
| | |
| --- | --- |
| Product Name: | Handy vacuum food sealer |
| Item No.: | YL-280A/B,YL-281,YL-282, |
| Size & weight: | 220×60×82mm, 210g |
| Material: | ABS material |
| Color: | White/blue/green/black, any color available |
| Max vacuum pressure: | - 0.625 bar |
| Suction power: | 8L per Minute |
| Power: | 12.5W |
| Voltage: | Input: 100-240V , Output: 6V/2500MA |
| Operated by: | 6 x AA batteries or AC adapter |
| Certificates: | CE, ROHS Approval |
| Patent or not: | Yes, Patent in China |
Features:
| | |
| --- | --- |
| 1. | Prolong the freshness of food at least 5 times longer. |
| 2. | Vacuum locks in freshness and prevents spoilage & food decay. |
| 3. | Avoid freezer burn & odor, save space, save money by buying in bulk. |
| 4. | Perfect to store meat, fish, fruit, bread, vegetable, tea, herb, nuts, dry food etc. |
| 5. | Keep charts, maps and watch safe and dry when boating or camping |
| 6. | Protect cherished photos/stamps and valuable documents |
| 7. | Protect cosmetics against spills when traveling |
| 8. | Prevent silver & jewelry from tarnishing |
Work together with vacuum bag, vacuum container/jar, wine bottle stopper
and universal lid as a starter kit!
Accessories:
A: Vacuum freezing bag, PE material, reusable for 30-50 times.

Item no.

Sizes

Volume

Certificate

YL-271

220 x 210 mm

1300ML

LFGB Approval

YL-272

260 x 280 mm

3000ML

YL-273

220 x 340 mm

3300ML

YL-274

260 x 340 mm

4000ML

YL-275

300 x 340 mm

6000ML

B: Vacuum Container/Jar, PCTG + Silicone material, unbreakable.

Item No.

Shape

Size

Volume

Certificates

YL-251

Square

18.5 × 16.5 × 6.2 cm

1000ML

BPA test

EU 10/2011

Microwave safe

Dishwasher safe

YL-252

Rectangular

21.5 × 13.8 × 7.7 cm

1300ML

YL-253

Rectangular

25 × 16.5 × 6.2 cm

1500ML

YL-254

Rectangular

25 × 16.5 × 10 cm

2600ML

YL-261

Round

14.2 x 8.3 cm

600ML

YL-262

Round

14.2 x 12.3 cm

1000ML

C: Wine bottle stopper, Keep your wine original flavor for a long time.

Item No.

Material

Size

Usage

Certificates

YL-241

ABS+Silicone

6.8×3.8×3.8cm

for wine

EU 10/2011

D: Universal vacuum lid, vacuum pack directly with different sizes of round shape kitchen wares such as pot, bowl and jar etc. Vacuum whatever you want!

Item No.

Shape

Diameter

Usage range

Certificates

YL-291

Round

13cm

7.5-11.5cm

BPA test

LFGB approval

YL-292

Round

20cm

9.5-18.5cm

YL-293

Round

25cm

15-24cm
Easy to use, only 3 steps:
1) Put the foodstuff into the bag/container
2) Close the zipper or cover
3) Use the sealer to suck the air out from the bag/container for 10-15 second.
Bag steps: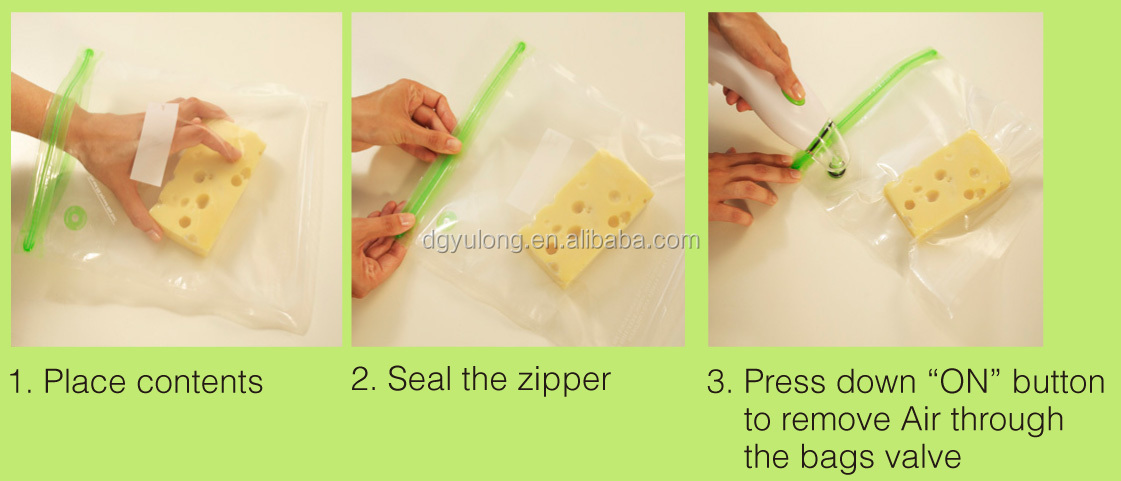 Container steps: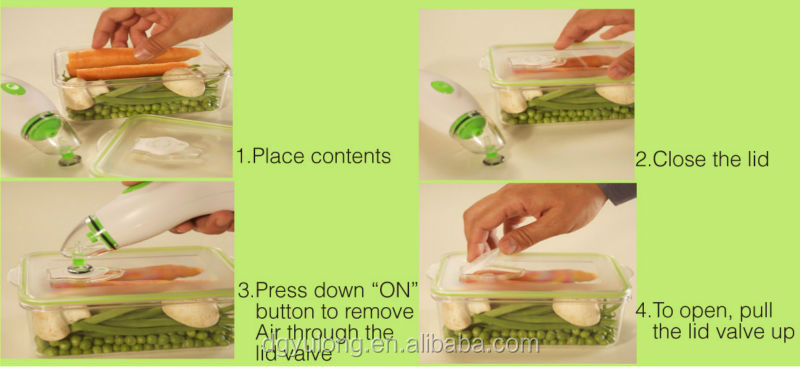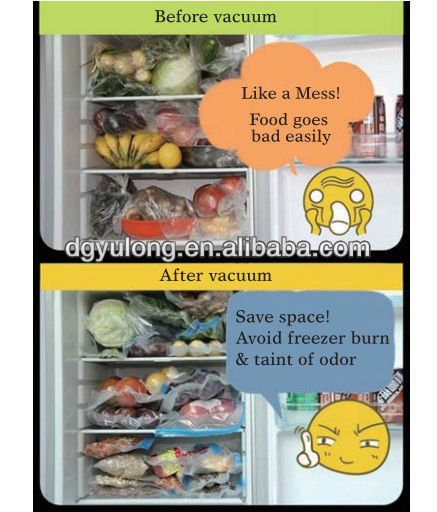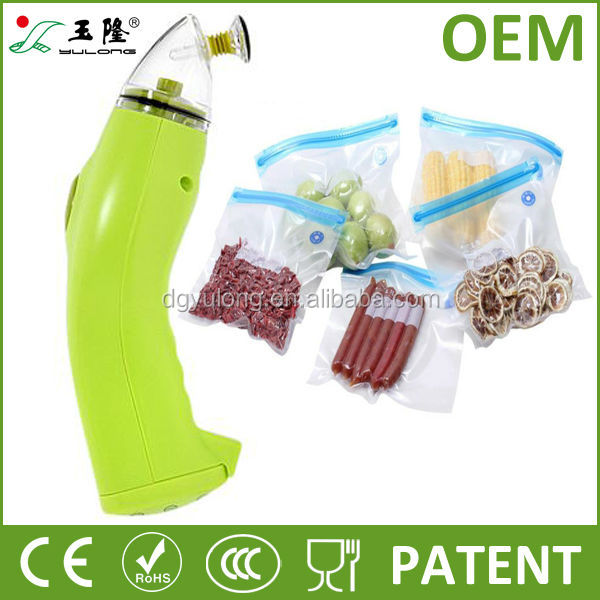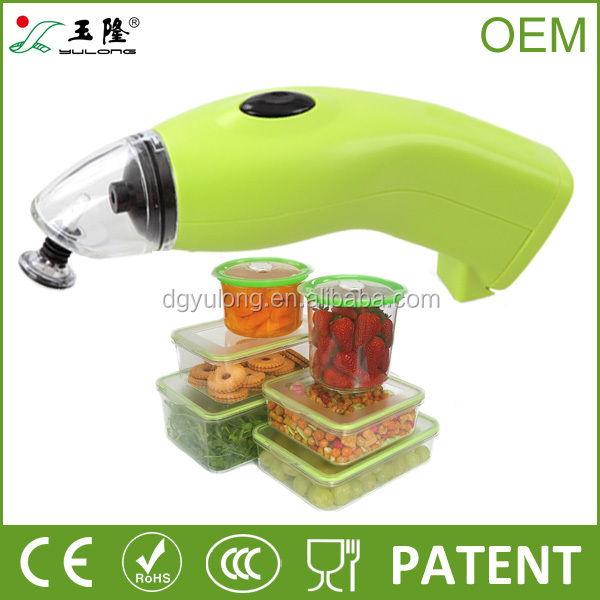 1. FREE samples can be offered for testing.
2. Logo printing is available for free.
3. One year warranty for Household Vacuum packing machine.
4. Spare parts can be offered.
5. We are always stand-by to cooperate with you.
FOB SHENZHEN/GUANGZHOU by sea/air
Manual Vacuum Food Sealer.
QTY: 20SETS/CTN,1SET/Color box
Color box size: 27×9.5×9.5cm
Carton size: 50.5x28.5x40.5CM
G.W.:8.9KGS N.W.:8.2KGS
Container loading: 9600/19900/23320sets /20'/40'/40HQ
Factory photos: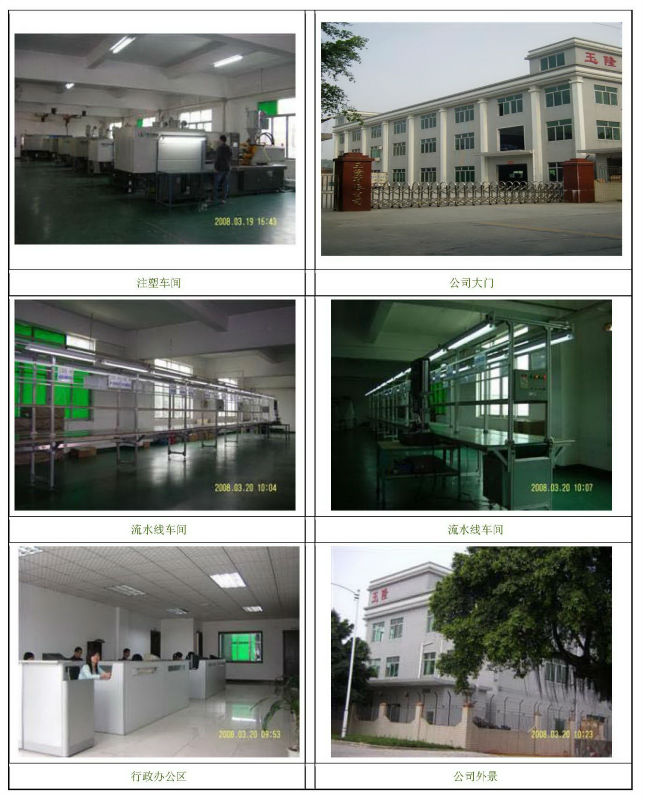 Company information:
Dongguan Yulong Hardware & Plastic Co., Ltd.,founded in 2006,specializes in the R&D, production and marketing vacuum food storage systems for family use. Located in Dongguan,China,our factory covers an area of over 6,000 square meters, with a dustless silk-screen printing workshop, a dustless injection molding workshop and a complete quality control system. We have about 200 well-trained staffs, 20 engineers and technicians.

Our main products include mini handy vacuum sealer, vacuum bag, vacuum lid, vacuum jar, vacuum container and wine bottle stopper. Currently, our patented products have been sold to 50 countries and regions throughout the world and won a good reputation.

We warmly welcome the customers from home and abroad to make a field inspection of our factory and establish a long-term and mutually beneficial business relationship between us.
What is the Vacuum Food Storage System?
The Vacuum Food Storage System is an innovative product designed to extend the shelf life of your food dramatically. It includes a unique hand-held Vacuum Sealer that removes air from the patented Vacuum Food Bags. Air out, Freshness in.

How do the Handy Vacuum Sealer and Vacuum Food Bags work?
The Handy Vacuum Sealer works with the patented special vacuum Food Bags with zip top and air valve. Once air is removed, the Bag forms a tight seal around the food. This system virtually eliminates freezer burn during freezer storage and retard oxidation & growth of bacteria, and keep your food fresh 5 times longer than other traditional storage methods.

Is the Vacuum Food Storage System easy to use?
Yes, very easy to use, only a few steps.
1. Put the foodstuffs into the bag and close the zipper of the vacuum Bag ..
2. Place the Bag flat on the counter making sure there is no food above the Maximum Fill Line or under the Air Valve
3. Press Vacuum Sealer Tip flat against Air Valve.
4. Press the ON Button to remove air from Bag.
Release ON Button when Bag becomes tight around food.
What is the advantage of your handy vacuum sealer, compare to other conventional countertop vacuum sealer?
1. Same function, but good quality,high-performance and cost-effective.
2. Easy to use, store and clean, just one hand operation.
3. Convenience, not only use at home but you can also can take it to anywhere,such as outdoor camping,fishing,picnic,etc.
Is there any difference between your vacuum food bag and other food bags?
Yes, our Vacuum Food Bags have a patented Zipper Closure and Air Valve that work with our Handy Vacuum Sealer to remove air and seal tight around the food. Other food bags don't have this good function and it's easy to cause the food damage or go bad.
How many sizes do you have for the vacuum freezing bags?
At present, we have 6 different size of the bags:
21*22cm,26*28cm,22*34cm,26*34cm,30*34cm,26*40cm
Can the vacuum bag store liquid?
It's not recommended to store liquids or liquid based food,such as soup,porridge etc.
It's great to store the meats freezing coated,fruits and dry foods,or even stamps,photos,forks etc.
Can I take Vacuum Bags in the microwave?
Yes, our vacuum bags are suitable to put into microwave for ice-melting/defrosting using the defrost (30% power) setting. Open the zipper, Place Bag on a microwave-safe dish before placing in microwave. After defrosting, handle with care as Bag and contents may be hot.
How long will the batteries last in the Handy Vacuum Sealer?
Install six new AA alkaline batteries when needed. Or you can use AC adapter to make the sealer work directly.

What is Freezer Burn?
"Freezer burn" is a condition which occurs when moisture evaporates from the surface of foods in the freezer and causes the food to dry out and become discolored. While freezer burn does not affect food safety, it does reduce food quality. Freezer burned spots can be cut away before or after cooking. If a food is heavily freezer-burned, it may be desirable to discard it. Air removal, moisture-vapor-resistant packaging, a tight seal and appropriate storage time and temperature help prevent freezer burn.