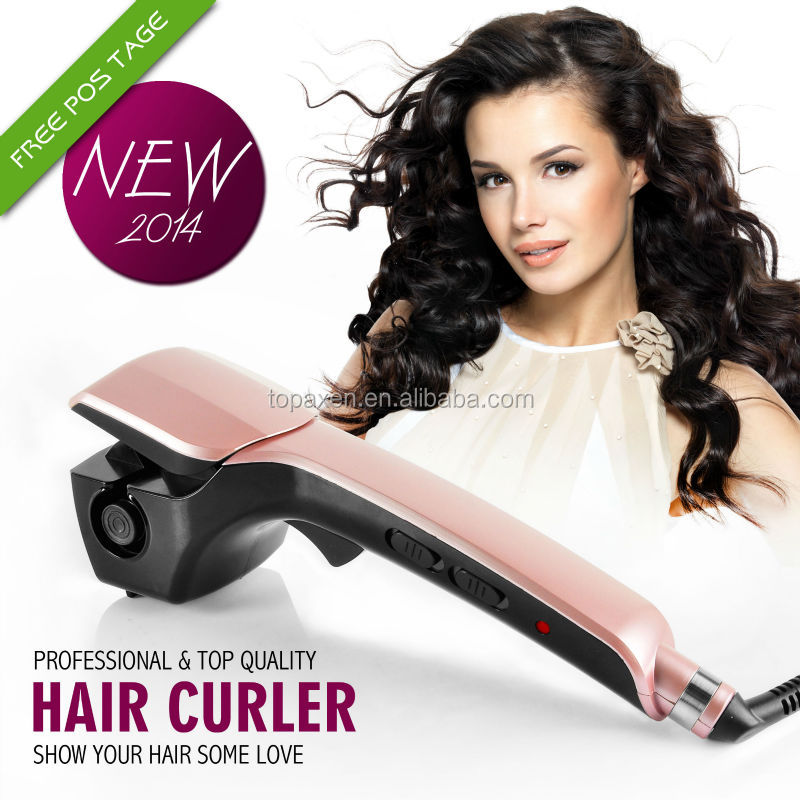 A special mira design of container on the top of the curl iron to store hair conditioner or hair treatment products, helps the hair to absorb the nutrition while curling the hair
• A button for steam on the machine, you can choose if you need steam or not as your will
• Ceramic curl chamber for smooth and shiny curl creation
• 3 timer settings of 8s, 10s and 12s for looser waves, soft curls or more defined curls
• 3 heat settings: 190°C, 210°C and 230°C for long lasting results on different hair types
• Powerful heating system ready to use in seconds with ultra-fast heat recovery
• Curl direction control of Right, Left and Automatic rotating for either a uniform or natural look
• Suitable for shorter and longer hair lengths
• Auto shut off without using in 60 minutes
• Salon length swivel cord
Gentle, quick and easy, hair is automatically drawn into the ceramic curl chamber where it is softly held and heated from all directions.
The hair is not put under any tension and it takes just seconds to form a perfect curl. With 3 direction settings Right /Left/Auto you will achieve uniform curls every time.
The audio beep indicator will remind you exactly when to release the hair.
Experiment with the different settings to create a variety of looks from tight defined curls to softer loose waves.

For long lengths or shorter styles,no matter what your hair type, the hair styler of steam curling iron will create shiny, long-lasting curls, every time.