Advanced technology belt conveyor roller,impact roller, return roller, carrying roller,adjusting roller/self-aligning conveyor roller,garland roller
1) Use China advanced patents and technology.
2) Less resistance
3) Long working life, 6-8 times than common steel material conveyor roller
4) High load capacity.
5) Stable running, weight is lighter than steel roller, saving energy
6) Special New High Technological Composite Material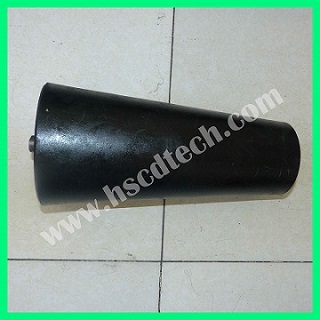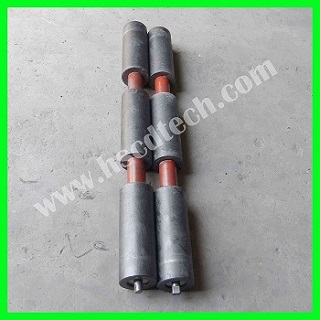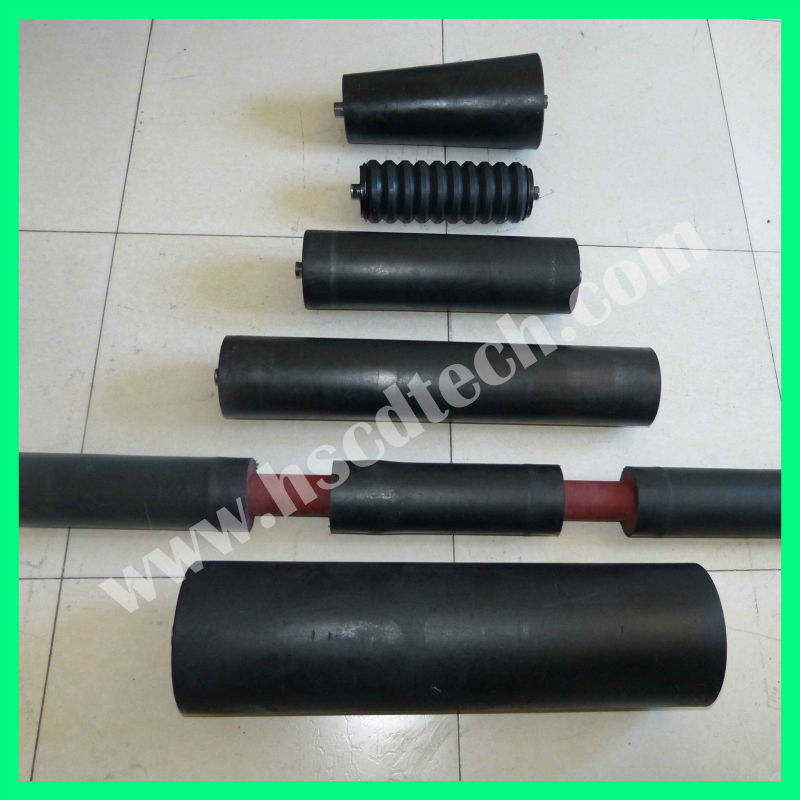 Why are our idlers simply "The best idlers in the world"?
Our idler rollers are manufactured to the highest standards and are equal to or better than any other rollers currently found in China.
Our rollers are manufactured in accordance with strict quality controls and using the latest manufacturing techniques and equipment. This achieves a roller with superior life and reduced rolling resistance, ultimately delivering lower operating costs.
Why are they better?
Our rollers have many technical innovations to ensure we are at the forefront of idler technology and quality.
Manufacturing Methodology
Rollers are manufactured from dedicated production lines

Rollers are manufactured from precision ERW tube

Tubes are machined on modern automated equipment

Rollers include precision pressed bearing housings

Shafts are manufactured from cold drawn shafting materials

Roller series' incorporating larger diameter stepped shafts to eliminate deflection under load

Rollers are automatically welded to ensure weld quality and balance on every roller

Bearings and seals are machine fitted to ensure precision alignment

Rollers are tested for run-out, rotational force and balance

Rollers are fully painted externally to reduce corrosion and improve appearance

Rollers are individually packed in plastic sleeves to eliminate damage during transport or storage
Superior Technology
Metal outer seal, thus eliminating failure typically found with plastic outer seals

Double labyrinth seal arrangement consisting of a inner and outer seal, eliminating ceasure from water exposure or salty conditions

Vertical labyrinth seal greased with a patented grease to ensure exclusion of contaminates

All bearings are fitted with double side shields and pre-packed for life
Drawings and Specifications
General Arrangement Drawing in 2D and 3D AutoCAD and many other common file exchange formats available on request

Full technical specifications available for all rollers on request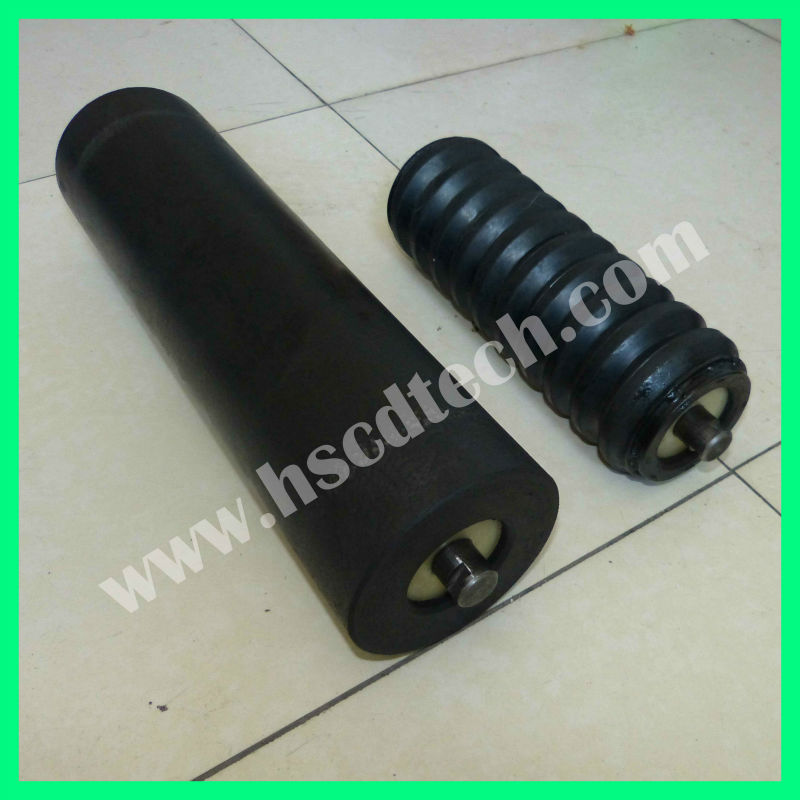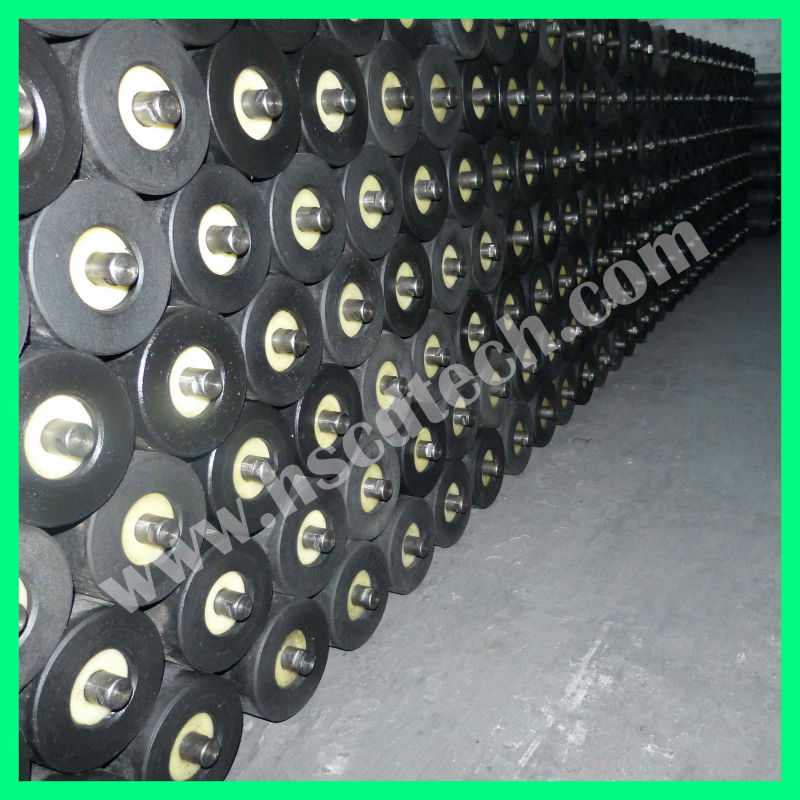 1.Conveyor Roller / Idler: Return Roller, Carrying Roller, Buffer Roller, Adjusting Roller, Garland Roller, Cleaning Roller, Troughing Roller and Spiral Roller
2.Conveyor Drum/Pulley: Redirection Conveyor Drum, Driving Drum
3.Dust Removal Machine: Micro-Electro-Precipitator, Micro-Electro Moving Dumper Precipitator,
J-1600 Combination of Micro-Electro-Precipitator, Micro-Electric Combination RTS Dust Landing Precipitator, Pouring Micro-Electro-Precipitator and so on
4.Movable Adjustable Cast Stone Sieve
5.High-performance Anti-magnetic Parts
6.All kinds bearings
Beijing HaoSheng Transmission Technology Co., Ltd.is the rising star for conveyor supplier in China. We insist on supplying the best conveyor to fully participate in transportation equipment market building home and abroad as competitive posture. We always take "Integrity, responsibility, development and win-win" as our work ethic, which provide goals and direction for all-round development such as enterprise resources brands, product lines building, human resource reserves etc.We have established modern production base in ShanXi province together with Beijing Yinghong Transport Machinery Manufacturing Co., Ltd. Relying Z.ZENITH "brand SZ series of patented products, to provide customers with the most professional products and services.
We also deal with bearings of different brands.
We hope for sincerity cooperation from home and aborad.
manufacturers and fabricators of all types of bucket elevator components including fine idlers and conveyor rollers
Polymer composite materials Data
It is our newly developed high-tech products. So this is strongly recommended for you.
1. wall thickness( our product is not steel tubes)
Φ 133 = 18 mm
Φ 89 = 13 mm
Φ 159 = 20 mm
2. The proportion of material is 1:6. Weight is more or less with the steel material.
3. working life is 6-8 times than steel materal common quality. It can greatly saving costs for customers.
4. Labyrinth seals.
Physical and chemical properties
Polymer composite materials conveyor rollers advantages:
1. We have obtained National patent, the material is Polymer composite materials (magnetic resistance).
2. Long working life: It is 6-8 times the working life than the common material.
3. We can offer using report.
4. Abrasion resistant
5. Impact resistant
6. corrosion resistant
7. Anti-static & Anti-magnetic
8. Weight light and energy saving
Packing details: wooden cases,Pallets, etc
Shipment: By sea,
By express DHL, TNT, UPS
By Air
Contact person: Belinda Li
Beijing HaoSheng Transmission Technology Co., Ltd.
Tel: +86-10-63423819
Fax: +86-10-63497906
sales at hscdtech.com
Website: www.hscdtech.com
Skype: lingkai0851