.
That's because the fibers from this plant have surface optical properties very similar to human hair. Just one of the reasons that no one will know that you're using Caboki unless you decide to tell them. Caboki looks that natural.
But the Gossypium Herbaceum provides another great benefit. The fibers of this plant carry a negative electrical charge. Human hair is positively charged. The result is a bonding through natural electromagnetic forces no special spray glue required.
In fact, Caboki bonds to your hair 200% stronger than the hair building fibers used by our competitors.
Naturally occurring mineral colorants
Natural, Mineral-Based Colorants From Mother Nature
Both the hair you've lost and the hair you have remaining were given their coloring by nature. Doesn't it make sense to use a hair replacement product that also uses natural ingredients for coloring?
After all, using harsh, artificial dyes can yield a garish, unnatural look. But using nature's natural colorings quite logically yield soft, very natural looking tones.
So we start with virgin Moroccan Gossypium Herbaceum. Its natural coloring is grayish white. And then we use our natural colorants to dye the fibers into the full range of colorings found in human hair.
And here we reap another benefit from our exotic Moroccan cotton. Thanks to the micro-structure of Gossypium Herbaceum, its fiber can easily be dyed with mineral-based colorants - iron oxides for example, harvested from nature, as shown on the right.
Our competitors use wool fibers in their products. But wool is difficult to dye. Before you can even begin to dye wool, it must first be processed with harsh chemicals (bleaches). Then it's dyed with the synthetic pigments used in human hair coloring the same synthetic dyes that many health experts now caution against using.
(A) 1 bottle Hair Regrowth Liquid 120ml.
(B) 1 bottle Hair Building Fiber 20g.
10 colours available:
(1)Black (2)Dark brown (3)Medium brown (4)light brown (5)Dark blonde (6)light blonde
(7)Auburn (8)Cinnamon (9)Grey (10)White
Advantages:
(A) Hair Regrowth Liquid:
It contains Cacumen Platycladi extract, ginseng extract, ginger extract, fleece-flower root,Gastrodia elata Blume,Rehmannia,Sophora flavescens,dodder seed,and Rhizoma Ligusticum with variety of natural herbal extract.It helps to control and balance sebum,deep nourishing the hair root and hair follicles,helping to reduce excessive hair fall and regrowth new hair. in the sparse hair areas, new hair will regrowth in three month after use the product continuously.
(B)Hair Building Fiber :
1. Hair Building Fiber can quickly and effectively improve the appearance of spare hair. It can thick hair to reach the visual sense.With easy operation,you can have a nice instantly,it's convenient and economical.
2.Hair Building Fiber is keratin fibers produced by special antimicrobial process, which been cut into 0.3mm-0.5mm,not hurt the scalp,not block pores,it's very safe and can attached on the scalp or sparse hair naturally.Then use Hairspray to Shape it,it will not fall in case of wind or rain,even in the sports.It is very popular by the people of hair loss,and sparse hair.(Please keep it dry)
3.It is researched according to the human's hair characteristics.It adopted International advanced bio-technology anti-bacterial keratin fiber combining additional extract of traditional Chinese medicine recipe,with the development of the majority of luxury natural anti-hair loss product.This anti-bacterial keratin fiber is special researched for the majority of Human's hair loss and sparse hair,it will not hurt the scalp and hair,non-blocking pores,with simple operation,it's convenient and safe,only 5 seconds there is the magical effect.By using this product you will have thick hair while can anti-hair loss,it's the best choice for people who has hair loss and sparse hair problem.
Usage:
(A) Hair Regrowth Liquid:
use about 2ml 2 times a day at the areas where there is hair loss,and massage with your fingers gently,to facilitate liquid penetration.
(B)Hair Building Fiber :
1.Shape the hair.(Please make sure your hair is dry before use.)
2.Sprinkle the hair building fiber on the sparse hair area until you can not see the scalp.(Please slant and shake the bottle when you feel the fiber is difficult to fall down.)
3.Shape the hair carefully with your hands so that the Hair Building Fibers can completely penetrate the hair,it will immediately become a natural look.
4.apply hair spray on the hair from 8-12 cm away,then shape the hair.
Warm Tips:
In order to facilitate the sales and the use of our products in a right way, special tips are as follows:
(A) Hair Building Fiber :
1.Make sure the hair is not sweaty or oily before using the product. Otherwise wipe it off.
2.Women's hair loss due to the causes of recessive genes,Unless a serious disease,otherwise women will not be beld,only sparse hair;Therefore,this product is also suitable for women .
3.We suggest consumers to keep the hair length as long as possible,so that the product could has better adhesion.(Hair length of about 0.5 to 1cm or more is better.
4.Hair building fiber is suitable for top-beld people as well as hair spares people,so it may not be suitable for the completely bald people.
5.It can be wipe off gently with tissues when it falls on the ears or neck.
6.While use ,please follow the hair lines and start it from the back to the front.Block the forehead to avoid falling on the face.
7.After use,gently tap your head and make it looks natural.
8.It's fine to shape your hair with a comb after use the product,but try to keep a little distance from hair root to avoid the fiber falling,if it falls,it can be restored by reusing.
9.When you feel large quantities from the bottle,please lean against the scalp and slide back and forth,meanwhile shake the bottle appropriately.Otherwise ,sprinkle the fiber from a little far away . Please shake the bottle slightly to get a better effect.
10.Shape the hair and use the hair styling mist to spray on hair.After 10-20 minuters,you can touch the hair slight without scratching or rubbing.
11.This product can be used for any hair style,any hair texture,hair color(such as curly hair,thick hair,dry hair).(more colors are available)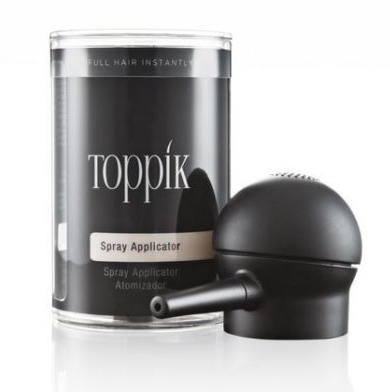 12.This product can be used both for men and women. Directions: Wash with your favorite shampoo. Be sure not to use a conditioner or conditioning shampoo. Completely dry hair and scalp. Hair dryer may be used. Brush or comb hair to be sure it is free of any tangles or knots, leaving bald or thinning spots exposed. Apply Hair Color Thickener to the area by holding can nozzle about four inches away and spraying until the hair and skin tone match. Spray the hair around the thinning area and blend. Allow area to dry and repeat if necessary until desired coverage is achieved. When hair and scalp are completely dry, use a coarse brush and very gently brush hair into place over thinning area. Your newly sprayed hair and scalp gives the illusion of a thicker, fuller head of hair. To complete your transformation, just spray with Jerome Russell's Hair Color Thickener Fixative hair spray (from 10 to 12 inches away). This will not only keep your hair in place, but also hold Hair Color Thickener in your hair until washed out. To remove, simply shampoo as norma
(B) Hair regrowth Liquid:
1.This product is made by 100% natural ingredient and special formula, it's tested clinically to be safe and effective.it can be used both for men and women.
2.you will see new hair regrowth in one month after using the product continuously.