Solar Keymark and EN12975 for Approved Evacuated Tube heat pipe pressured solar collector for solar system
Evacuated Tube heat pipe solar collector
1.Features:
1. Suitable for both flat roof and slope roof
2. Employing sliding way for the frame, much more easier for installation, especially suitable for European-styled houses
3. High efficiency: >55% and >40% in winter
4. Still works as normal as before even one vacuum tube destroys
5. Hailstone resistance: 25mm
2.Solar collector Detailed Product Description
1. Material &Thickness of Frame: Aluminium Alloy & 2.75mm
2. Material of insulation: Polyurethane foam & aluminium silicate
3. Thickness of insulation: 35mm (polyurethane foam)
4. Header pipe thickness: 1 mm
5. Manifold thickness: 1mm
6. Manifold Diameter: 38mm
7. Manifold material: Copper
8. Vacuum tube: SS-C/Cu selective coating
9. No. of vacuum tubes: 12---30 for one collector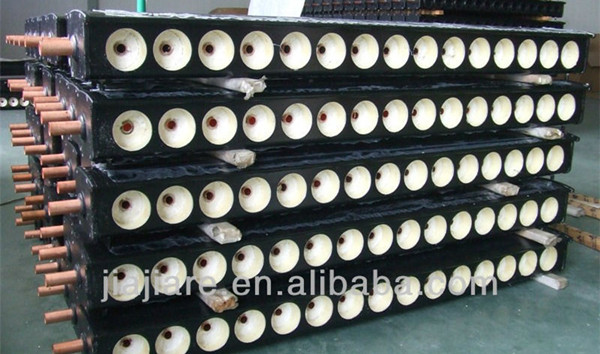 3.Solar collector producton pictures
4.Three-target Evacuated Solar Tube
Structure

All glass double-tube co-axial structure

Tube glass

Material

1.6mm High borosilicate 3.3 glass

Expansivity

≤3.3×10-6K

Transmittance

≥0.89

Hailstone resistance

Ø 25 mm

Withstand voltage

0.6MPa

Resist wind

30m/s

Life

15 years

External tube diameter and thickness

Ø =47±0.7mm &=1.6mm

Ø =58±0.7mm &=1.6mm

Internal tube diameter and thickness

Ø =37±0.7mm &=1.6mm

Ø =47±0.7mm &=1.6mm

Tube length

1500mm

1800mm

Vacuum degree

P≤5.0*10-4Pa

Absorption coating property

Structure

Glass/CU/SS-ALN(H)/SS-ALN(L)/ALN

Sediment method

3 target magnetron sputtering plating

Absorption ratio

α=0.92~0.96(AM1.5)

Emission ratio

ε=0.04~0.06(80°C±5°C)

Idle sunning property parameters

Y=260~300m2.C/KW

Solar irradiation for obtaining a preset water temperature

H=3.7~4.2MJ/m2

H=2.9~3.2MJ/m2

Average heat loss coefficient

ULT=0.4~0.6W/(m2.°C)
5.About JIAJIARE:
Our company specializes in solar application technology, and develops with the researching, production and industrialization enterprise distribution for more than eighteen years.
The Jiajiare brand solar water heater is the leading product of company, and the green environmentally safe product is our country do its utmost to recommend.
The company regards fine product quality as the vitality; The products are sold well in our country, and are exported to America, Southeast Asia etc, and well received by the masses of consumers
6.Why choose us ?
we have our clients set to list of reasons why to choose us over other solar water heater,here are our benefits
Engaged in the solar energy application technology for more than 18 years
We has received many honors and passed multiple verifications
The number of service outlets across the country, so you have no worry.
Wu researches and produces all kinds of products , widely used in hospitals, schools, hotels, etc.
7.About Packing