High Performance RS485 to Ethernet TCP/IP Converter
The Embedded Serial Server ATC-3000 is a gateway between Ethernet (TCP/IP) and serial signal communications.
It can be built into any facilities or equipments, and converts any serial port to Ethernet network.By encapsulating serial data and transporting it over Ethernet, ATC-3000 allows bi-directional data trans-mission to be transparent between serial port and Ethernet. By using this unit, limited distance, point-to-point, direct serial connections can now be extended to the facility or equipment.
In the industrial and manufacturing automation, ATC-3000 can be embedded into most field devices, include-ing PLCs, HMIs, Barcode Scanners, Data Terminals, Electronic Kanbans, UPS, Electronic Meters and Controllers Automation Devices. These devices will soon be linked to the network. Existing Windows-based applications can access serial-Ethernet devices by using Virtual COM software which creates virtual serial ports on the host computer mapping to the remote Serial Server over Ethernet.
Flexible configuration options allow the unit to be setup remotely over Ethernet by Telnet, web browser, or other windows utilities. It is not only a transparent, cost-effective, network-enabled serial device, but also it is easy to install.
CP/IP to serial
Product Features:
TCP/IP to serial
1.3-in-1 RS-232/422/485 interface Max.460.8Kbps Serial interface and 10/100 Mbps Ethernet
2.Supports 4- and 2-wire RS485 with AUTO-SEND™ and built-in terminator
3.Terminal block accessories for easy RS-422/485 serial wiring
4.Support TCP client, UDP for Virtual COM mode
5.Monitor, manage and control industrial field devices remotely
6.Configuration: Web Server page, Telnet Console
7.Monitor IP configuration utility for Windows
8.Supports industrial 24 VDC power input and optional Power over Serial
9.PWR/ACT /SPEED/LINK indication pin
Specifications:
Serial Interface

Data Rates

300 bps to 460,800 bps

Characters

7 or 8 data bits

Parity

Odd, Even, None, Space, Mark

Stop Bits

1 or 2

Flow Control

None, Software: Xon/Xoff, Hardware: RTS/CTS

Connector

DB9-DTE (Male),Removable 6 bit Terminal Block

Network Interface

Interface

Ethernet 10Base-T or 100Base-TX (Auto-Sensing)

Connector

RJ45

Protocol

ARP, UDP/IP, TCP/IP, PING/ICMP, DHCP, BOOTP, Auto IP,TFTP, SNTP ,TELNET ,HTTP,

DNS,SMTP, PPP, LCP, PAP, CHAP, IPCP, PPPoE. SSL/TLS,HTTPS

Indicators (LED)

l 10/100Base-TX Link

l Date Sending / Receiving between Serial and the Ethernet

l Power indicator

l Normal connected to the network TCP/IP TO RS-232/422/485 CONVERTER(ATC-3000)

Software

Configuration

Web Page / Telnet

Device View

Windows port redirection software

System

CPU

Embedded high-performance 32-bit network processor,32-bit RISC (NP7/9 series)

Memory

32MB RAM, 16MB/32MB Code + 32KB Boot

Watchdog

ASIC Hardware built-in

Power

Input Voltage

9-24 VDC@500mA——100mA

Physical Specifications

Dimensions

100 x 86 x 26 mm

Weight

0.45 kg

Humidity

5 to 95% (non-condensing)

Installation

DIN-Rail Mounting

Operating temperature

-4° to158° F (-20° to 70° C)
Application Diagram:
1 We can supply User's manual\Datasheet for every kind of products
2 We can prepare your order ASAP
3 Warranty Period 36 months
4 about CERTIFICATION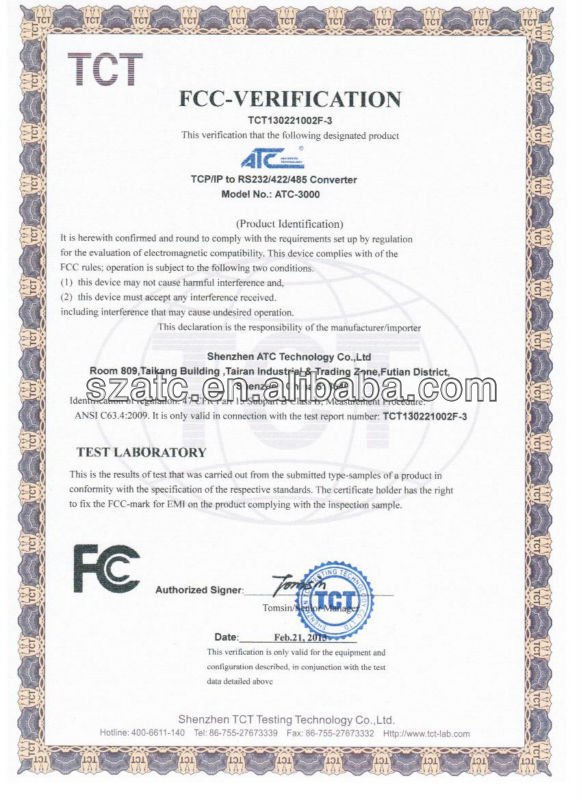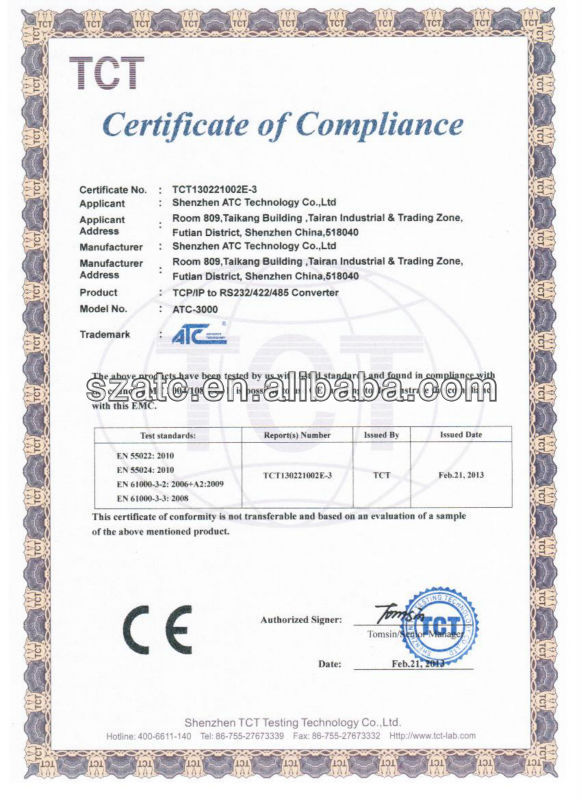 As an experienced supplier of data communication products,ShenZhen ATC TECHNOLOGY CO.,LTD is counted on by many renowned buyers,such as ZTE,Car Part GmbH(from Germany),NOJA Power Switchgear Pty LTD(from Australia),and so on.Car Part GmbH commente on our products like this:"Your products can meet our market requests and the quality makes us satisfied.Hope you can keep the basic of success." ethernet rs485
Our company product solutions include:Serial device networking solution,industrial control interface conversion solutions,USB to serial port solutions,optical fiber communication solutions. ethernet rs485
Every month,we can turn out 10,000 units of above products.Before production,our raw mattrials are checked again to make sure they are compliant with RoHS Directives.And all our output is CE-marked,finding good markets in many countries and regions including United Kingdom,Spain,Germany,Italy,Poland,Turkey,The US,Canada,Brazil,Australia,Indonesia,Singapore,Malaysia,Vietnam and India.
Welcome to source high quality products at competitive prices from us.
Packaging
1 What kind of packaging do you provide?
Our products with colour box packaging,and then they are packed in cartons before shipping.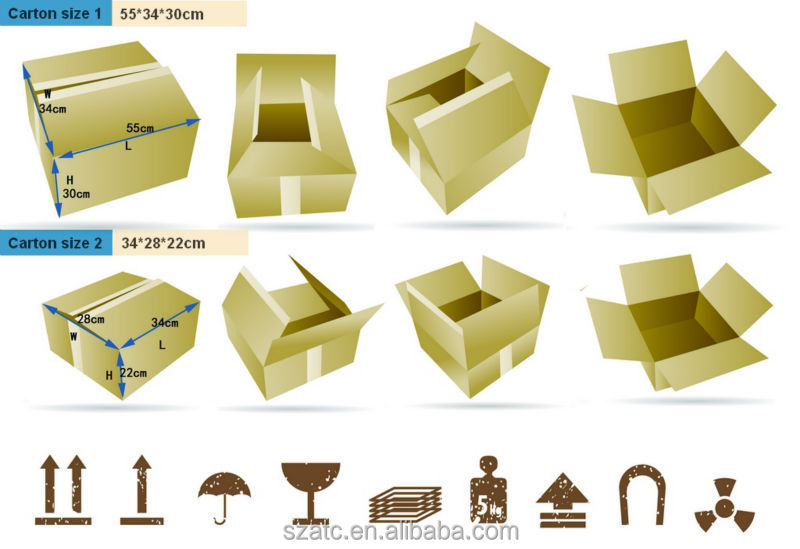 2 What's included?
ATC-3000*1
ATC-3000*1
Driver CD*1
User's Manual*1
3 Following picture is more intuitive to understand our products and accessories.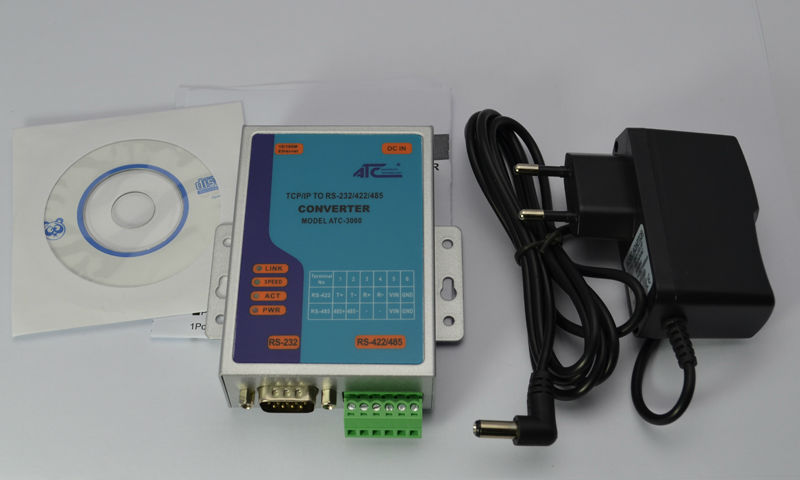 Shipment
1.Our company and FedEx,UPS,TNT,DHL,EMS international Express company cooperation.

2.We can according to customer's needs,choose the different logistics company or the customer's own freight.
3.Shipping Port:SHENZHEN,CHINA
4.Between different Express advantages and disadvantages.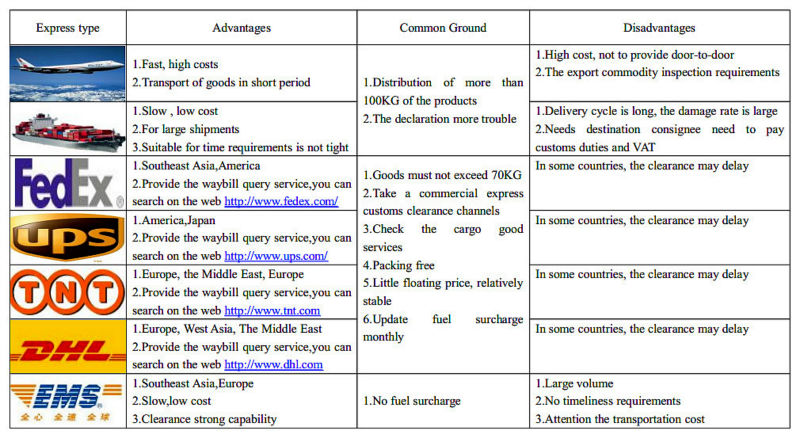 Q: What's the trading term and payment method?
A: The trading term we prefer is FOB, if you require different term, contact to discuss it. And the payment method we prefer is T/T, but we can still accept the payment via paypal and western union.

Q: How long can you prepare the samples?
A: Samples can be prepared within 3 days after receiving the payment.
Q: What's the guarantee for the product?
A: We provide 36 months guarantee of repairing. Normally, every kind of products must to be certificated in samples,little batch,batch.