1.Working Principle
1) Solar absorption: solar radiation is absorbed by the solar tubes and converted into heat.
2) Solar heat transfer: heat pipes conduct the heat from within the solar tube up to the header pipe
3) Solar energy storage: water is circulated through the header, via intermittent pump cycling. Each time the water circulates through the header, the temperatures is raised by 5-10°C. Throughout the day, the water in the tank is gradually heated
2.Key Features
1. Safe and steady
Flat plate solar water heater uses all cooper fluid tube; System operating is steady; components are not easy to be damaged;
2. Pressurized operating
Working pressure is 0.6Mpa; designed pressure is 1.2Mpa; the hot water is forced to stream out from the top; it is convenient to use.
3. High heat efficiency
Absorbing coating of the collector is black chrome and blue sputtering; absorbing rate is 92-96%, and emission rate is 5%-15%; heat efficiency is high
4. Good temperature preservation
Thickness illustration layer is 50mm; constant temperature high pressure quantitative foam; less than 5 Celsius Degree per 24
5. Long using life
Inner tank is 1.2-2.0mm stainless steel; resist high temperature and corrosion; 15 years using life.
6. Several models fulfill different user need
According to customers' requirement, we put our several modes with different specifications to suit flatlet, villa, hotel and factories. , etc
7. Easy installation
3.Date Table
Model

JFP-100

JFP-150

JFP-200

JFP-300

Water Tank

Tank Capacity

100L

150L

200L

300L

Inner tank

High quality SUS304 1.2mm

Outer tank

Galvanized steel

Tank Insulation

Polyurethane foam 55mm

Working pressure

6 bar

P/T valve

Watts

Magnesium anode

Included 3/4 inch screwed

Electric heater

1.5 kw (other options: 2.0kw and 3.0kw)

Safety valve

included

Flat plate solar collector

Model

FP-2C

FP-2K

FP-2C

FP-2K

Qty

1 set

1 set

2 sets

2 sets

Absorber coating

Black chrome

Blue titanium

Black chrome

Blue titanium

Surface area

2 m2

2 m2

4 m2

4 m2

Supporting Stand

Galvanized steel 1.5mm, installation on flat roof and sloping roof

Qty per 20ft / 40ft container

56 / 112

45 / 90

30 / 60

24 / 48
4.Pcitures of the Products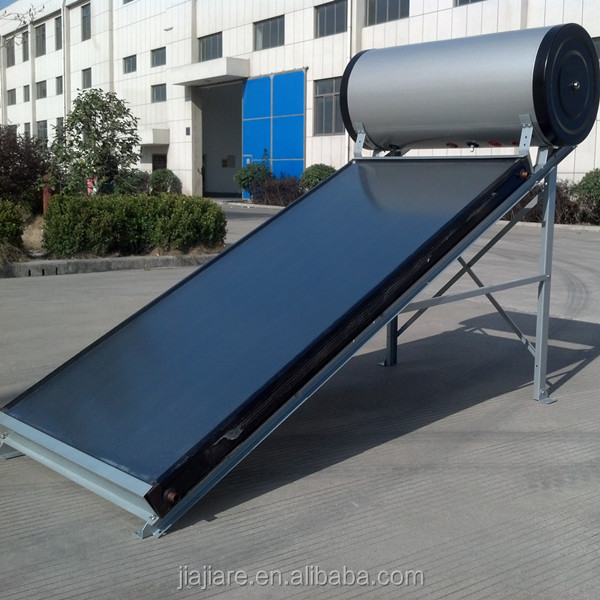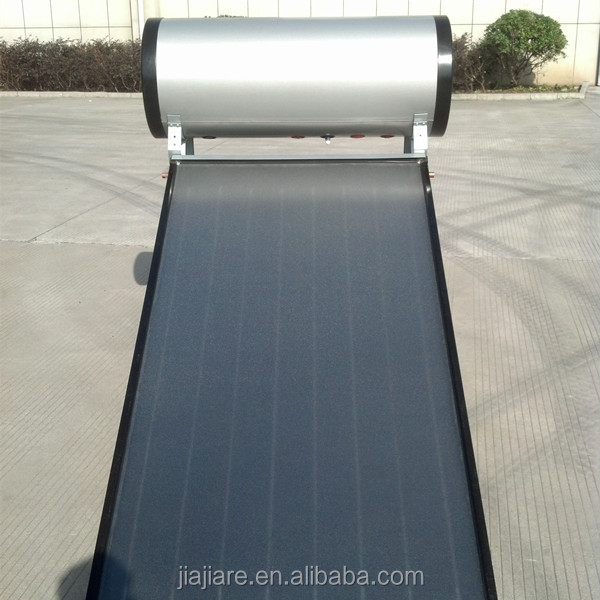 1.LCL (Less Container Loading)
Packing and Shipping:
Wooden boxes will be used on the flat plate solar collectors because the cover made of glass. ,tanks and frames will use the common export carton
Delivery time for LCL usually less than 5 working days.
Good will be shipped together with other LCL products.
2.FCL Full Container Loading)
Packing and Shipping:
All the parts of the flate plate solar water heater system will use the export carton, because system are full in the container, not easy to move and damage.
Delivery time for FCL usually less than 7 working days.
Good will be shipped in the container we ordered
1.Warranty
3 years for the whole flat plate solar water heaters system ,or 3 year for the flat plate solar collector, 5 years for the tank. 7 years for the frame
Any damage not because of the human and special climate, will will replace a new system. or parts.
2.Delivery Time
LCL for 5 working days
FCL for 7 Working days
3.Payment Terms
T/T: LCL for 100%t/t in advance. FCL 30%in advance and 70% belace against the copy of the B/L.
L/C:30% T/T in advance, and 70% L/C at sight.
1.Why choose our JIAJIARE?
What we sell is not only the our products, but rather than our quality, our innovation, our service and ideas.we will always keep the highest quality and the newest products.
2.How to keep the products as good quality as we said?
We are 9 years golden supplieron Alibaba, no one buyers complain the quality problem,and during these years we also accquired some Europ standard quality certificates.moreover, our experienced workers and mordenized machines keep our products in high quality.