8 1/2" 215.9mm IADC 637 with good teeth second hand water well drill bit
1.Advantages of our second hand water well drill bit
1) High-strength,high flexibility,high temperature,high wear resistance.
2) High-precision metal seal.
3) locking roller ball,to adapt to high-speed.
4) The use of high strength hig toughness carbide teeth.
5) Hours in the rotary cone bit with the impact,crushing and shearing the role of broken rock.
6) cone bit to adapt to the soft,medium and hard of various strata.
7) Reasonable price and long working life.
2. The products parameter and aplication of second hand water well drill bit
IADC code

WOB

(KN/mm)

RPM

(r/min)

Applicable Formations

437/447/435

0.35~0.9

240~70

Very soft formations with low compressive strength and high drillability,

such as clay,mudstone,chalk,gypsum,salt,soft limestone, etc.

517/527/515

0.35~1.0

220~60

Soft formations with low compressive strength and high drillability,

such as mudstone,gypsum,salt,soft limestone, etc.

537/547/535

0.45~1.0

220~50

Soft to medium formations with low compressive strength, such as

medium, soft shale, medium soft limestone, medium soft sandstone,

medium formation with harder and abrasive interbeds, etc.

617/615

0.45~1.1

200~50

Medium hard formation with high compress strength, such as hard

shale, limestone, sandstone, dolomite. etc

637/635

0.5~1.1

180~40

Hard formations with high compressive strength, such as sandstone,

limestone, dolomite ,hard gypsum, marble, etc.

Note: The upper limits of WOB and RPM in above table should not be used simultaneously.
3.The feature of rubber seal second hand water well drill bit
Cutting Structure

The durability of premium tungsten carbide insert is improved with new formulas and new techniques for insert bit.The Tricone bit field is composed of a shallow sequence of sediments of fluvial origin, in which sandstone channels contain heavy oil with gravity ranging from 11 to 13°

Gauge Structure

Multiple gauge protection with gauge trimmers on the heel of cone, tungsten carbide inserts and hardfacing on the shirttail increases gauge holding capability and bearing life.

Sealed Bearing Structure

1.Abrasion resistance and seizure resistance of the bearing are improved.
2.Premium O-ring, Optimal seal compression and curved seal structure can enhance the seal performance.

Main Type Available

Size: 5 7/8",6",6 1/2",7 1/2",7 7/8",8 1/2",9 1/2",9 5/8",9 7/8",12 1/4",14 3/4",17 1/2", etc.
IADC Code:4-- Series, 5-- Series, 6-- Series,etc.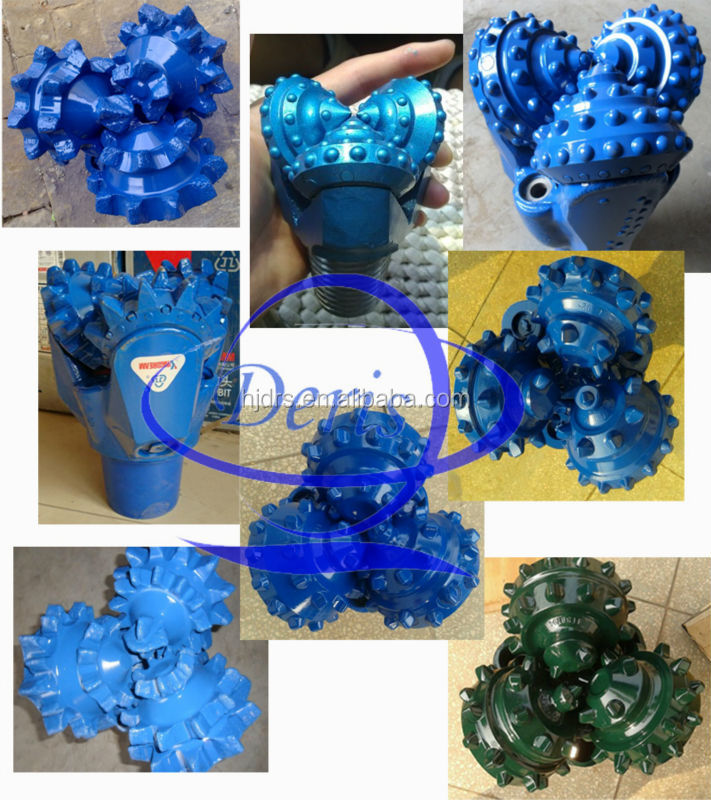 Introduce our company
We are Hejian Deris Petroleum Drilling Equipment Co., Ltd Drilling Supplies Marketing Dept. specializes in drill bits, drill pipe, Mud pump and stablizers for water well, oil field, construction, geothermal, directional boring, and underground foundation work all over the world. Our purpose is to sell the best quality products at the lowest possible price.
The principle of our company is based on the quality of survival. With advanced technology and scientific management, our company develops with reputations for providing quality products and best service.
Welcome to our factory to refer to the inspection cooperation egotiations,and work together
to create a brilliant future.
I'm sure you'll be pleased with our products with competitive price and high quality.
Looking forward to your inquiry as soon as possible
4. Our second hand water well drill bit package and transportation
5. How to complete the whole deal about second hand water well drill bit
Step:
1. Firstly decide the design, material and color
2. Decide the size in accordance with client's requirement and our recommendation
3. Provide you the best offer
4. Client's accept the offer and we send proforma invoice.
5. Client transfers 30%-50% deposit and production begins
6. After production, we will send ready products photo
7. After client's confirmation, we will arrange shipment, and send copy shipping documents like B/L,
commercial invoice and packing list
8. Client transfer balance payment and we will send original documents by express or Telex Release
6. Our second hand water well drill bit ,pdc bit and hole openre pictures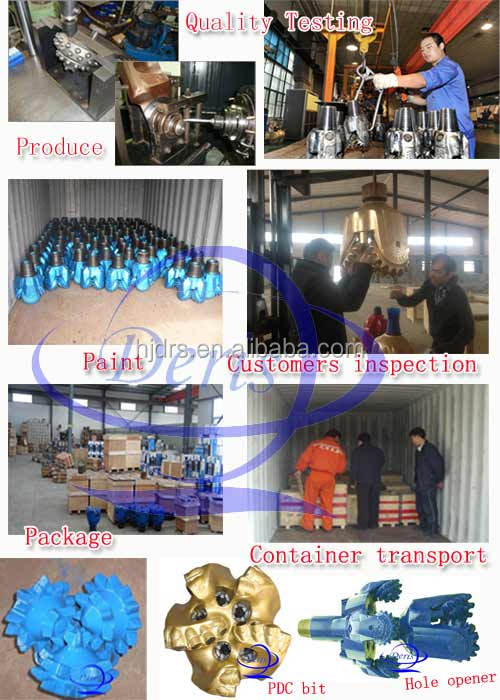 Hole opener