CG-503 Monthly sales of 200 units!!!!! Electrocautery machine facial electrodes for salon use
Functions

Specifications

1

Function

1

Electrocautery

2

Function

2

spot removal

3

Control System

Button

4

Working frequency

50-60GHZ

5

Handlepices

1 sets

6

facial electrodes Power Supply

AC 100V-120V/200V -240V/50Hz/60Hz

7

Pulse current

9V/0.5A

8

Ambient temperature

5°C~+40°C

9

facial electrodes Weight

10 KG

10

facial electrodes Size

600mm*400mm*300mm(L*W*H)

11

Power consumption

110W

12

Safe Protection

Coded Lock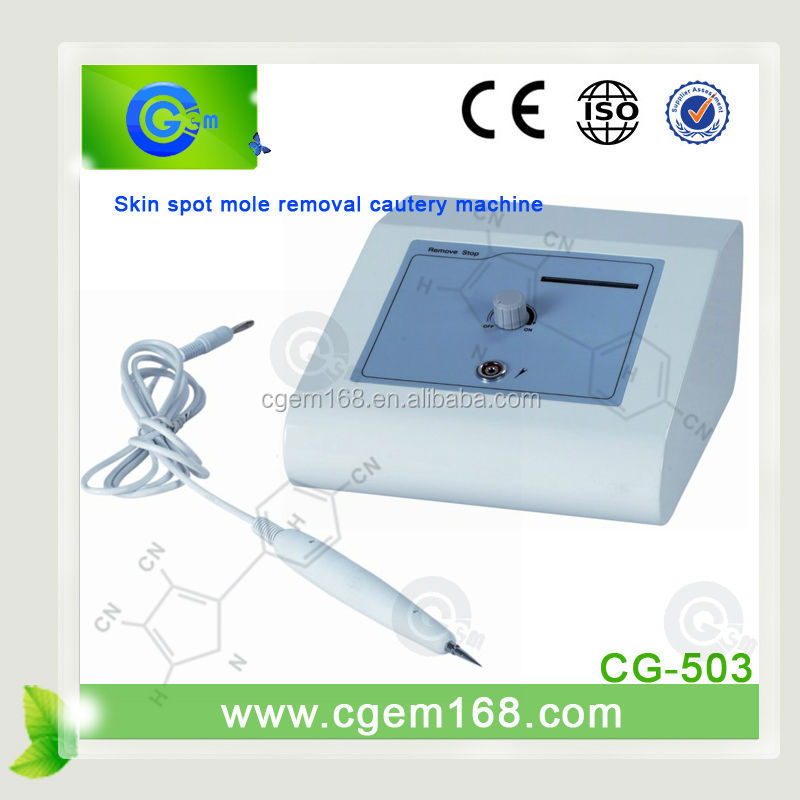 1) Electrocautery/spot removal

1.Special features
Virtually no side effects.

Gives the skin an overall fresh, healthy-looking glow.

Nonsurgical, safe, effective "lunch hour" procedure.

Effective on all skin colors and types.

No anesthetic required.

Excellent for skin sensitive to chemical procedures.

Normal activities can be resumed immediately.

Aid in penetrating skin care products deep into the skin. Less product is required, and it is more

effective as it penetrates and acts deep within the skin

Exfoliate dead skin cells for a clearer, healthier complexion

Loosen and remove oil, dirt and cellular debris from follicles for cleaner, healthier skin. Pores diminish in size and bacteria levels are reduced;

Gently stimulate skin to produce collagen and elastin. Fine lines and wrinkles are diminished; skin is restored to a smooth, youthful glow and maintained with regular treatments;

Smooth face wrinkles, improves the appearance and texture of skin

Eliminate black eye sockets and eye strain

Improve blood circulation and metabolism

Eliminate dust in the pores, restrain formation of melanin

Burn hypodermal fat, slim the face

Increase skin's resistibility to bacteria



2.Convenient operation
3.Convenient and safe
Techniques:

Electrocautery.

(Safety is the most important!)
4.Universal beauty assistant
The world's most powerful skin care equipment that is multi-position design, which is suitable for skin care, including skin around eyes, face and the whole body. (High quality, inner and outside inspection before delivery)
5.Exquisite design
Aiming at female group, adopting the liniest international design and combining with ergonomics, we design exquisite beauty equipment with simple and decent profile. (Fashionable, decent and exquisite)
APPLICATION AREAS AND EFFECT
Promote nutrition absorption, renew vital forces.

Activate cells, recover elasticity.

Remove wrinkles, slow down aging.

Make up water, smooth and whiten skins.

Remove face flaw, reduce all kinds of speckles.

Dredge venation, advance circulation, accelerate metabolism,

Relax nerve, decompress, adjust incretion and improve insomnia, perturbed, headache, irascibility, fatigue and so on.
Offering you a comfortable way to achieve inch loss and body contouring with no pain, no needles and no down time.
Specialize in research development, design, production, sales and after sale service for skin care, oxygen facial machine, slimming beauty equipment.

Advanced technology:Design, e-technology development, software and hardware debugging,

assembly, testing and packaging.

Integrated enterprise, a truly one-stop production, make your choice without any worry.