Flexible metal braided hoses and fittings can be used widely in systems like water, steam, hot oil andgas with their resistance to pressure and flexible structure.
They are utilized for conducting liquids, compensating the problems originated from installation,absorbing vibrations and expansions.
Flexible metal hoses may be strengtened by double braiding in order to increase their resistance topressure and environmental conditions. It is also possible to reinforce them by springs with different wirethicknesses or by stripwounds to lengthen their service life for more severe environmental conditions.
Construction of Flexible Metal Hose
Inner Core: Corrugated Stainless Steel
Flexible metal hose stainless steel core strengths are available in 304, 321 and 316L stainless steel

Stainless steel tubing formed into corrugations parallel to one another

Helical / Convoluted option available upon request
Outer Core: Braided Stainless Steel Layers
P

urchase corrugated core hose with no layers, single or double braided

Flexible metal hose outer braid layers made from 304 stainless steel

See braid layer code key at the bottom of this table
FEATURES
1. With good characteristics of light weight, large diameter ,good flexibility,
resistant to high temperature, high pressure and corrosion
2. With available double SUS304 wire braid for higher working pressures.
3.The inner tube is made of stainless steel corrugated tube which equips with good performance
of high-temerature and high-pressure resistance.
4. Applied to repeated motion in high temperature areas, good anti-fatigue performance.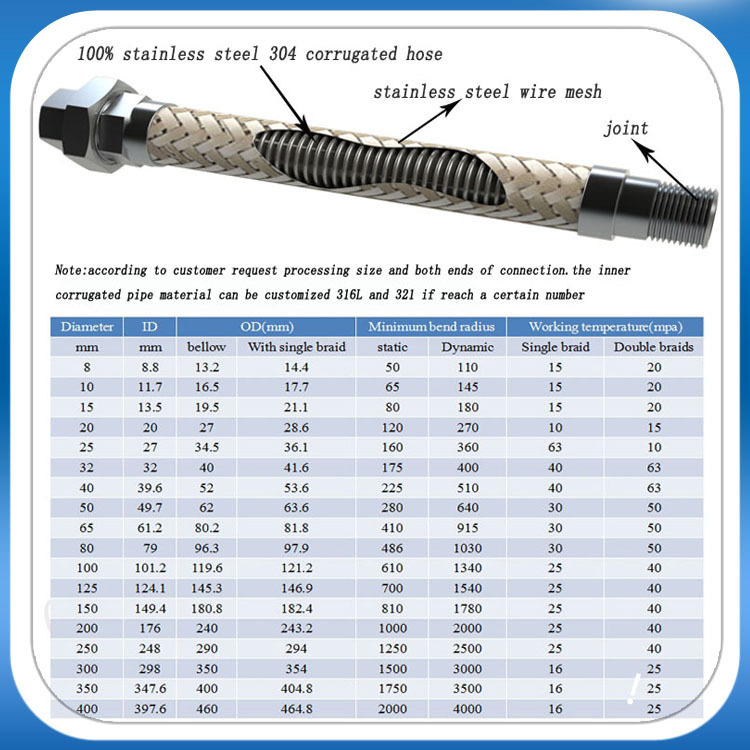 HOW TO ORDER
To properly design a metal hose assembly for a particular application, the following design parameters must be determined
1. Temperature--You should provide us this information as the temperature to which the assembly is exposed a proper fit
2.Size-- The diameter of the connections in which the assembly will be installed is needed to provide
3. Media--This is important since you must be sure that the assembly's components are chemically compatible with the media going through the hose as well as the environment in which the hose is installed
4.Pressure--Identify the internal pressure to which the assembly will be exposed. This information is important to determine if the assembly is strong enough for the application
5. Identify the necessary end fittings. This is required since fittings for the assembly must be chosen to properly fit the mating connections.
Installation Information
1. Avoid torque.
Do not twist the hose assembly during installation when aligning the bolt holes in a flange or in mating up pipe threads. The utilization of lap joint flanges or pipe unions will minimize this condition. It is recommended that two wrenches be used in making the union connection: one to prevent the hose from twisting and the other to tighten the coupling.
2. Prevent out-of-plane flexing in an installation.
Always install the hose so that the flexing takes place in only one plane--this being the plane in which the bending occurs.
3. Avoid over bending.
The repetitive bending of a hose to a radius smaller than the radius listed in the specification tables for corrugated hose will result in early hose will result in early hose failure. Always provide sufficient length to prevent overbending and to eliminate strain on the hose.
4. Avoid careless handling of the hose assembly.
Always lift or carry metal hose to prevent abrasion damage particularly to braided corrugated hose. Store metal hose assemblies away from areas where it can be subjected to spillage, corrosive fumes or sprays, weld splatter, etc.
5. Always support the piping.
A piping system which utilizes metal hose to absorb movement must be properly anchored and / or guided. Always support the piping to prevent excessive weight from compressing the hose and relaxing the braid tension.
PRODUCT SHOW
welding fitting high pressure steam hose/steam iron/ flexible hose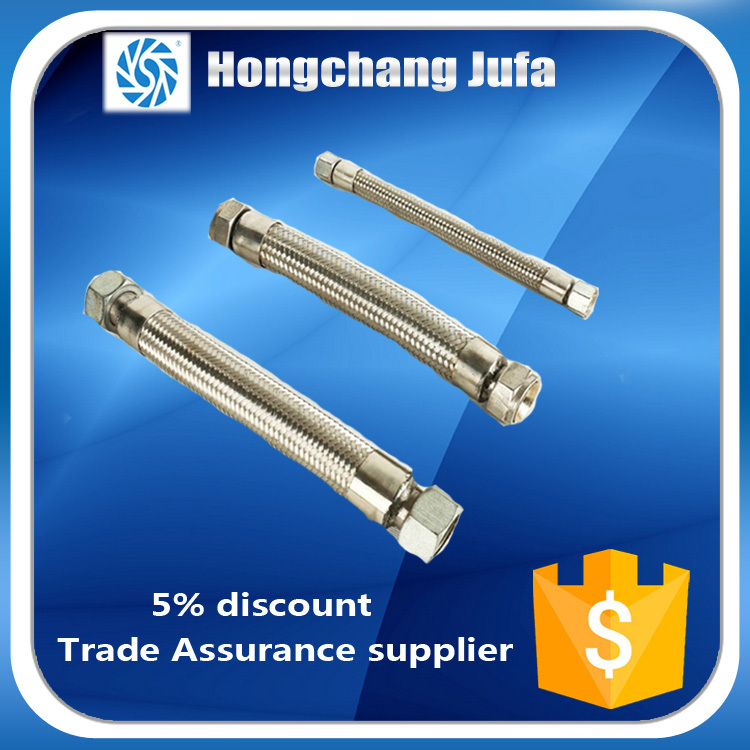 New Buyer Q&A
<Question(1)> : What is Hong Chang Jufa CO.,LTD?
<Answer> : We are China factory, good at the business of rotary joint, metal hose and expansion joint service for more than 8 years.
<Question(2)> : What can Hong Chang Jufa provide?
<Answer> : We mainly deal in rotary joint, metal hose, metal expansion joint, rubber expansion joint and hydraulic hose ..etc.
<Question(3)> : How is your service quality?
<Answer> :24 hours quick response. Fast delivery service after payment confirmation.
<Question(4)> : Can you provide sample?
<Answer> : Yes, product samples are warmly welcomed. MOQ could be 1 piece for a trial.
<Question(5)> : How to send request for quotation?
<Answer> : Kindly inform us with Product name and size for each product.
<Question(6)> : What is your MOQ(Minimum Order Quantity)?
<Answer> : We do not have MOQ for our products, you can order even from 1 piece.
<Question(7)> : How to pay?
<Answer> : We accept T/T, PayPal, Western Union. Escrow
<Question(8)> : How about your Inspection & Packaging?
<Answer> : We will do inspection before packaging.Standard Export Packaging.
<Question(9)> : How about your shippment?
<Answer> : We can delivery both by air and sea. Such as EMS, FedEx, UPS, DHL, TNT, Less than Container Load, 20ft & 40ft Container.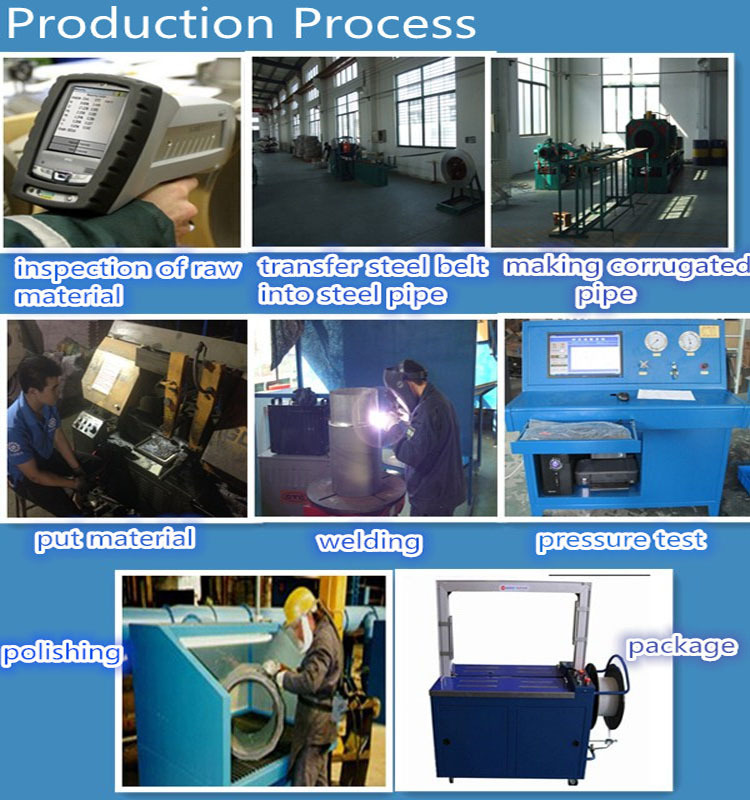 Application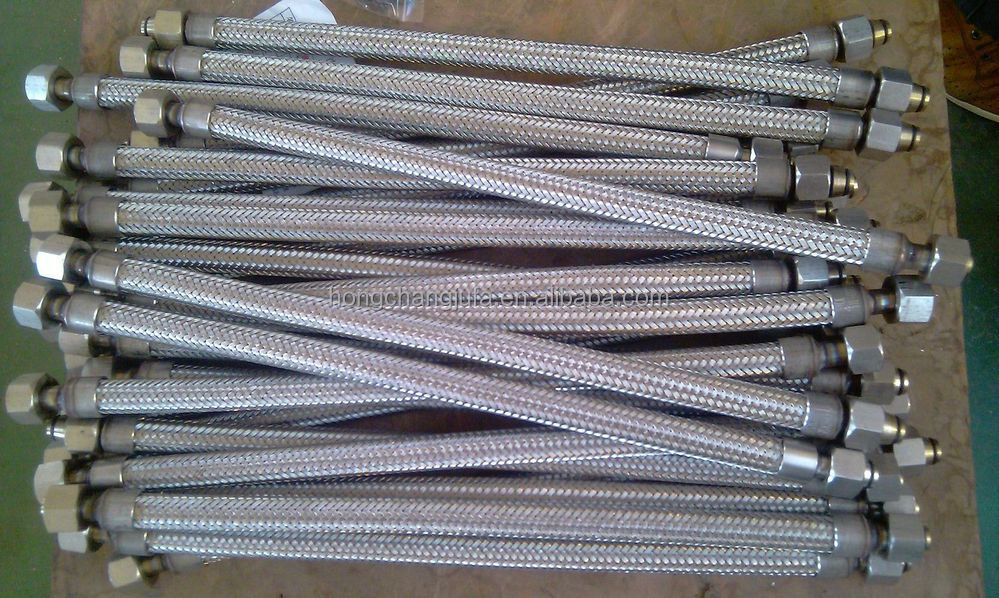 Foshan Nanhai Hongchang Jefer Electromechanical Valve Co.,Ltd is a factory set up in 2006. We are specializing in researching,developing and manufacturing different kinds of rotary joints, flexible metal hose, rubber hose , bellow expansion joint and valve equipment in China.
Our factory is covering over 10,000 square meters. Our R&D department consists of 3 engineers. Also, we have experienced QC personnel to check all our products strictly before packaging . All of our products meet the national standards and have passedISO9001 certification. We obtain trust from customers by advanced technology, excellent quality and satisfactory service. Also, we specialized in custom rotary joints tailored to meet your project requirements.
Our mission is: Offering high-quality goods, excellent service, and reasonable price to customers; Using our product, you will get more benefits!
What is our shipping way and payment terms?
Shipping
1. FedEx/DHL/UPS/TNT for samples, Door-to-Door;
2. By Air or by Sea for batch goods, for FCL; Airport/ Port receiving;
3. Customers specifying freight forwarders or negotiable shipping methods!
4. Delivery Time: 3-7 days for samples; 5-25 days for batch goods.
Payment Terms
1. Payment: T/T, Western Union, ,PayPal; 30% deposits; 70% balance before delivery.
2. MOQ: 1pc