Telescopic retractable grandstands seats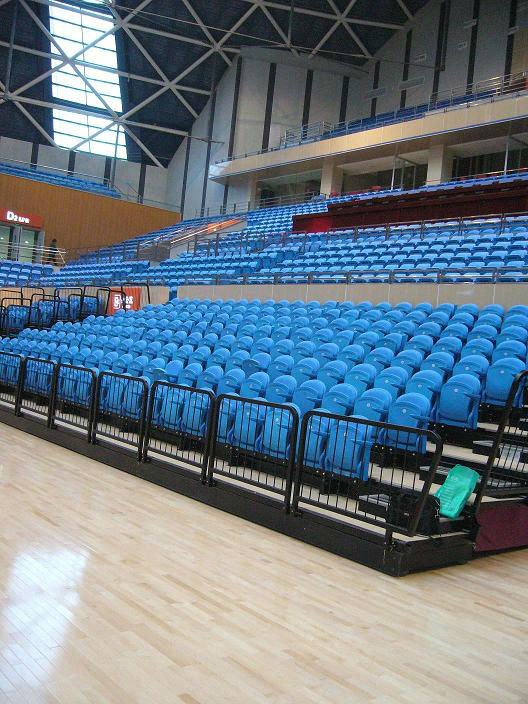 Size:
Width:305mm,length: 452/456mm,Height :165/435mm, center
distance: 457mm(or wider), Step height: 300mm,Step width:
850mm.
The ability of loading:
The telescopic not only bear the weight of structure, but also the
around the load ≥36kg/m2,For the rail,Horizontal loads≥65kg/m2,
Horizontal loads≥100kg/m2.
The seat and backrest:
HDPE Blow mold craftwith inner steel support,curve design,anti-
static,wall thickness: 3mm,Uniform wall thickness ,fabric cushion
is optional.
Power supplier:
Operation Fashion: Remote control, Pendant Control,Power:
380V,0.37KW(0.55KW),50HZ, Features: Small impact, Smooth
operation, Maintenance Free.
Seat beam:
Use the high quality of Q235 rectangular tubes
60mm×40mm×3.75mm,The combination of structural steel can be
installed apace,the on-site welding is forbidden.Installation,Each
structure is made up by the Q235 steel plate which is bending
forming the thickness is more than 2 MM.
Feet column armrest:
Galvanized steel,the steel components is dealed wih the
sandblasting,Then use the phosphate cleaning system finish the
process of retreatment, powder coating will be operated by the
large automatical powder coating production line,the thickness is
80-120μm. The armrest is made by PE,it is nice look and durable.
Hinge system:
The system is made up by Permanent lubrication connecting rod
wall,two Independent hinge and two pcs two-way function lifting
systerm of spring , the hinge system can be operated more than
350,000 times and Lubrication fatigue and bearing wear which can be
measured won't happen.
Chair turnover:
Use Pedal device easy to operate, and hard to damage,avoid
danger.
Casters:
The material of casters of the steel structure of the stand is made by
the Polyurethane materials, the beaing capacity of the Double bearing
casters is more than 250kg/m2,when it is rolling, it won't leave any
track on the floor.
Deck:
Use the high quality environmental multilayer solid wood (the thickness
is 18mm), High temperature model,The surface covers wear-resisting
and anti-skidding floor glue, the Nose& Riser beam is made by the
aluminum alloy. Section bar covers the boundary beam with the
YMFHT.
Other requires:
The material of the rails is 40*40*2.0 steel tube which is installed and
welded with the standard Round Stee
Our projects including:
2008 Beijing Olympic Games
2010 China Shanghai EXPO
2010 F1 Korea
2011 Universiade Shenzhen(exclusive seating supplier)
2007-2012 F1 Singapore
2013 China Tianjin East Asian Games