Anti-riot pepper spray/Female security pepper spray:
(1) with self-locked cover
(2) disguising and easy to put it in pocket, handbag
(3) instruction: In a emergency, take it out and aim at the attacker's face, push
button lightly to spray to attacker, pepper could make attacker blind, strong
cough, afflictive to impermanency disable completely resume in 30 min. And could
not cause any hurt
(4) effective within 2-3 meters
(5) don't use against the wind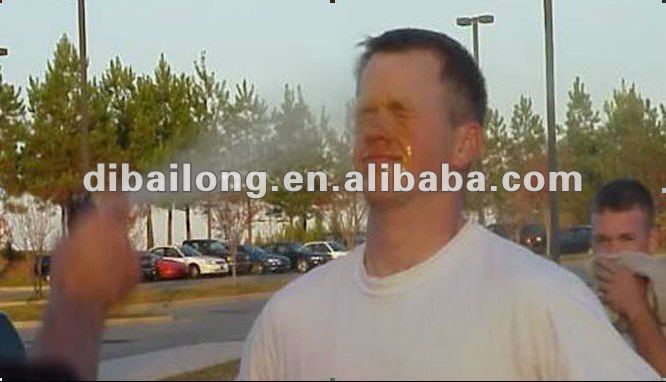 Feature
1. Volume: 60 ml;
2. Spray distance: ≥3m;
3. Time length of continuous spraying: 15S
4. Could be put it in pocket, wallet, etc.
5. Easy and quick to operate
Description
1. Protects you with this Proven Stopping Power;
2. Enables you to defend yourself to keep a safe distance from an attacker;
3. The pepper spray on the face will cause temporary blindness, choking, coughing and nausea- bringing an attacker to his knees;
4. Delivers a strong potent blast 10-12 feet;
5. Quick and simple to operate, easy to take around;
6. Perfect to carry for personal protection from being attacked
7. Light weight, easy to take around;
8. Note: Strictly forbidden to joke around people, only used in danger, if got on face, please rinse with plenty of water.