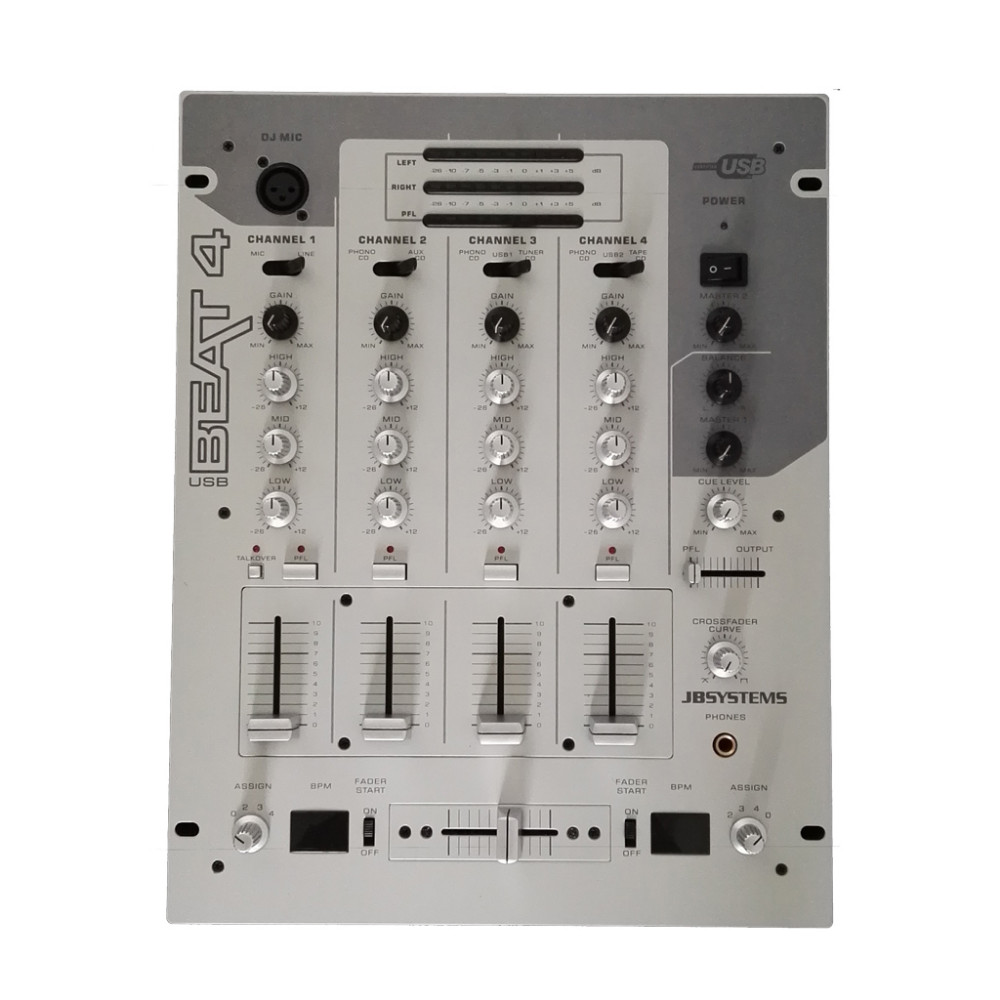 Product Description:
*13 inputs on 4 channels (7line, 3phones, 1micro, 2USB)
* 2 Bidirectional USB connections (play and record at the same time!)
*Completely redesigned for superior sound quality and very low noise
*1 separate balanced DJ micro with talkover
*Gain, high, mid, low controls with -26dB kill function on all channels
*Assignable and easy replaceable VCA-crossfader
*Voltage controlled crossfader with adaptable fader curve
*User replaceable easy gliding steel rail DJ faders
* 2 Master outputs (Master1 with balance control)
*Master1 with balanced XLR outputs
*Stereo LED VU-meters on master
* Mono LED VU-meter for PFL-signal
*Accurate automatic beat counters
*Crossfader starts for compatible CD players
*Pre-fade listening with cue mix option
Technical Information:
Power Supply AC 230 V, 50Hz (34Watt)
Frequency response 20-20.000Hz (+-3dB)
THD + noise:<0.05% @ 1kHz, 0dB, load=47k Ohm
S/N Ratio (IHF-A): >78dB @ 1kHz
USB connections: USB2.0, bidirectional (44.1kHz/16bit) Windows @ MacOS compatible.
USB cable (not included): Lmax=3m
Mic inputs: 2mV @ 3k Ohm
Line/CD inputs: 340mV @47k Ohm
Phono inputs: 3mV @ 47k Ohm
Record output: 775mV @1k Ohm
master1/2 output: 1.55V @ 1k Ohm unbal.
Master 1 output: 2.55V @ 600 Ohm bal.
Talkover: 0dB to -14dB
Channel tone controls: +12dB/-26dB (70Hz, 1kHz, 13kHz)
Headphone: 3V @ 32 Ohm
Dimensions: 294(W) x 372(D) x 93(H) mm
Weight: 5.4kg