Best seller:New gas oven for roasting whole pig with SS bakery
Model

Tray Size (mm) and tray No.

Power ( KW)

Weight

( Kg)

Baking space (m2)

Overal Dim.

( mm )

Electrical

Diesel

/Gas

HDR-5SM

400*600/16

32

1.5

1050

4.5

1720*1880*2150

HDR-6SM

600×500/16

36

1.5

1200

5.4

1780*1810*2150

650×450/16

HDR-9SM

400*600/32

45

1.8

1650

8.5

1950*2100*2250

800*600/16

HDR-13SM

762×465/32
720×460/32

65

2.2

2000

12.6

2180*2130*2250

HDR-15SM

400*600/64

76

3.8

2650

15

2130*3100*2350

800*600/32

HDR16SM

400×950/32

400*900/32
500×800/32

1000×800/16

75

3.0

2600

15.4

2300*2230*2350
The oven has below character:
1. Gas, Electric OR Diesel can heat the oven. You choose any way you prefer. We call it Gas baking Oven,
Gas heated baking Oven, Electric bakery oven, or Diesel baking oven and Diesel fired ratary oven.
2. Efficient low-energy,super insulation
the rotary rack oven bake the most pig, duck, chicken within the limited time.
3. Absolutely safe
4. CLEANLINESS AND ENVIRONMENTAL SAFELY
Our Rotary Rack Oven uses Diesel and Natural Gas, and are designed with special burning system that make
the fuel burns well enough before expelled from the Oven. It is equipped with special automatic exhaust fan or
The Diesel Oil container is made of special metal blower and so it make both the food and the production
environment are safe and clean.
5. Broad usage
The Rotary rack oven is suitable for baking all kinds of pig, duck, chicken and so on.
6. Super vapour supply
The rotary rack oven needs vapour to work efficiently so it has been designed to contain 8 litres of water that can
be turned into vapour within 20 seconds by a superb steam system. Sufficient vapour is supplied at any time in
accordance with Technical requirement to satisfy the baker's desired food quality.
7. DAYLIGHT ILLUMINATION
Using daylight florescent lamp, people can really see and observe the fire to check whether it is burning at the
required level through the double-glass-door.
8. Facilitate long life
Desktop car, vehicle access, easy to operate.Use of special stainless steel heat exchangers and special welding
technology, long service life.a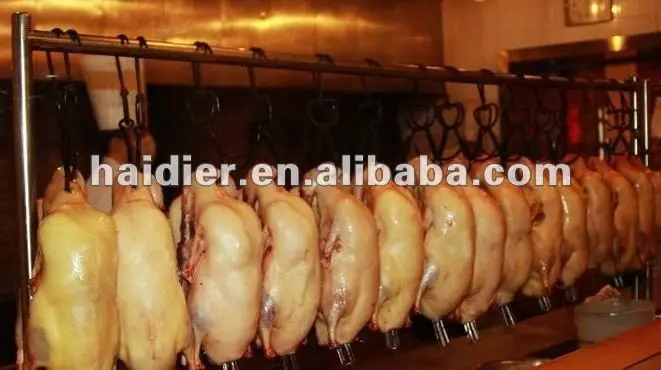 1, mechanical surface coated with preservative solution (to protect stainless steel).
2, the plastic cushion packing machine (prevent bump),
3, plastic film packaging (to prevent ventilation),
4, wooden case/frame packaging (easy to transport) then tie the bandage outside of the wooden case (reinforcement overall).


Click Words below pictures to see details
Dough Mixer Deck Oven Bun Slicer Divider Rounder Trolley Tray
TWO YEARS WARRANTY
1.Our engineer can serve you a fully installed and operational line, but you should pay it.
2. There is the basic instruction of the mechanical failure and the method how to solve it in the usage instruction clearly.We will provide you lots of spare parts free of charge.

Haidier Food Machinery Co., Ltd. Established in 1990 Co., Ltd is one of the biggest enterprises on food machinery in Hebei area.
Our factory owns a lot of senior engineers and skilled workers that engaged in all types of work. Our machines
include all forms of food baking machines, such as Rotary Rack Oven, Deck Oven, Convection Oven, Gas Baking Oven, Diesel Oven, Spiral Mixer,Proofer, Moulder, Baking Rack, Tray and so on. In addition, we also produce correlative machines according to your design.
The company pays much attention to quality control and primary management. We have passed ISO9001 quality system certification and CE certification. Our products are now sold all around North China, also exported to Africa, Southeast Asia, South America, Europe...... all over the world with its reasonable price and reliable properties.
Our principle is "First Quality, First Service and Greatest Efficiency "
General Questions:
Q: Are you a manufacturer?
A: Yes, we have specialized in this filed for about 26 years with ISO9001:2000 and CE certification.
Q: How do you ship the products?
A:Usually by sea,but we can also according to customer requirements.
Q:What information should I provide,if I want a quotation?
A:the model that you choose from our specification table,provide us your production details,then we recommend to you.
Q: How is the payment?
A: We accept 30% T/T deposit before production and 70% T/T balance before shipment.
And Western Union or Paypal.
Why Choose Us?
We are China Leading food machinery supplier.
Alibaba Assessed Supplier.
Any inspection Before Shipment.
Best Quality and Best Service with Competitive price.


How To Contact Us?

Send your Inquiry Details in the Below.Click "Send " Now!
Please feel free to contact me any questions you may have.
Contact : Amy Qi (Sales Representative)
Mobile: 0086-17732156855 (whatsapp,wechat available)
Fax: 0086-17732156855
Skype:dong.amy72
Email: amy(at)haidier.com
QQ: 2038805247