Temporary Grey Hair Color Spray
Product Name: Temporary Grey Hair Color Spray

Feature:
1. This hair color is a new type of temporary hair color that uses bubble foam.
2. Just squeeze the applicator and dispense the foam, apply on hair and massage.
3. No more troublesome sectioning of your hair!
4. The foam reaches all over your head to create a graceful and evenly colored hair!
5. 8 Beautiful colors to choose from!
Expert advice:
1. Selecting the right color for your hairstyle Girls with wavy hair may consider a gentle, natural hair color that makes the hair look soft and touchable.
2. It creates a feminine and approachable overall impression.
3. When styling, focus on creating texture and bringing out the layers of your hair.
4. The finished look is beautiful, soft and gentle.
5. Milk Tea, Dark Chocolate, Chiffon Beige and Ash Brown.
6. Vibrant hair colors can give you a vivacious and active image.
7. These colors will be great on girls with straight, layered hairstyle as the fresh colors give hair a sleeker sheen.
8. When styling, you can further play up the vivacious image by creating some movements to the hair ends.
9. And don't forget to create some volume at the crown for an airy, natural finish.
10.Berry, Brownish Pink, Glossy Brown, Mocha Orange.
GMP,ISO,GMPC,manufacturer,filing in REACH
Remark:

As the biggest hair dye raw material supplier and the most professional hair color cream manufacturer, we produce color creams from the top level quality, to the average Italian hair color quality, to the cost effect hair color. Tell us the quality and price range you desire, we will bright you best performance product against your budget. Currently we have 3 automatic production lines and 2 semi-automatic production lines with a production capacity of 100,000 tubes per day.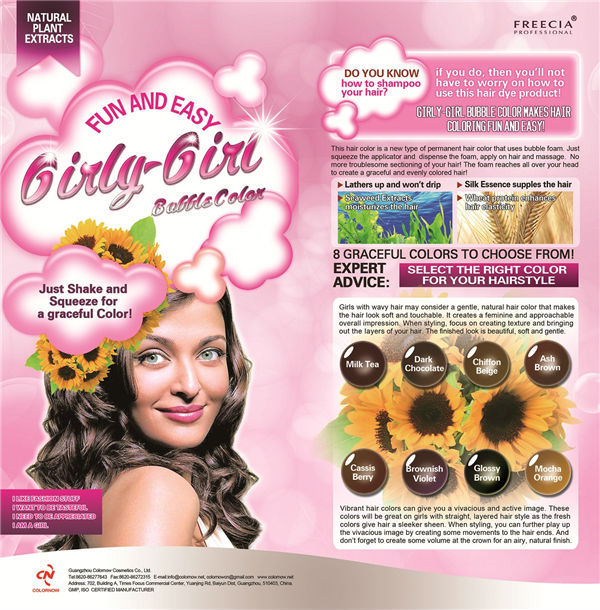 Private Label Temporary Grey Hair Color Spray Callout
Colornow Hair Color Product Line
Permanent Hair Color
CYNOS Glamer Hair Color
Freecia Hair Color
MODColor Hair Color
Argan De Luxe Argan Oil Fusion No Ammonia Hair Color
Color Sense Home Hair Color Kit
Semi-permanent Hair Color
Keratonz Hair Conditioning Hair Color
Temporary Hair Color
CYNOS Magic Hair BB Cream
Colornow Temprory Hair Color
Check our new NO AMMONIA ARGAN OIL HAIR COLOR, click the image below:
Check our best Cynos ColorPlex Beauty Kit, click the image below:
Check our ActiveCare Hair Color Kit, click the image below:

Check our Freecia HAIR COLOR, click the image below:
visit our site http://www.colornow.net/private-label-hair-color-dye-cream for more information or scan the QR code below
Feel free to leave us messages, or chat with us via Trademanager.
Work Time: 9:30-18:00 Monday to Friday (GMT+8 Beijing Time)
Email: info#colornow.net (Replace # with @)
Skype: colornowcosmetic
Tel: +8620-36131808
Official Website: http://www.colornow.net/
or meet us at top grade cosmetic trade shows. We expect you on the following cosmetic trade shows: Bologna Cosmoprof, Cosmoprof Asia Hong Kong, HBA Global Expo, Beautyworld Middle East, etc. You can try real samples by yourself.
Competitive Advantages
Brand-name Parts

Experienced Staff

International Approvals

Product Features

Country of Origin

Product Performance

Quality Approvals

Good Service
Quality Control Flow

Sales Network
GMP/GMPC/ISO Certified
Factory
The first one Hair Care factory got GMPC Certificate in China. With GMP, GMPC, and ISO guideline and years of professional hair care and body care products manufacturing experience, Colornow Cosmetic Limited has strong confidence in providing high quality products with competitive prices.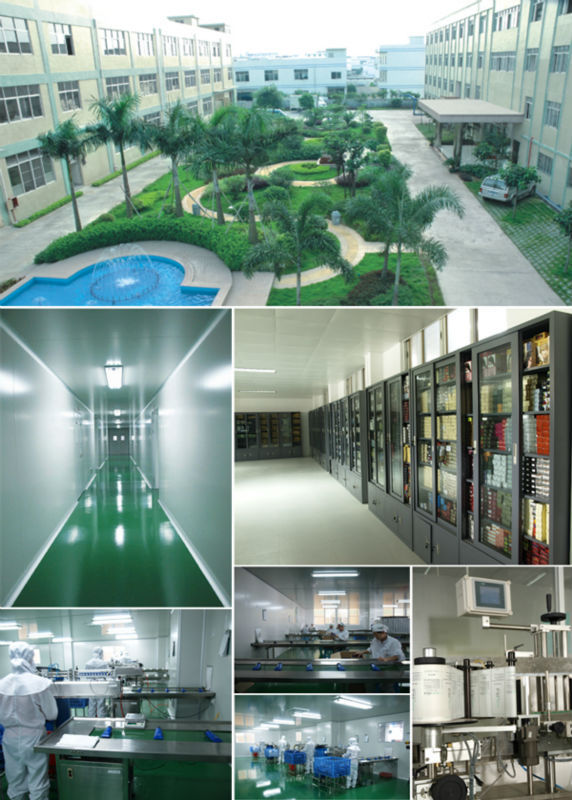 Trade Show