a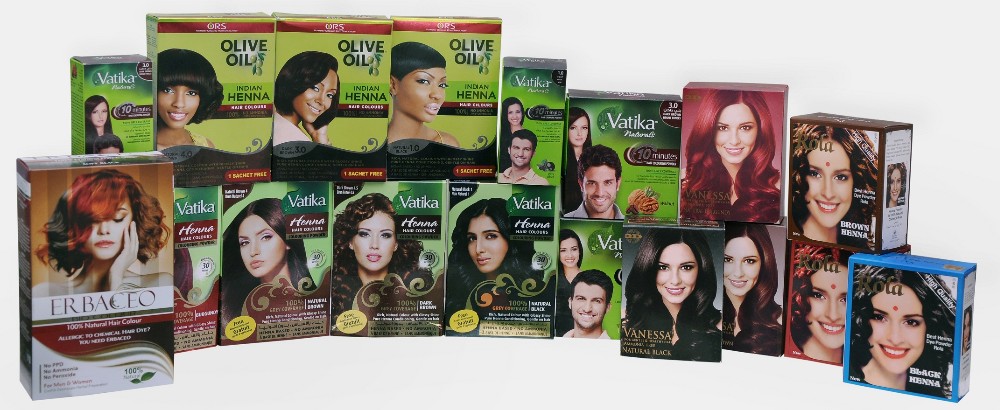 henna based hair colours
Henna based hair colour not only imparts natural colour but also keeps the hair healthy, strong and beautiful. The powder hair colour contains herbs like Amla, Methi, Bhringraj, Neem, Aloe Vera, Hibiscus, etc. The most popular shades are Natural Black, Natural Brown and Burgundy.
Product Features:
Henna based hair colour

Gives beautiful & long-lasting color.

Easy to use - just mix the powder with plain water.

Contains no ammonia. No heavy masking odor.

Does not drip on face

Contains conditioner that makes hair soft and shiny
Each sachet has 15g of our proprietary hair colour formulation where 50% of the weight is that of herbs including henna and the remaining 50% is the essential chemicals that impart the colour. Each sachet is good for one application by a woman with shoulder length hair. The chemicals are of the highest quality ensuring that there is no side effect or skin irritation. This hair colour needs to be applied for 30 minutes to get optimal results.
We normally pack 6 sachets in a box and 100 boxes in a shipper.
We ship your chosen products to your doorstep within 2 weeks of order date. Our dedicated and passionate team ensures that your shipment is delivered in immaculate and perfect condition, without any damage to it. To be able to deliver proficiently and making it financially viable, the minimum order that we execute should be of either 50,000 boxes or 300,000 sachets.

With over 8 decades of experience as cosmetic manufacturers we can offer you A-Z solutions. We will assist you from the Product Consultancy stage to the Market launch phase.
Formulation:

we have our own innovative R&D&I department and long term relationships with top international laboratories.

Manufacturing:

we work with state-of-the-art technology and with the highets quality standards.

Packaging, design and marketing:

we partner with well-known packaging supply companies in combination with our own design and marketing teams with extensive knowledge of the industry and the international market trends. Leading the company, there is a young management team that follows in the tradition ( over 80 years of experience) and trust that our products offer providing dynamis and enthusiasm to make the constant changes that the international markets call for.



products consultancy
We develop products from the idea conception to market launch.
We assist you with a personalized A-Z service. We advise our customers with the newest and trendiest packaging designs, product textures, natural extracts, components and designs to assure the success of your products in your target market.

design consultancy
With a team of creative and experience designers, we provide you with design service for packaging, color charts, logos, catalogues, displays, etc.

research & development
Our R&D department works to assure that you have the latest formulations and textures with state-of - the-art technology and innovative solutions.

manufacturing
Modern equipments and high production standards guarantee the excellent quality of our products taking the respect of the environment into consideration. The dynamic, highly skilled and passionate employees of our facilities provide a superior level of services and capacity to respond to the changing demands and trends of the international Hair Dye markets.

quality
Quality Assurance controls and coordinates key procedures and activities within the Quality System, with the objective of ensuring that our products and processes meet the correct quality standards that each product, each market and each country requires.
We provide you with:
packaging
We work with leading packaging suppliers guaranteeing quality, design and delivery time. In addition to that, we have in-house packaging facilities for a just-in-time filling and manufacturing process.

marketing
We can assist you with all aspects of marketing mix for a successful market kick-off for your new products or line of products. We work with clear objectives, brilliant strategies and personalized actions adapted to your target market where your product or product lines will be introduced to.

small batch runs
One of the unique services offered by us is to offer smaller runs of product. This is very helpful especially for those companies who are interested in doing marketing research in a small market segment or geographical area.
Many marketers feel that the additional cost of a small product run is actually money saved when attempting to enter a new segment of the marketplace. If the product is a "hit" or well received by their customer base, having us do a small run of product is usually considered "smart money spent". You might well come to the same conclusion; give us a chance and let's see what we can do for you!

low lead times
In this world of "just in time inventory", we understand that the needs of our customers may not fall into the classic 5 to 6 week lead time scenario. Adjustments can be made at our end to facilitate a "quick" turnaround of a given product, as long as all the other components are already at our location.

customer service
Throughout your product cycle and beyond, Colorveda provides extensive customer service featuring a dedicated department trained to keep you informed. Through emails, phone calls and even personal interaction, you'll know first hand how your product is processing and at what stage of production is in at all times.
All PO's received are immediately entered and tracked through our state-of-the-art computer system allowing us to inform you immediately of your order status and process your order as quickly as possible.
We would be happy to discuss your manufacturing and packaging needs with you. We can help you coordinate your entire product line from concept to finished package in person, over the telephone, by FAX or email. We have experience with exporting products globally and can assist you in completing the required import/export documents.
Call us today, let us discuss how we can help you.
company history
Since group's inception in 2004 and subsequent inception of ColorVeda in 2011, we have set very high standards in developing products and processes that meet stringent quality norms. Colorveda is a contract manufacturing company specializing in providing products for companies looking to expand their hair product lines. Our current customers find us extremely easy to deal with. Most have come to us due to problems with other contract manufacturers or the need for innovation. For example, experiencing very long lead times and missing important shipping dates to more serious issues including product failure and/or mislabeling of packaging.
Colorveda has core strength in customizing old or new mixtures by adding new popular ingredients to broaden the marketing strength of a given brand.
With a vision to lead a global expansion of herbal hair colors, we ensure that the product is developed to the most exacting requirements of the process. ColorVeda is respected throughout the herbal community for the incomparable quality of the company's product brands. With the resounding success of our product line, we help the industry with private label brands both domestically and internationally. With a goal to create cutting-edge hair care products while providing superior manufacturing, formulating and marketing service, ColorVeda continuously researches new ingredients and tests formulae, to bring to market those products which are proven effective in producing the desired results.
In working with us for whatever your needs might be, you will find us to be a group not only with your company's profit margin in mind, but also timely deliveries of our result oriented products.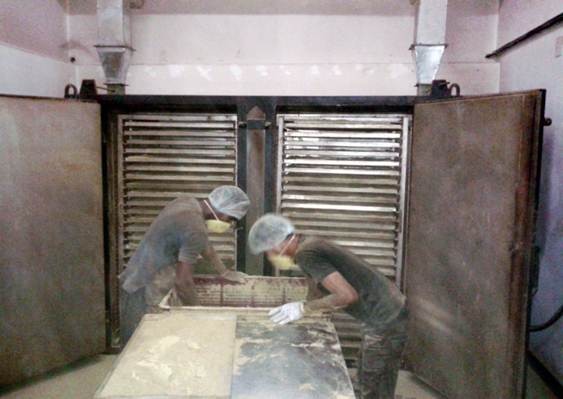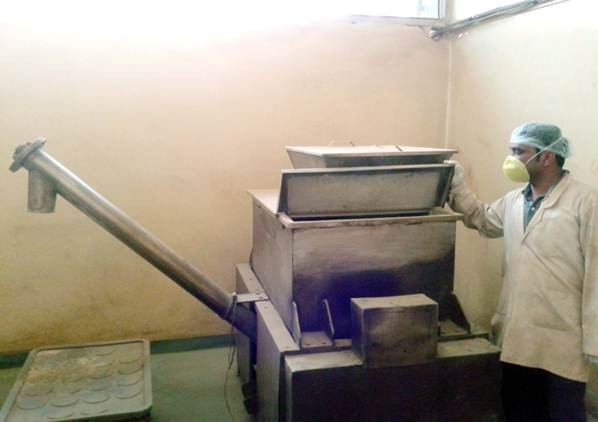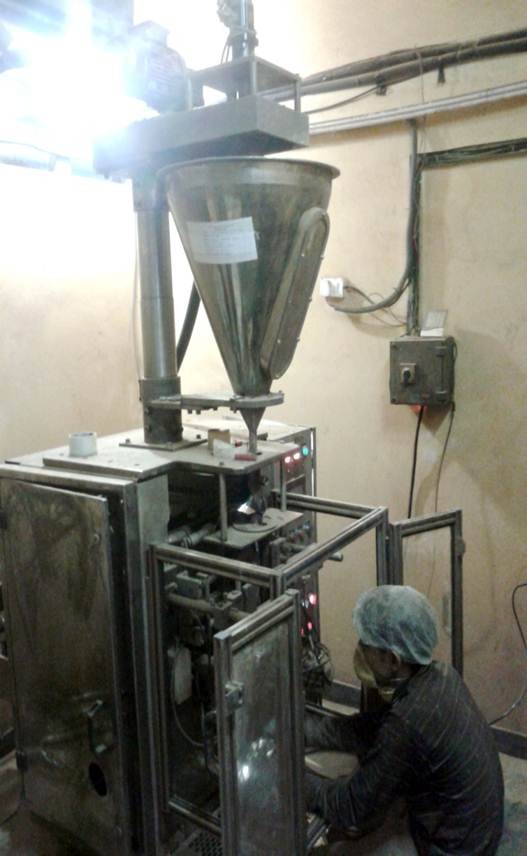 vision
Our goal is to be recognized for our commitment, reliability and responsibility towards each and everyone of our customers, positioning ourselves as an international reference point in the formulation, development, design and marketing of private label colors.
mission
It is with vigor and determination that we seek to remain the leading retailer-branded product development Company in the health and beauty care sector. To this end, Colorveda team will continually strive to:
Empower and challenge each of our Colleagues to ensure that Colorveda is the strongest and most capable supplier within our marketplace.

To Provide a safe and enjoyable workplace for all Team Members.

Offer our commitment, via our dedicated members, to make products which consistently exceed Client expectations for quality, service and value.

Provide our Clients with Industry leading ability to respond quickly to marketplace innovation, in product and package design.

Collaborate with our strategic suppliers to create the very best value- added product and service offering for the benefit of our Client partnerships.

To operate this Company with a heart for people, a head for business, and a passion for bringing the two together.
values
We have an unbinding confidence in business morals and values. We firmly trust that a stage for solid, manageable development can be established on the framework of solid qualities. Recorded beneath are our center qualities we take pride in and hold fast to at all times:

what type of products can you make?
We make all types of hair colors in liquid, cream and powder form. We provide you with various colours to choose from. You can also come up with a new colour and we will develop it for you.
can you make natural or organic products?
Yes…we can make 100% natural products as well as artificial colours for you.
do i have to have the formula, or can you formulate products for me?
Our unique and innovative formulations is one of the things that set us apart. Our state-of-the-art laboratory and staff of fulltime chemists, formulators and pharmacists is always up to date on the latest technology, and capable of formulating any type of product to your exact specifications. Whether we are formulating for maximum performance or maximum cost effectiveness, we can develop and design the exact product you need.
how long does product development take?
It takes as long as necessary. The development process is not complete until our client is totally happy and content with the formulation. Sometimes it takes a few days, but sometimes it can take a few months. But it's never done until our customer is 100% satisfied with the product in terms of appearance, color, fragrance, texture, stability, ease of use, performance and price point.
how much does product development cost?
That varies on the product and how much research and development is required, but it's a lot more affordable then most people think.
can you supply us with packaging?
Yes. If it's out there, we can find it for you. If it's compatible with your product, we can use it for you. You make all the choices and selections…we do all the legwork and use our buying power to always get you the best price possible.
what about getting the product tested?
We can take care of all your product testing needs from stability to scientific clinical trials. Every product goes through a strict battery of quality control testing, and our network of affiliated laboratories can conduct any further kind of testing that is needed and/or desired.
do you guarantee your products?
We guarantee any product we manufacture will always be within the specifications of the sample you approved. We guarantee that all our products will meet all label and legal claims. At Colorveda, we always stand behind every product that leaves our facility.
who takes care of the packaging?
We will take care of the packaging. All you have to do is choose the kind of components you wish to use
i don't know what artwork will fit my product or company name. will you help me with this?
We have an in-house art department that will work with you. You may discuss the nature of your company and the direction of the artwork that you want to take, and our artist will put this into the right graphics and artwork for your review and approval.
what is the lead time to get the finished products?
Once the artwork is approved, it will take about 45 business days (shipping not included) to deliver your products.

Henna (Lawsonia inermis, also called henna tree) is a flowering plant used since antiquity to dye skin, hair, fingernails, leather and wool. The name is also used for dye preparations derived from the plant, and for the art of temporary tattooing based on those dyes.
Henna is a tall shrub or small tree, 2.6 m high. It is glabrous, multibranched with spine tipped branchlets. Leaves are opposite, entire, glabrous, sub-sessile, elliptical, and broadly lanceolate (1.5–5.0 cm x 0.5–2 cm), acuminate, having depressed veins on the dorsal surface. Henna flowers have four sepals and a 2 mm calyx tube with 3 mm spread lobes. Petals are obvate, white or red stamens inserted in pairs on the rim of the calyx tube. Ovary is four celled, style up to 5 mm long and erect. Fruits are small, brownish capsules, 4–8 mm in diameter, with 32–49 seeds per fruit, and open irregularly into four splits.
Use of henna for body art has enjoyed a recent renaissance due to improvements in cultivation, processing, and the emigration of people from traditional henna-using regions.
For skin shading, a glue of ground henna (either masterminded from a dried powder or from new ground leaves) is set in contact with the skin from two or three hours to overnight. Henna stains can last a few days to a month depending upon the way of the paste, particular skin sort, and to what degree the paste is allowed to stay centered skin.
Henna additionally goes about as a hostile to parasitic and an additive for calfskin and material.
Henna flowers have been used to create perfume since ancient times, and henna perfume is experiencing a resurgence. Henna repels some insect pests and mildew.
Henna's coloring properties are due to lawsone, a burgundy organic compound that has an affinity for bonding with protein. Lawsone is primarily concentrated in the leaves, especially in the petioles of the leaf. Lawsone content in leaves is negatively correlated with the number of seeds in the fruits.