< The Luxury Blend Coffee Like a Jewelry, Made in Reliable Japan - Mandheling Blend/Mocha Blend ( Ethiopia Arabica Coffee Beans )- >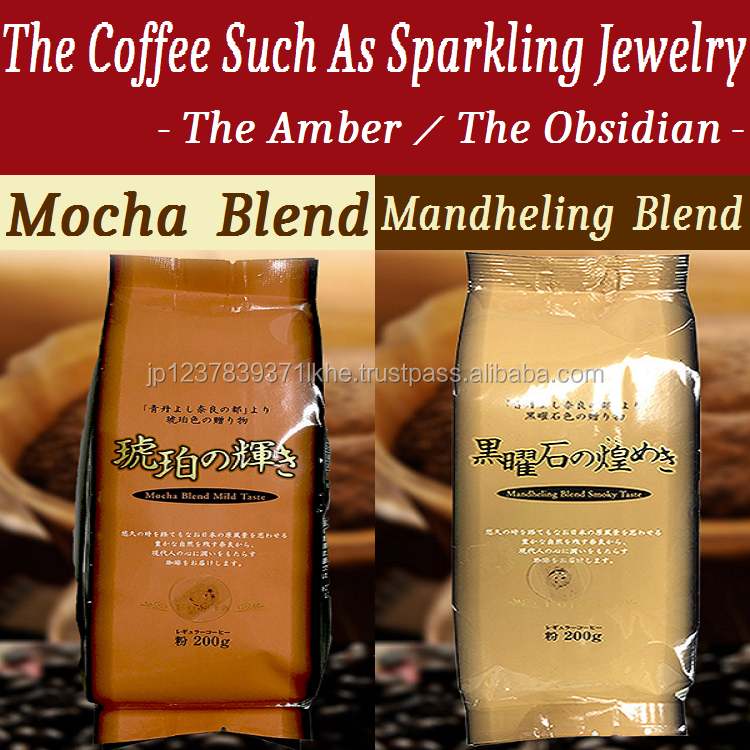 ♦The two varieties of coffee such as Sparkling Jewelry
•The Amber - Mocha Blend -
•The Obsidian - Mandheling Blend -

•Ground coffee , 200g / 1pack
♦Concept
•Two varieties of the blended coffee which have enough own characteristics
•Mocha or Mandheling the major coffee beans are used as main raw materials.
•They have a rich aroma and the mild / smoky taste which are their own characteristic.
•Since we have seemed that they are sparkling jewelry, we named them "The Amber" and "The Obsidian".
•The special blended coffee with unique characteristics brought out through the refined skills of coffee artisans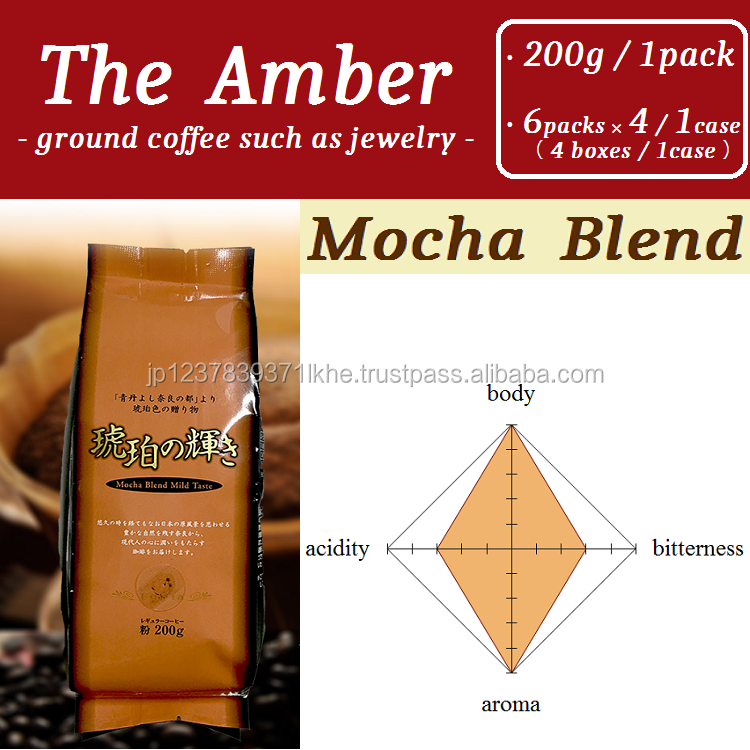 ♦The characteristic of The Amber (Mocha Blend)
•The flavor of Mocha with moderate acidity
•The roast and blend which are not to lose balance of bitterness and acidity as important parts of the coffee taste
•If you add milk, we sure that you feel supreme bliss since it stands out more mellow and brilliant sweetness which are produced by fruity acidity which is mocha characteristic.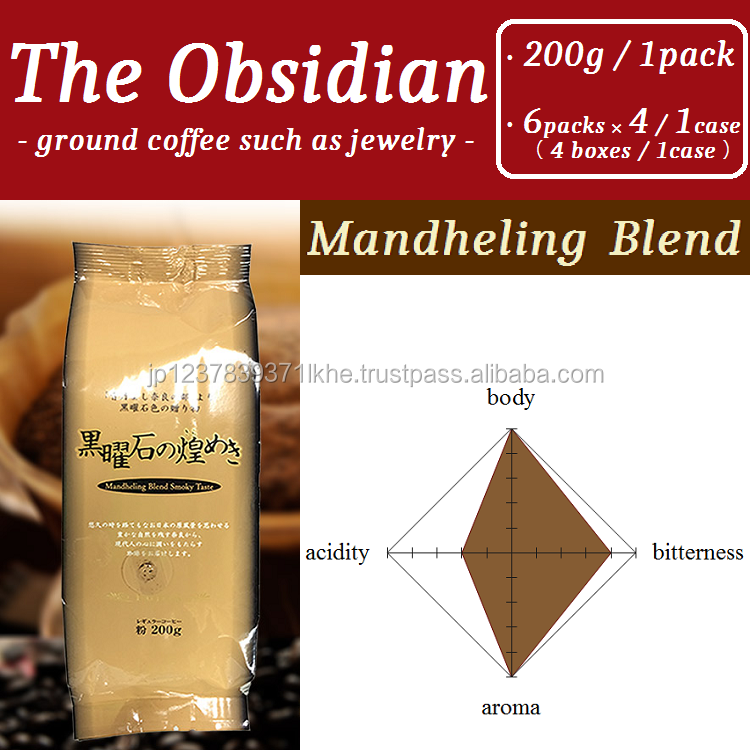 ♦The characteristic of The Obsidian (Mandheling Blend)
•Mandheling is not only afforded bitter taste even if it was darkly roasted.
•The rich flavor of Mandheling with rich body and aroma
•If you add milk, we sure that you feel inexpressible bliss since it has more mellow and sweet taste.
< Photographs as our profile overview >
♦Nara Plant & Types of our products

♦Overview of our business
< We have 2 sample sets! >
♦ Sample Set – A set –
•$45 per set
•Genuine products x 12items (included Ground x 8items / Roasted beans x 4items)
•Shipped approx. 2 weeks after confirmation of payment
•Postage fees are not included and paid separately. (Usually sent via EMS.)
♦ Sample Set – B set –
•$45 per set
•Genuine products x 11items (included Ground x 8items / Drip bags x 3items)
•Postage fees are not included and paid separately. (Usually sent via EMS.)
•Shipped approx. 2 weeks after confirmation of payment
< Our business & policy >
♦OEM
• Rich in domestic and overseas OEM experience
• We are currently trading with several OEM clients, and have a stable and continuous supply
• We have cultivated product development know-how through developing many products for more than half a century
♦ World exports experience
•Russia
•China
•Hong Kong
•Singapore
♦The Origin of Fujita Coffee
•In 1963, founded as a manufacturing and sales company for regular business coffee
•At the same time period, we opened coffee shops and have continued pursuing and conducting research on comprehensive technologies and know-hows regarding to coffee
•Products are handmade at the adjoining factory of our headquarter even today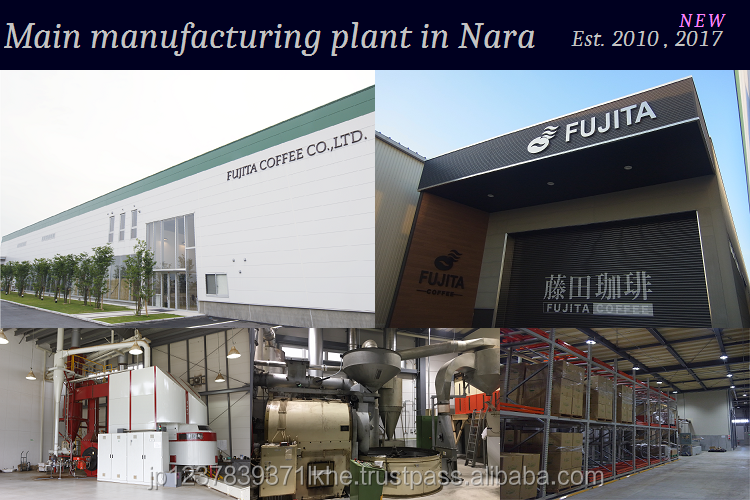 ♦ Overview of the Nara Plant
•People and environment-friendly manufacturing system are built from the factory designing stage in Nara, a land that has been blessed with a rich natural environment
•New machineries are introduced for controlling the processes strictly from the arrival of the green bean to the shipment of the product based on our keywords of "Environment, Safety, People, Production and Costs"
•A new building was created with a new roasting, production line, and a backyard in 2017 in order to meet different types of needs
♦Procurement / Selection
•Raw beans from around the world are selected under strict standards
•Continuing to travel to numerous farms for research and excavation
•The raw beans delivered to us are sent for sampling examination from a randomly selected bag
♦Test roast
Based on more than half a century of experience, our products are designed delicately upon countless trials and errors
♦Roasting
Precise and uniform product design with a computer-controlled and intelligent automatic operation system and stepless roasting system
♦Blending
We have introduced an after-mix manufacturing method that responds finely to climate, bean characteristics, and individual differences
♦Crushing and filling
• Optimal grind to make maximum use of product features
• Introduced a fully-automatic filling and packaging machine made by BOSCH
• Packaged with a special valve that shuts out air and lets out CO2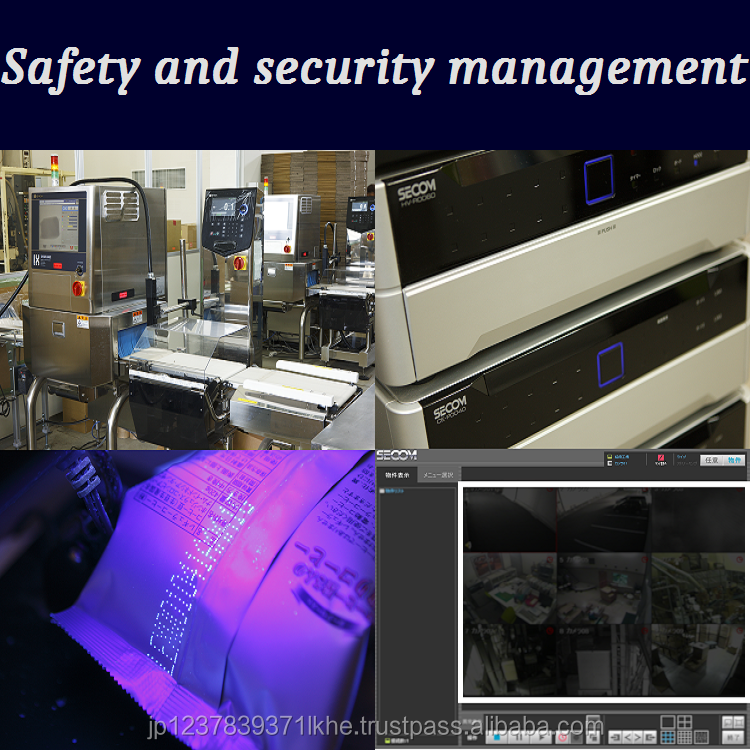 ♦Inspection
• The sensitive foreign matter detection system guarantees the safety and reliability of products
• Strict traceability management through a rich data management system
♦Recording and management
• We respond quickly to emergency food incidents by recording and managing images and data
• All production lines have monitoring systems installed, as well as complete security systems