Visit our web site:
www.tracklesstrain-tr.com
LOKOMOTIVE
Max Speed 8km/h
Motor 48v DC motor
Batery 4ad 40A Jell Gel Traksiyoner Akü
Charge Automatic
Charge Time 8H
Controller 48v 35A
Wheels 4.00*8 – Ön 3.0*4
Weight 175 kg + 5 vagon 420 kg
Dimensions(L*W*H)/1750*970*1300mm
Distance 50 km Full Charge
WAGONS
5 pcs 1600*970*1300mm
Wagon Weight 50kg*5 250kg
Maximum Capasity 450 kg
Wagon Wheels / 3.50*6
Pessenger / 10 Kids / 5 Adults
Turning Circle 4 mt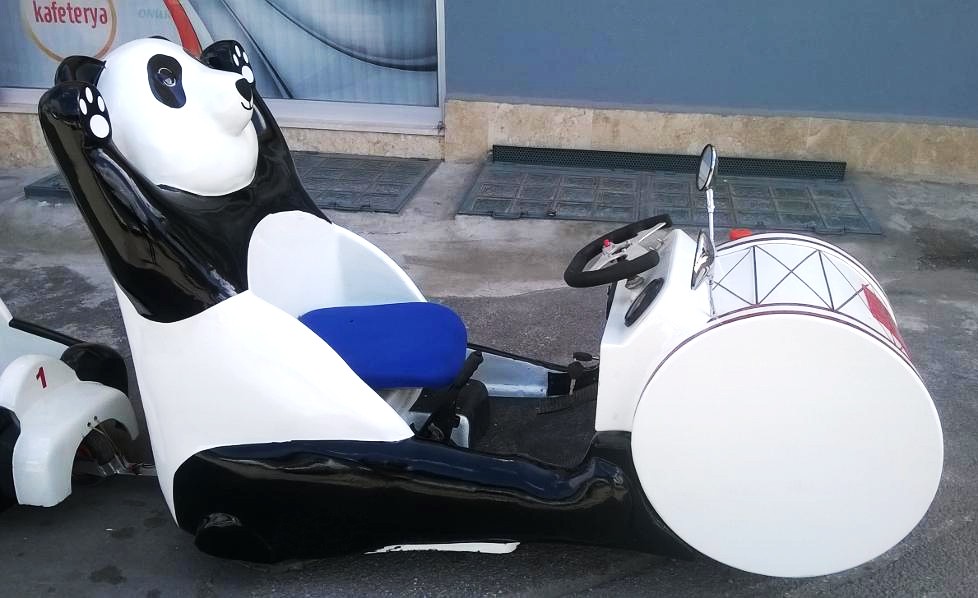 Visit our web site:
www.tracklesstrain-tr.com
PANDA is one of our special products. Our team are proffesional high Quality FRP body, chassis parts are made of metal constructions.
PANDA with the electric motor acting on the basis of the concept of the classic train child health harmless, environmentally friendly, long-lasting and robust materials are product using. Silikon around wagons LED interior lighting, for music used for the speaker.
Designed for children PANDA shopping centers, zoos, parks, such as available of the domains pedestrian areas.Parents of children with a product that is unforgettable good time.


The feature of electric train
1. The electric train - the cartoon or classical design are popular with children. Kids could ride it together, enjoy the scenery, take them close to nature, and enjoy the freedom of happiness. All glass steel shell, automobile paint.
2.A variety of style for customers to choose, track length can be added.
3.Mainly used for amusement park, square, theme park, it is a good choice of investment .
4.Decorated with colorful lighting on train .
5.Motor transmission system, low noise, smooth surface of track and long lifetime .

Our Service :
1.FOB price will be offered if we have your quantity and other infomations .
2.The shipment will be arranged for clients by our company ,by air +by express or by sea 3.We will offered best service after-sale !
4.The discount of will given to according to the trail order !
5. Provide installation help...
7. Skype : erkan4129
Visit our web site:
www.tracklesstrain-tr.com