| | | | | |
| --- | --- | --- | --- | --- |
| | | BACtrack Vio Smartphone Bluetooth Breathalyzer | | |
The ultra-portable BACtrack Vio transforms your smartphone into a breathalyzer. Quickly and easily estimate your blood alcohol content (BAC), track your results over time, and with ZeroLine®, estimate when your BAC will return to 0.00%. Features wireless Bluetooth connectivity, innovative tracking, personalization, and Apple Health integration tools. Compatible with most iPhone and Android devices. Perfect for BAC testing on the go, the Vio fits inside a purse or pocket and can be used as a keychain.
Features :
Accurate BAC Results

-

Proprietary Advanced MicroCheck® Sensor technology delivers reliable, accurate BAC results you can trust
Bluetooth Connectivity - Wirelessly delivers BAC results to your iPhone or Android device

ZeroLine Technology

-

Estimates when your BAC will return to 0.00%
Free BACtrack App

-

Saves and tracks BAC results over time, including optional photos, notes and drink logs
Ultra-Compact Design - Fits inside a purse or pocket and can be easily used as a keychain.
Accessories :
BACtrack Vio

Three Mouthpieces

One AAA Battery

Instruction Manual

One Year Warranty
Compatible Devices :
Apple iPhone 4S, 5, 5C, 5S, 6, 6s, 6 Plus & 6s Plus

Apple iPad 3, 4, iPad Air 1 & 2, iPad Pro and Mini 1, 2, 3 & 4

Samsung Galaxy S3, S4, S5 & S6

HTC One M8, M9, E8 and A9

LG G3, G4 & G5

Most other smart devices running Android 4.3+ and equipped with Bluetooth Smart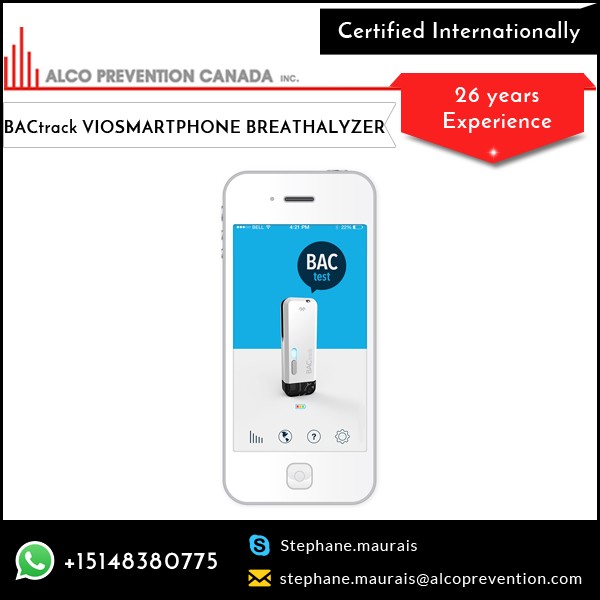 If you have a question, we can propose you our after-sale service. We will answer you quickly and wewill find a solution to help you for the best.
ALCO PREVENTION CANADA specializes in the distribution, to individuals and companies, of instruments that measure blood alcohol content (breathalyser, breath alcohol tester). These accurate and reliable devices will indicate if a user's blood alcohol level is above the legal limit for driving a vehicle and can help prevent people from driving under the influence of alcohol.
We provide alcohol measurement instruments intended for restaurants, bars, night clubs, hotels, golf clubs and all other institutions where alcoholic beverages are served. These public multiple-usage electronic breathalyzers, called EBAs, can also be rented and used for any corporative or personal events such as:
Events linked to work (Christmas party and others)

Office celebrations (Christmas and others)

Golf tournaments

Special reunions (employee's departure)

Wine and cheese tasting

Galas

Banquets

Weddings

Any other event where alcohol beverages are served