CATARACT (EYE INSTRUMENTS) SURGERY MICRO INSTRUMENTS
ABOUT US:
Rafique Enterprises was established in 1995 to fulfill the requirements of medical and beauty care industry of the world. We are the Manufacturers and Exporters of all kinds of Surgical, Dental, Orthopedic, Orthodontic, Ophthalmic, Veterinary and Beauty Care Instruments.
Rafique Enterprises strives to produce & supply the latest and most comprehensive range of surgical, dental, veterinary and beauty care instruments, due to rapid evolution in the field of medical and beauty care industry; Rafique Enterprises constantly review and update the product range with the passage of time. All major production processes are preformed in-house with our own production plant. We produce quality instruments with complete customers satisfactory. We are supplying our quality instrument to all over the world.
Rafique Enterprises prides itself on the rigorous quality control monitoring on every step from initial to final stage to ensure the supply of finest grade consistency instruments according to the specifications supplied.
Our production and quality control comply with ISO 9001:2008, ISO 13485:2003, CE Mark regulations and FDA USA's cGMP.
Rafique Enterprises is whole heartedly committed to total customer satisfaction as our policy is
"Maximum Customer Satisfaction" through:
• Best Quality of Products
• Competitive Prices
• On Time Deliveries
Our staff remains online to advise and assist wherever it may be required.
For Urgent Inquiries 24/7
Whatsapp: +92-302-6387131
Skype: Rafique-Enterprises
Note: In case of imperative requisite, we can dispatch orders with in 3 to 5 Days time.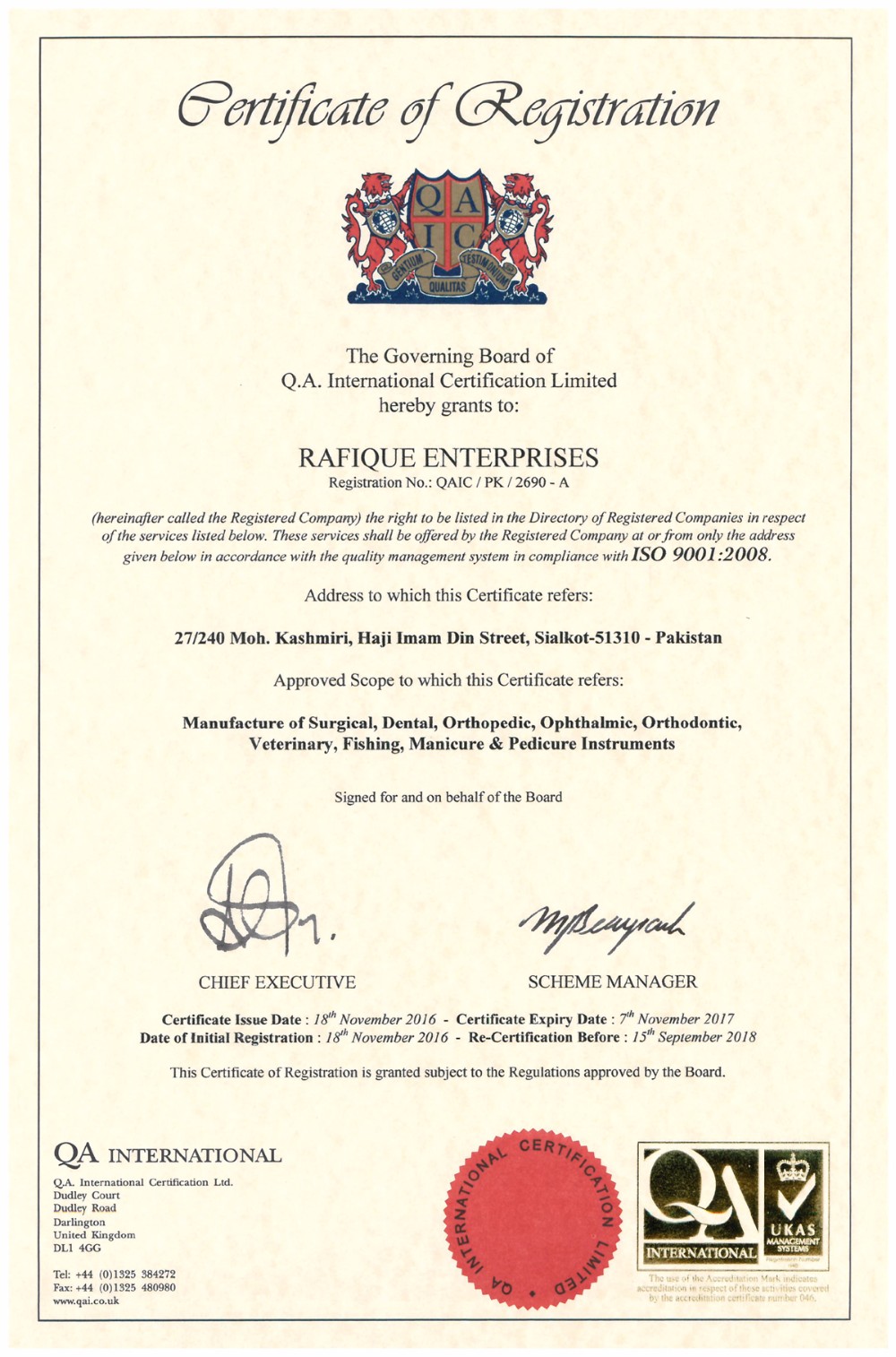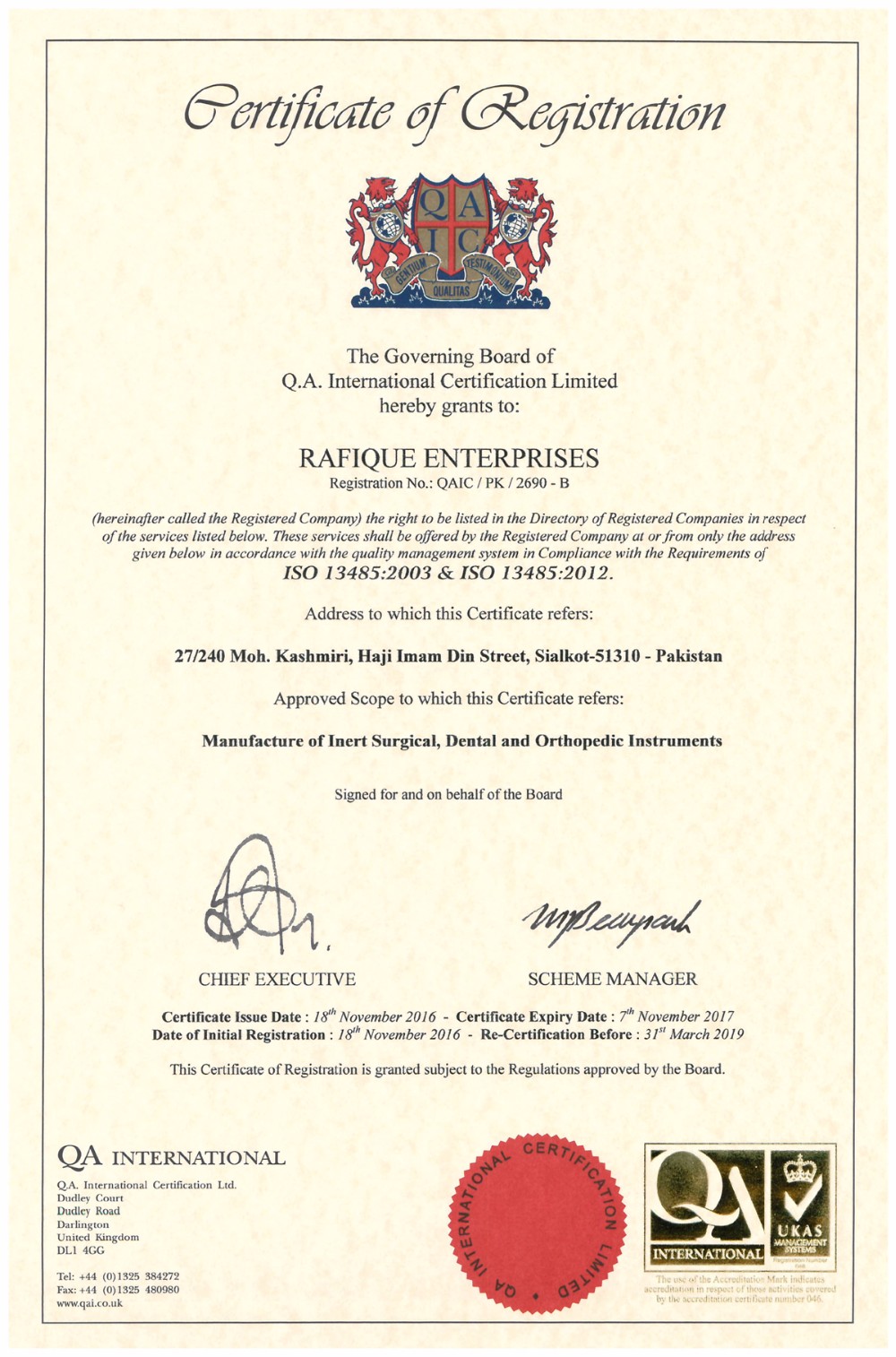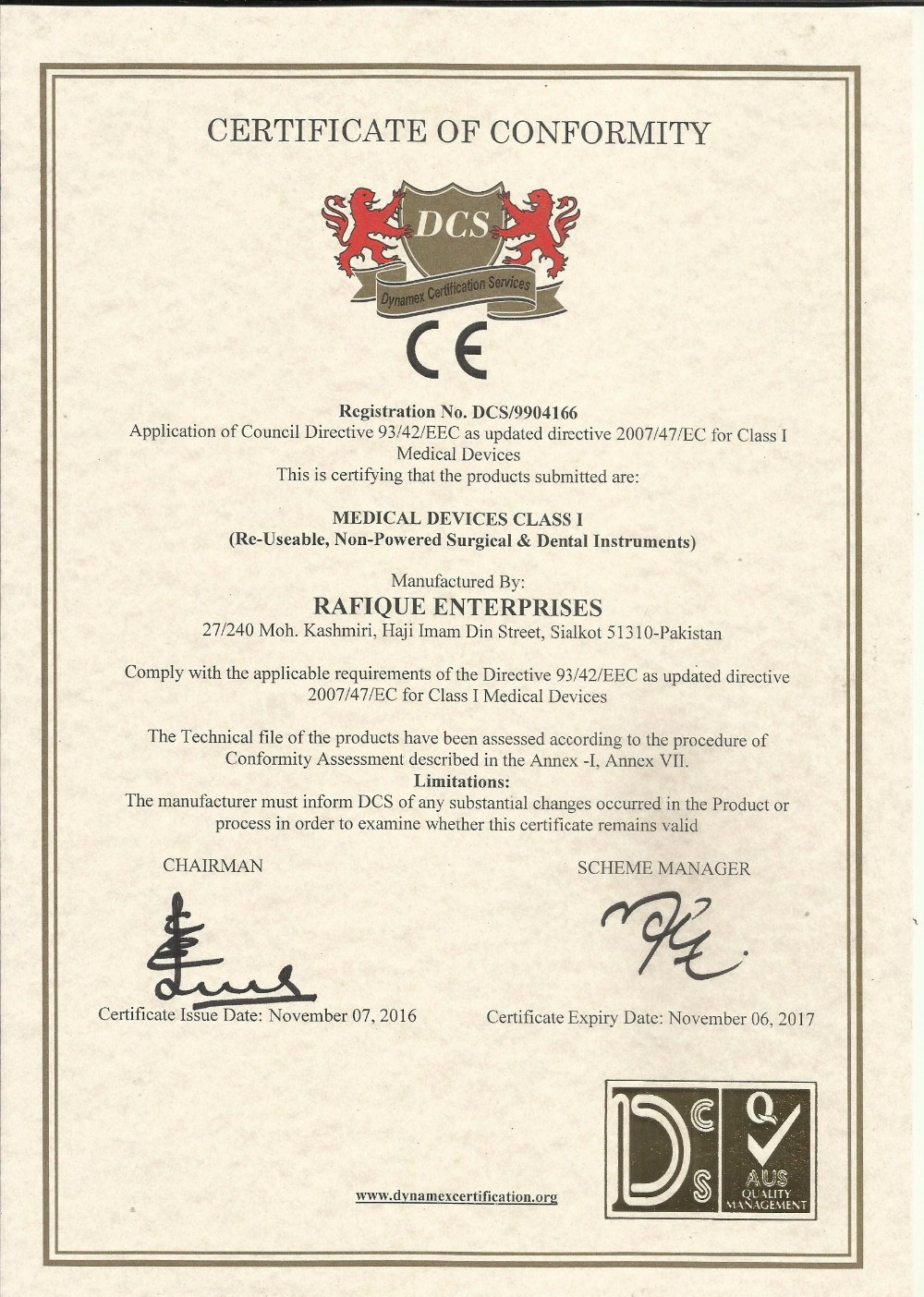 TERMS & CONDITIONS
Company's Agreement:
Rafique Enterprises believes in the highest moral values and business ethics. Once a contract is made with a customer, we strongly aim at following it in its true spirit regarding quality of product, packing, timing, or any other specific needs of the importer.
Prices:
Prices are stable for one year, after which they may be subject to a change depending upon general price increase of steel. Product prices are revised according to raw material and craftsmanship at year end.
Minimum Orders (MOQ):
We don't restrict our customers to ant MOQ. You can order us how much you want.
Payment Terms:
We require an advance payment of 50% of the face value of total order. Rest of the payment shall be made before of delivery, during which the customer is open to examine/check their delivered items. All goods remain property of Rafique Enterprises until paid in full. We accept payment by Western Union, Money Gram, Credit or Debit Car or Bank Transfer.
Logo and Packaging:
Usually we packed all the items in Bulk packaging without any logo but if customer require we can implement customer logo on each Instrument and also can pack in customer required packaging like Poly Bag, Blister with Cards, PVC Pouch, Leather Bag, Boxes etc.
Freight and Shipping Charges:
Freight and shipping charges may be added depending on the nature of delivery, unless otherwise stated. We can ship customer order as per customer advice by Post, DHL, FedEx and By Air Cargo or by Sea.
Filing Claim:
A great deal of effort is made on packing your order with great care, please inspect the merchandise thoroughly for any loss or damage immediately on receipt and file claim with the forwarding agent. Concealed loss or damage must be reported within 3 days upon receipt.
Returns and Technical Support:
No returns are accepted without prior notices. Please call customer service to obtain your invoice number. We reserve the right to examine returned goods before issuing credit. Special order products or goods sold on a non-return basis may not be returned. Returns must be made within 21 days of the invoice date. Our services team will carry out all repairs quickly and reliably.
Best Regards,
Rafique Enterprises Team