At NOKI-WEARS
Varsity jackets, Letterman jackets, College jackets, Baseball Jackets, Sublimated varsity jackets, Club jackets, Sports team jackets, We can also make custom designs as per customer's requirement.
Difference Between Our Jackets And Others:
In our varsity jackets, we use quality 24 ounce Melton wool and top-grain genuine leather sleeves. We use quality snaps & zippers in our jackets. Lining could be customize with light weight satin with digital print on as per your requirements ... Generally we put quilted lining, high quality knitted cuff, collar and waistband.
Our Materials.
Material for Body
We use following materials in our varsity jackets.
Wool
Polyester/Satin
Cotton
Fleece
Combination of Material in Jackets
We use high quality material to produce varsity jackets. We offer our varsity jackets in different materials combinations as below;
24OZ Melton wool body with real cow hide leather sleeve
24OZ Melton wool body with synthetic leather sleeve.
24OZ Melton wool body with Melton wool sleeve,
Cotton fleece body with cotton fleece sleeve
Polyester sating body with sating Sleeve.
Sublimated Polyester Body With Sublimated Sleeves
Polyester / Nylon Lycra Body with Polyester / Nylon Lycra Sleeves
Lining:
We offer the following different types of lining;
Polyester Diamond Quilted Lining
Cotton Jersey Lining
Polyester Satin Lining
Customize sublimation print lining.
Ribbing:
We use high quality knitted ribs for cuff, Collar & waistband, We can customize ribs in different stripes & colors.
Buttons / Domes:
We can put customize buttons for closure as well as zipper.
Material for embellishment
We can customize varsity jackets with your logos, names, patches and numbers. We use following materials in our varsity jackets to increase their beauty
Embroidery:-
ü We use high quality thread & our in-house embroidery equipments for jackets, All kinds of embroidery & chenille patches are available. We can transfer a detailed image onto fabric.Applique:-
ü We use high quality Applique / Twill fabric on the jackets for the numbering of the Team players.
Sublimation:-
ü We can customize varsity jackets with all over sublimation prints and also sublimation linings could be done. We use computerized printing technology the dye is transferred onto the fabric through a heat process.
Screen printing:-
ü We also use screen printing for jackets, this process involves printing the design directly onto the jumper using ink.
Our Recent Made Projects: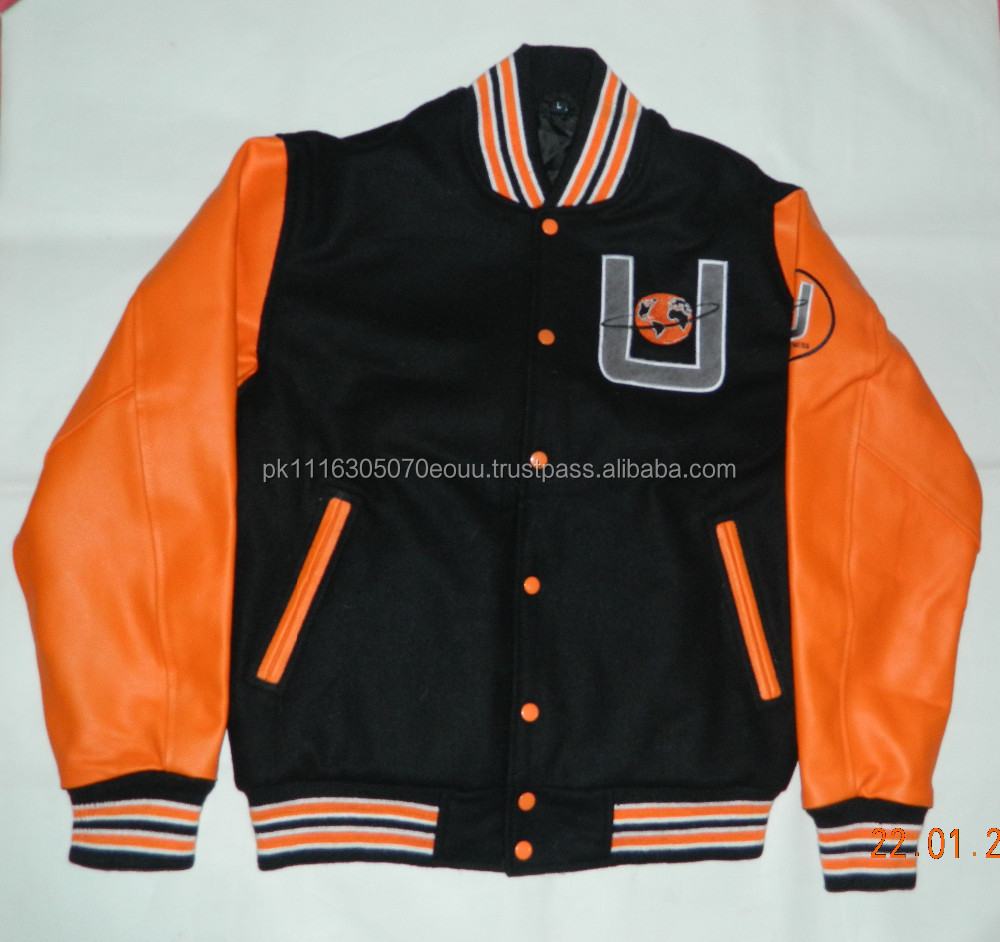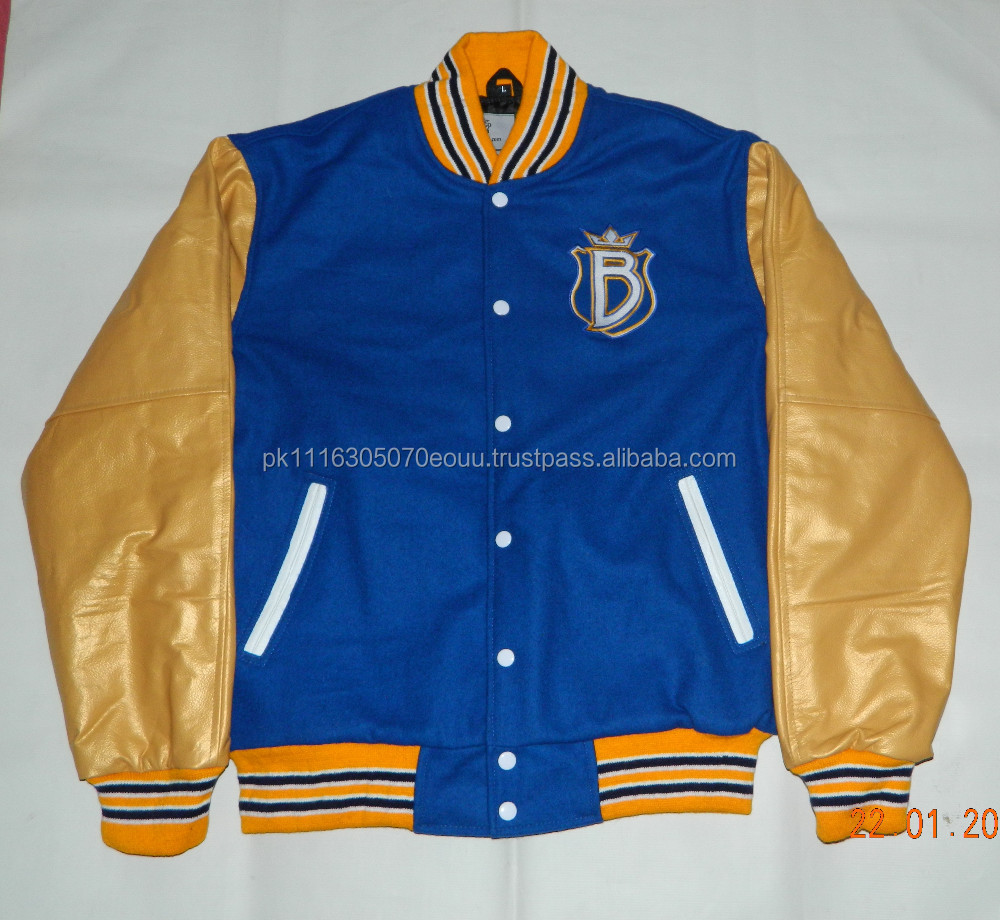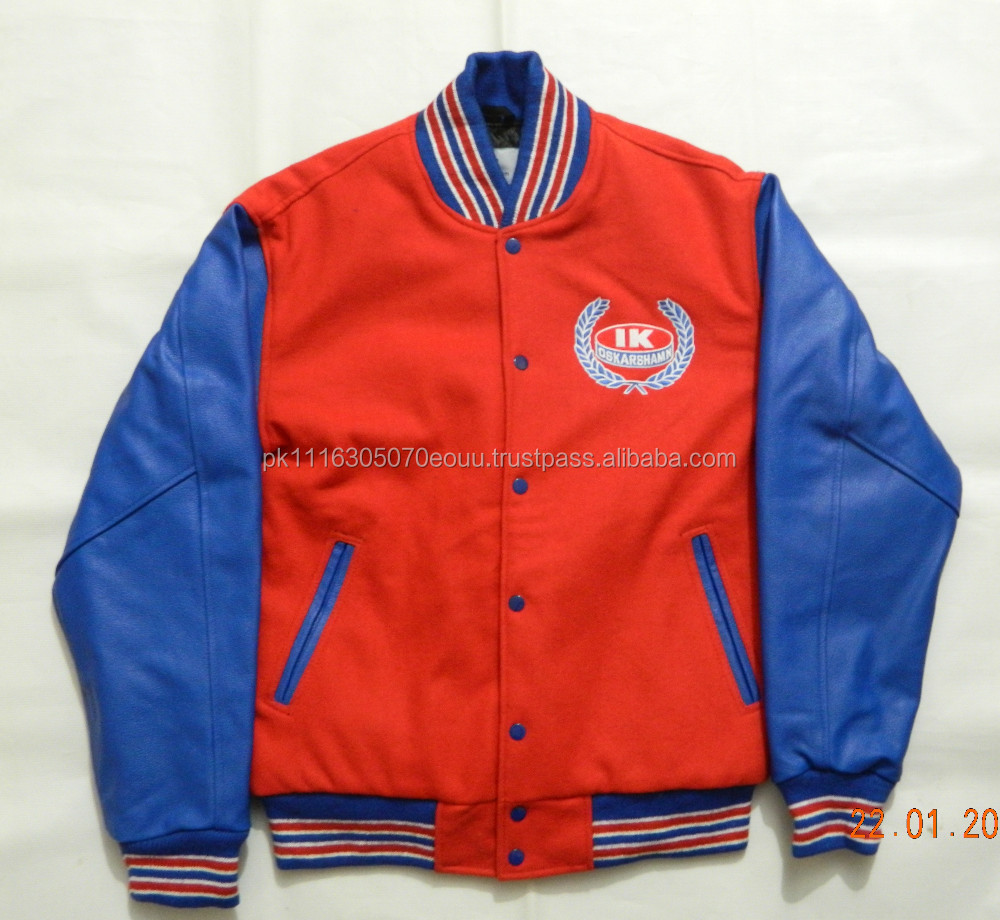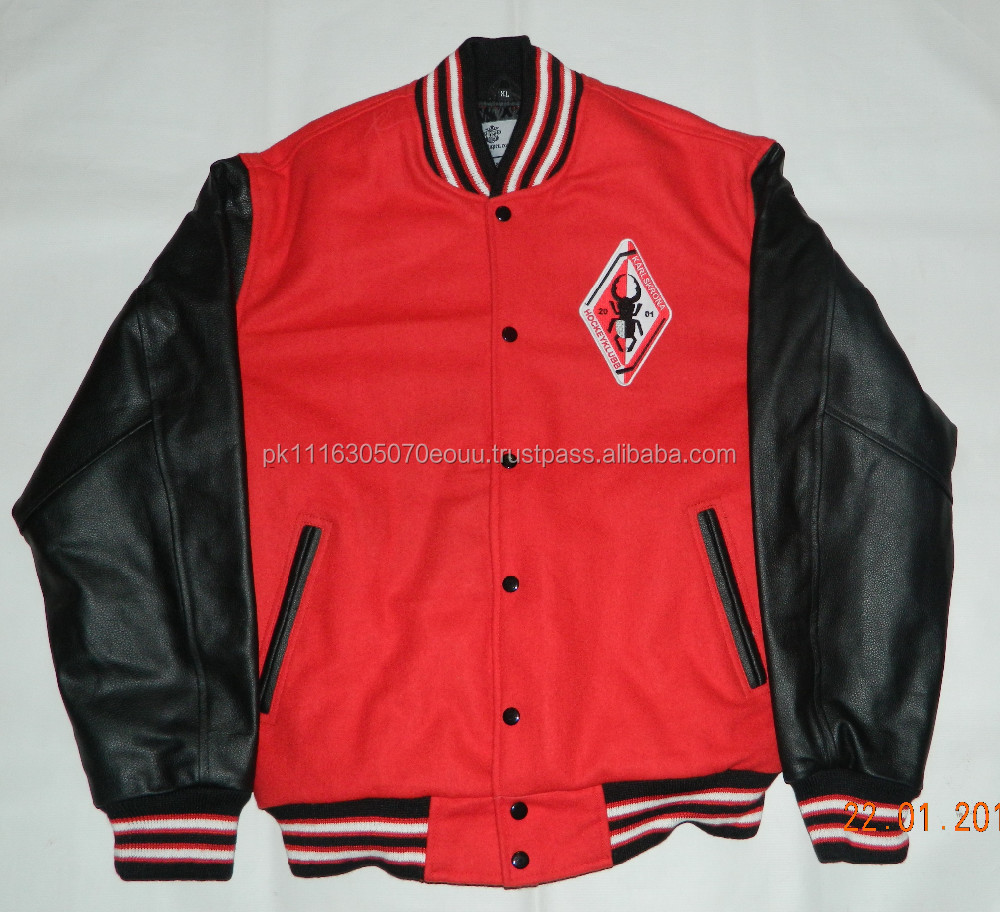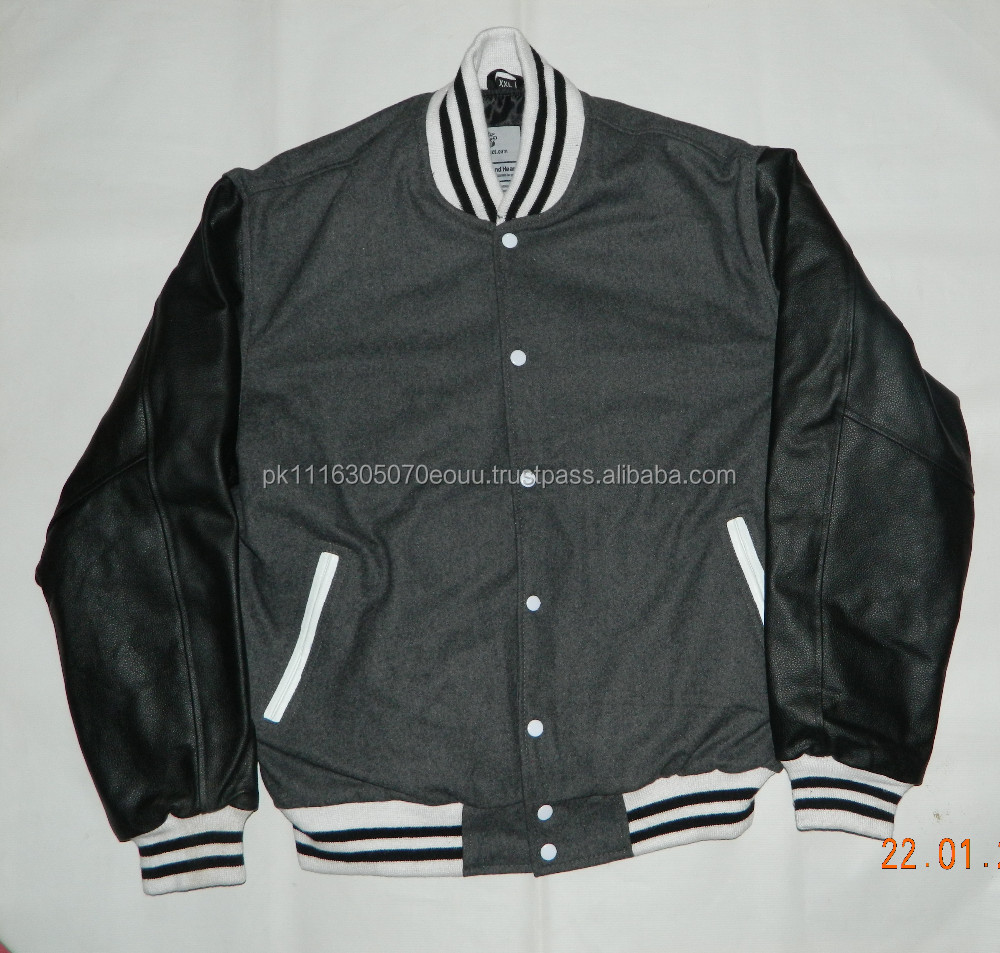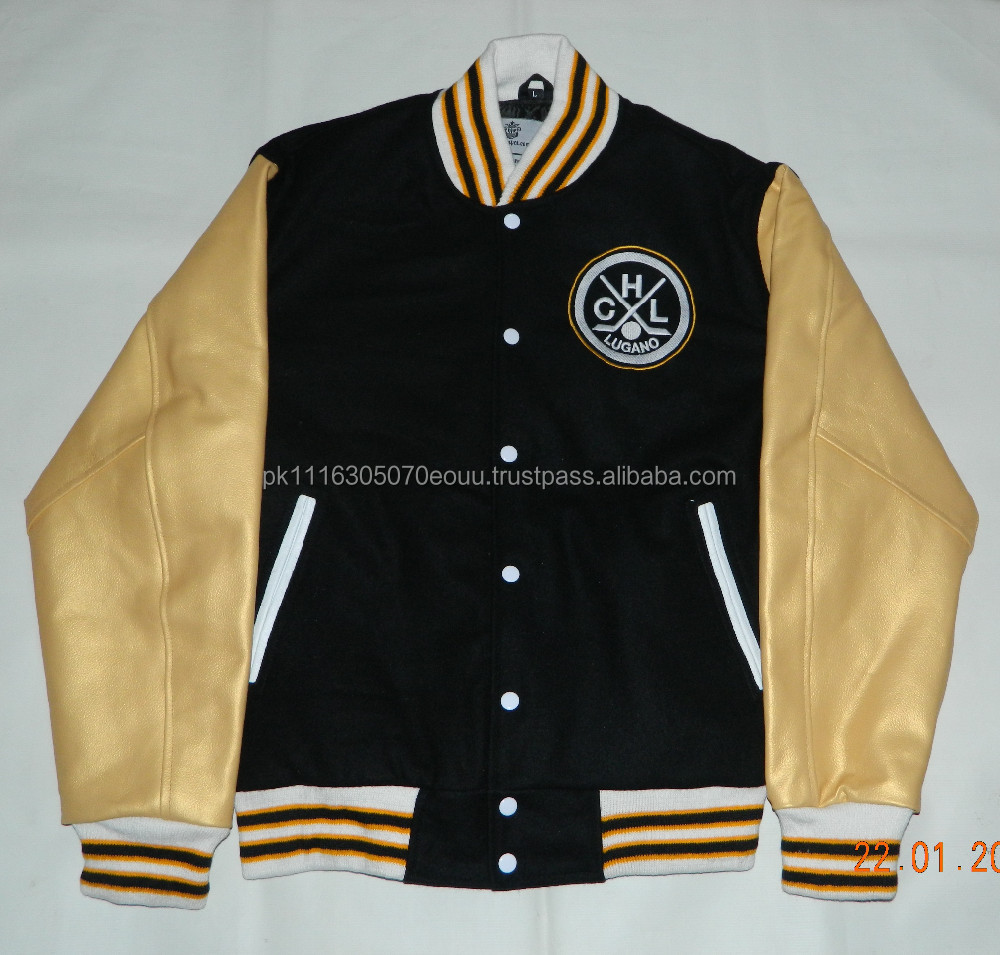 Embroidered Logos And Patches: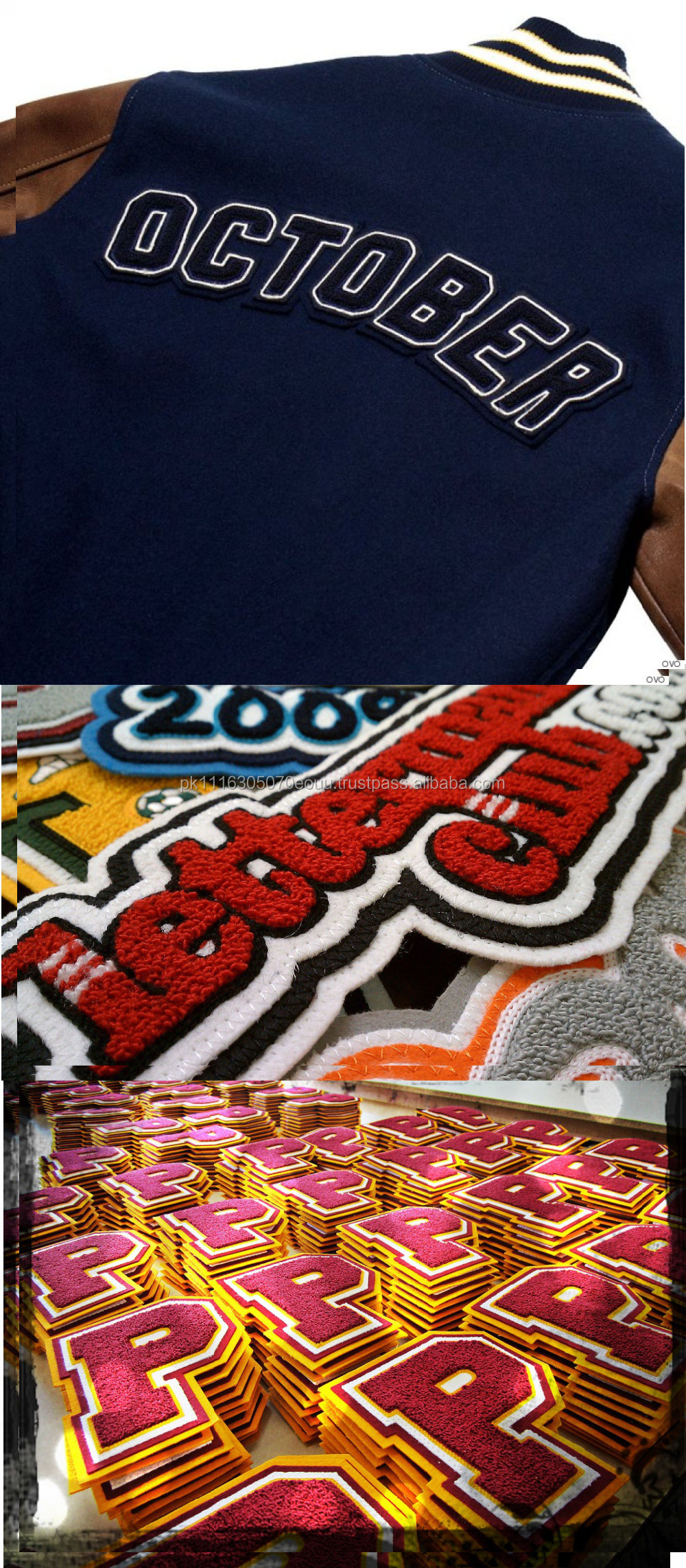 Our Knitted Rib Options: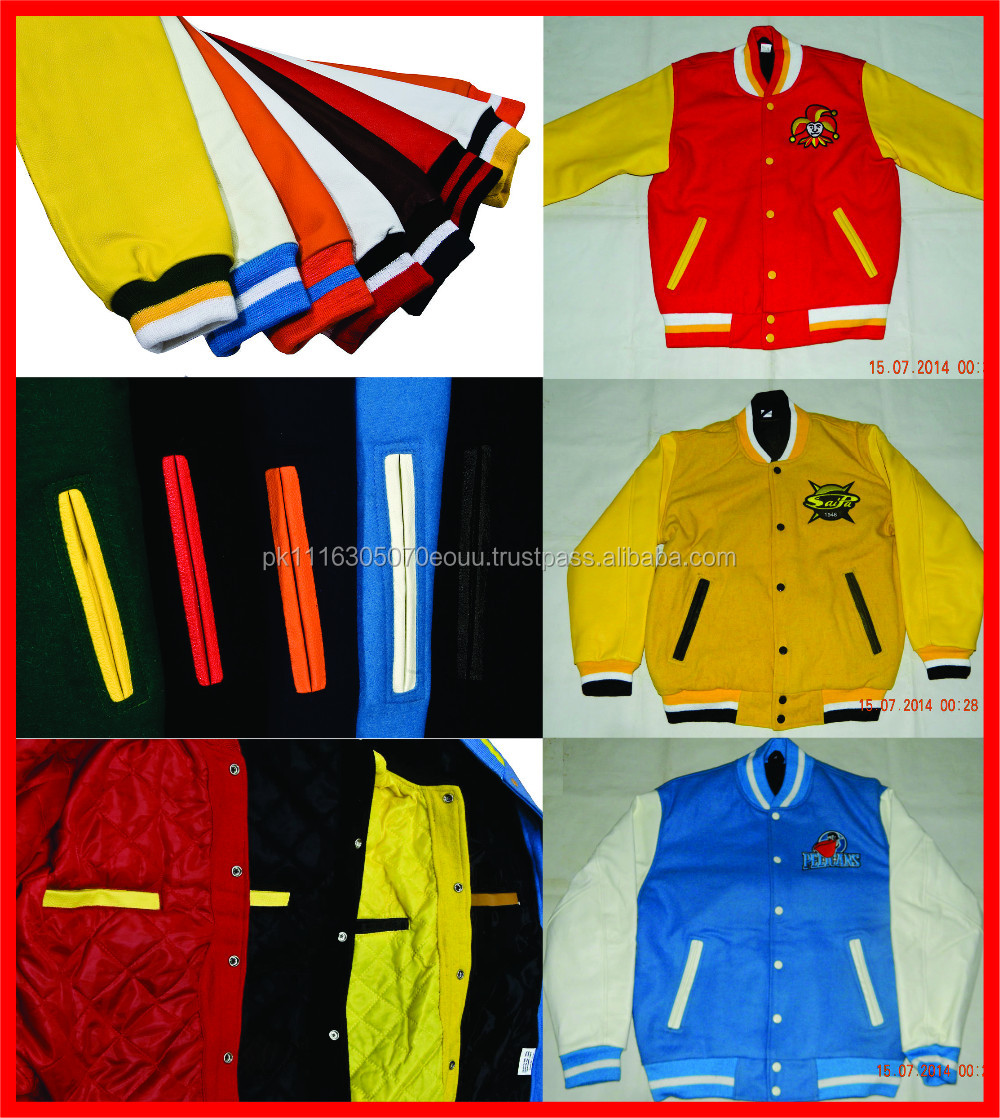 Custom Designed Embosed Logos On Buttons Available: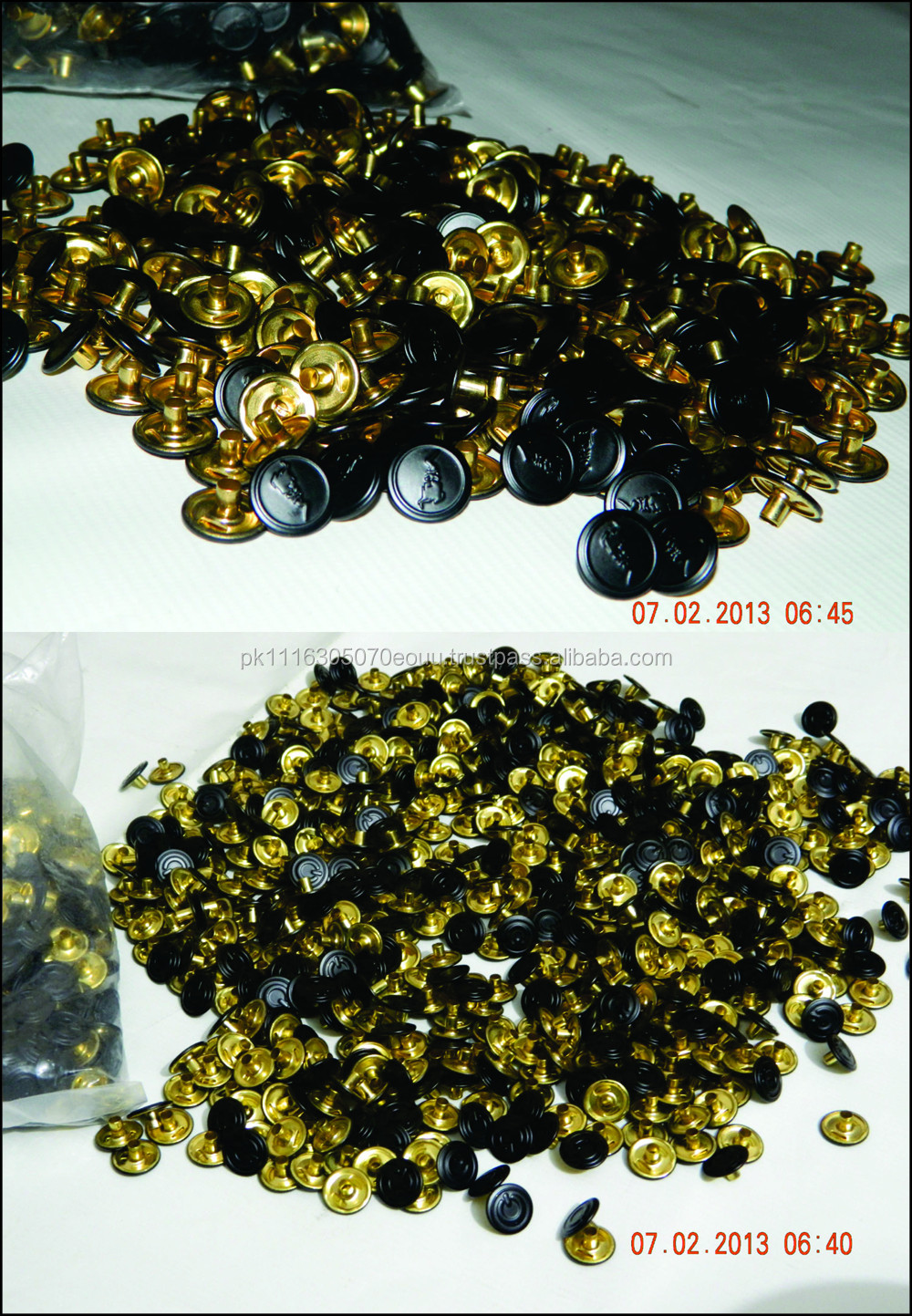 Custom Size Chart:
QC:
We have High Trained Proffessionals in our QC department and in our factory eachand every single product checked and verified by these preffessionals arround 3 times.
Packing:
We pack one jacket in one Bag and then 15-pcs in one carton of 36*56*50 cm .
Each jacket have arround 1 and hald KG weight and one carton of 15-pcs half 25-KG weight.
Shipping:
We ship our products Wordl wide though many multinational courier companies Like DHL / FedEx / TNT / UPS ETC.
Delivery will take 3 to 4 days to your door step.
And We also do Shipping through Air Cargo for Bulk Orders.
Custom Designs Services:
Make your Own Designs Possible At NOKI-WEARS!!
Branding:
Custom Brand Tags / Labels acceptable.
Customer Services:
We have 24 Hours customer services available at NOKI WEARS for our customers.
Privcay Policy :
Customer Designs Privacy is our Main Objective & Please feel your self safe when you work with Noki Wears.
Refund Policy:
New Products Will Issue on Deffected Or Dameged Products But you have to send them back for replacement.
Payment Option:
We accept payments though many different ways Like:
Paypal
Bank Wire
Western Union
Money Gram
Noki Wears:
Address: Wazirabad Road Sialkot 51310 Punjab Pakistan.
Email: info(at)noki-wears(dot)com
Website: www(dot)noki-wears(dot)com
Skype: noki.wears
Cell: Whatsapp: +92-354-6802637 / +92-311-7400707