One of our best-selling products in Japan.

Convenient individual packages you can carry around in your pocket.

Healthy and delicious.

This is our top selling item based on revenue.

Convenient individual packaging

Our mixed nuts and fruits are individually packed in just the right size to eat at one time. Individual packages allow you to keep it fresh and convenient. This also lets you eat only what you need and store the rest for a later time.
You can carry it in your pocket with you anytime, anywhere. Great for work, school and also at home. Fill your stomach and your heart anytime, any where with our delicious healthy snack.
Delicious and Healthy
Our mixed nuts & fruits are blended perfectly for a well-balanced flavor, texture and taste.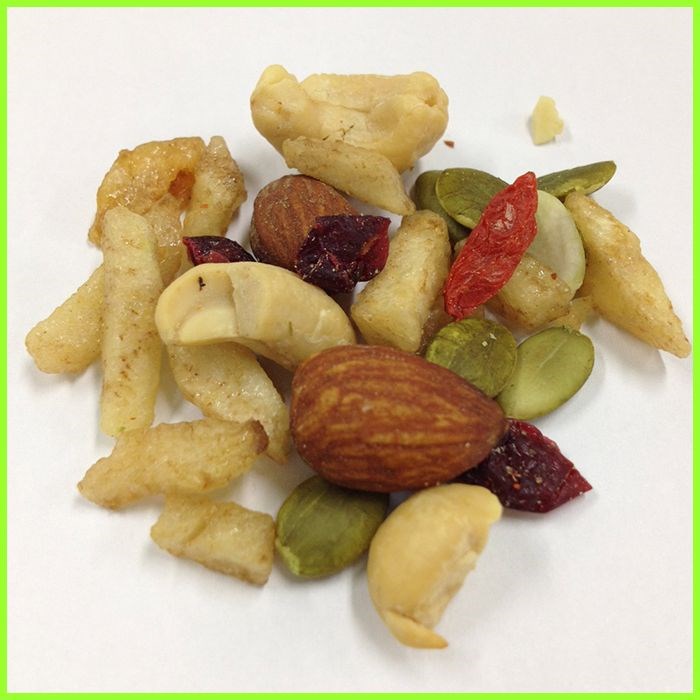 You can enjoy a taste of each nut and fruit as well as a harmonious combination of whole nuts and fruits. Our mixed nuts & fruits includes a tasty combination of Almonds, Pumpkin seeds, Cashews, Cranberries, Gojiberries and Banana chips. All of these ingredients are rich in dietary fiber which is essential for your health and beauty. Also, each of those ingredients has its own characteristics:

Nuts / Fruits

Rich in...

Good for...

Almond

Vitamin E

Anti-aging

Banana chips

Vitamin B1

Rcorvery from fatigue

Cashews

Mineral

Skin

Cranberries

Polyphenol

Anti-aging

Gojiberries

Beta-Carotene

Skin

Pumpkin seeds

Mineral

Skin
For various purposes
As mentioned above this item is very convenient and healty. So there may be various applications.
One of them is for yogurt topping.
Not only because the good combination of their taste is good, but also because dietary fiber (rich in this item) strongly enhance the performance of lactic acid bacteria contained in yogurt.
Packaging
Net size and weight of this item are shown in the following picture.
One case contains 12 bags. Please feel free to ask us if you need a bulk packaging or other type of packaging.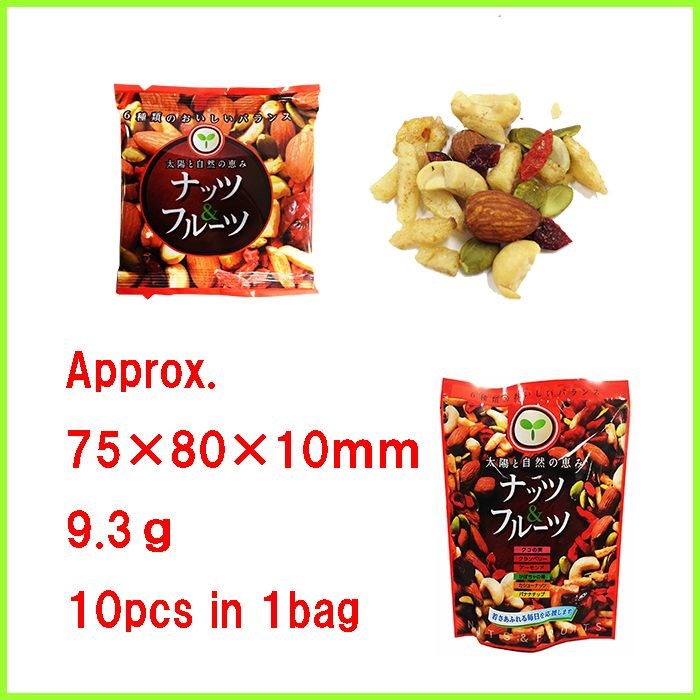 Our company
Sample Work
We prepared some types of recommended sample sets, and we'll arrange them for your request. You can find a good sample set that you're interested.
So please request a sample set. It include (/can be added) item on this page.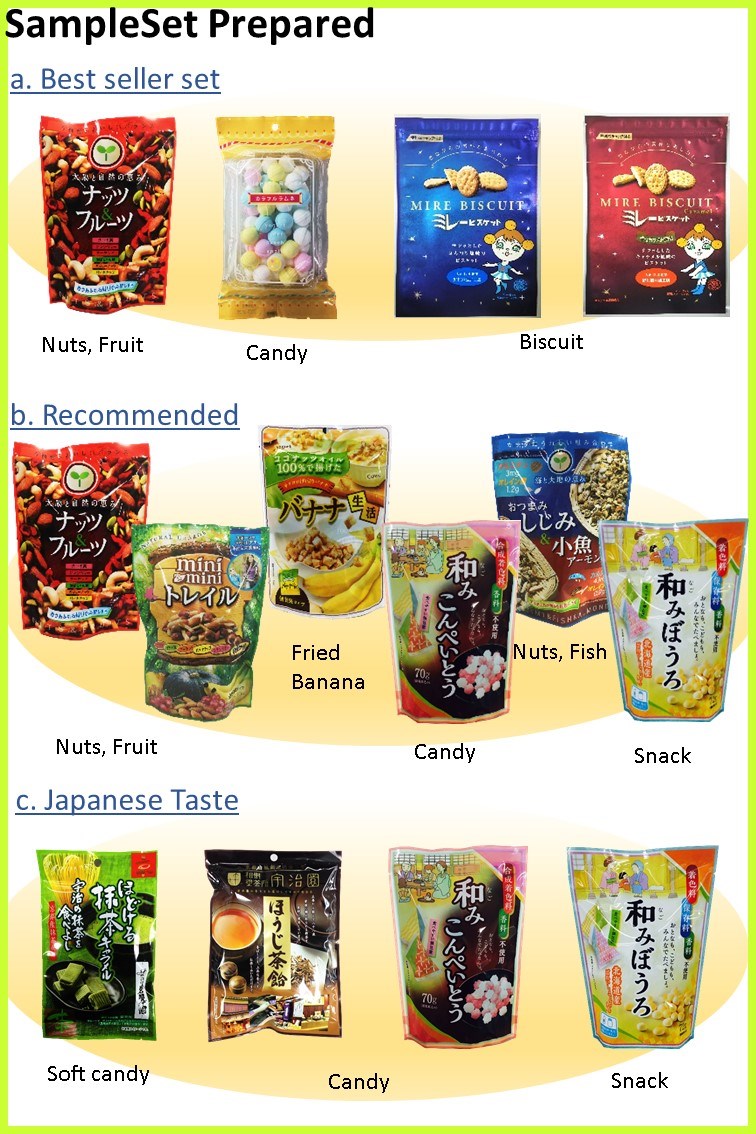 After having you answer some simple questions required for an estimate such as the amount of items you would like, we usually provide a sample for free. Though we do ask that you pay for delivery. If the sample size is large then we will ask for a sample fee as well. Delivery shall be made by EMS, and we ask that you pay for the delivery charge by PayPal.
Samples will be dispatched within 3 days of receiving the request, and will reach you in the time frame required to arrive in your region.
About MD HOLDINGS CO., LTD.
Osaka (Japan) We are a company that develops private brand products and is the leading confectionery food products general trading firm in the confectionery industry.
MD HOLDINGS CO., LTD. (MDH) is a distribution company which owns two confectionery food products sales companies, Makoto Shokai and Daishin Kashi. MDH is the leading company for this product group in the Kansai area, including Osaka.
MDH develops original products. Based on the feedback we receive through the business activities of our two sales companies, we develop the ideal products to meet the current trends of each market. These superb products of original design are produced at our partner factories all over Japan.
Products we deal in
These are confectionery products distributed at ambient temperature.
The products produced at our partner factories are wide-ranging, from traditional Japanese sweets to products using the recently fashionable super fruits.
We can produce various categories of confectionery, including sweets, snacks, candies, tablets, baked sweets, biscuits, crackers, chocolate, nuts, dried fruits, delicacies, gums, marshmallows, caramels, dragées, and bean confectioneries.
UHA Mikakuto Co., Ltd.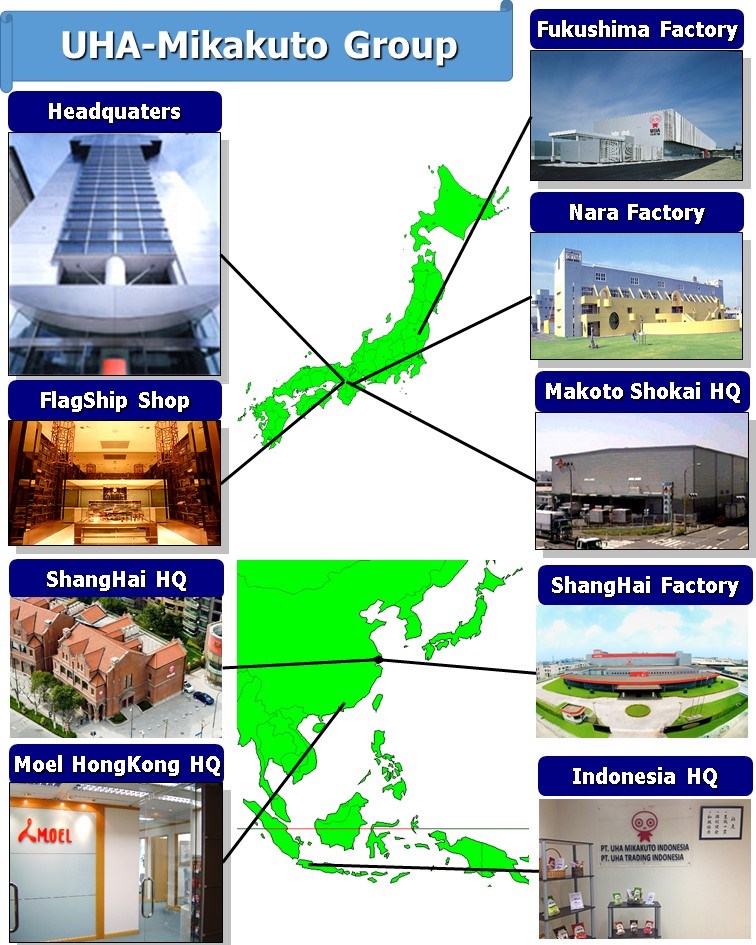 Among our group companies is UHA Mikakuto, one of Japan's top-class candy makers.
Mikakuto has standalone sales of ¥28 billion, and employee numbers exceed 700 people, including part-time staff.
The company has two domestic production facilities, one production facility in Shanghai, offices in Shanghai and Jakarta, and a trading company (Moel Co., Ltd.) in Hong Kong.
Not only does the company have financial ties to MDH, but they also engage in practical cooperation in such areas as product development information exchange, private brand product development, and production.
Expanding abroad
Currently our sales efforts are predominantly aimed at the domestic market. However, our sales companies are exporting to East Asia (sales primarily achieved in China, Hong Kong, Korea, Singapore, Taiwan, Malaysia, the Philippines, and Thailand).