Reliable and High productivity roughing end mill Union Tool with sharp cutting edge made in Japan
• New Diamond Coat (UDC) offers excellent cutting performance on Cemented Carbide
• Special cutting edge treatment helps avoid the edge chipping and level gap
• Long tool life Union Tool cutting tools from Japanese supplier AKEBONO at reasonable prices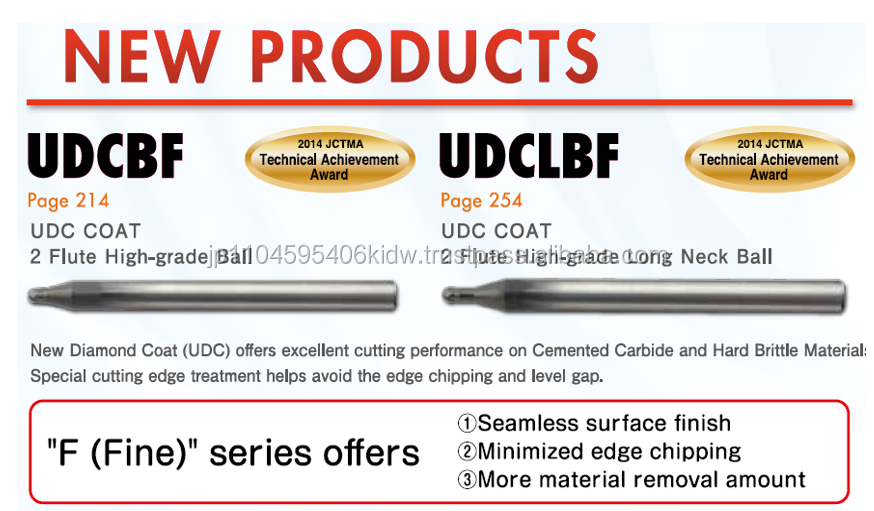 Union Tool's Diamond film that coated using the hot filament CVD method is developed to improve hardness and durability, with outstanding adhesion to the cutting tool. Using fine particle composition control, the UDC coating has dramatically improved hardness and durability.
Direct Milling of Cemented Carbide - No Grinding!
Chip created when milling Cemented Carbide
The normal expectation when milling Carbide would be a powdered swarf, but by usng a deep cut into the Carbide, UDCB creats "fan shaped" chip, just like cutting Steels!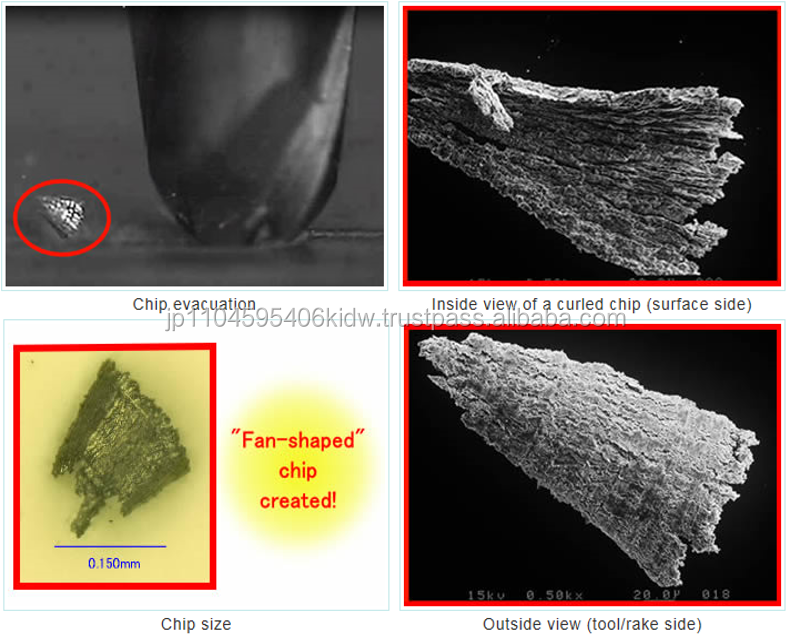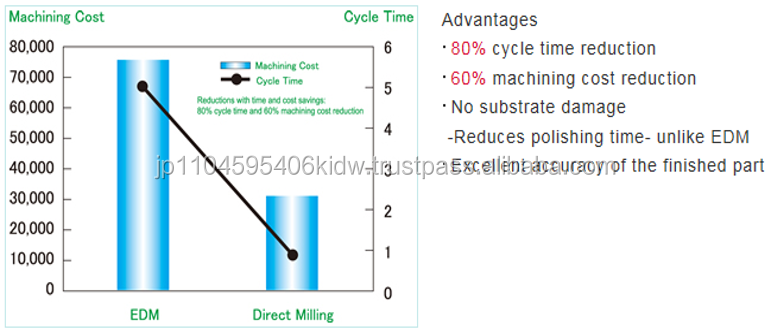 * Reduces polishing time - unlike EDM
* Excellent accuracy of the finished part
AKEBONO is an experienced provider of Union Tool, with over 10 years of experience. If you have any tooling related issues, please feel free to contact us. We will be happy to support you.
We have developed relationships with numerous manufacturers over our long history,
and we can carry products from a wide range of makers.
Please do not hesitate to contact us with any inquiries about our products or services.
Notably, we have been engaged in the export of equipment, devices,
and materials for semiconductor fabrication to a major Korean manufacturer for many years.
We export not only from Japan, but leverage export channels in other countries.
Our long-running, steady track record is one of our strengths and is prized by our clients.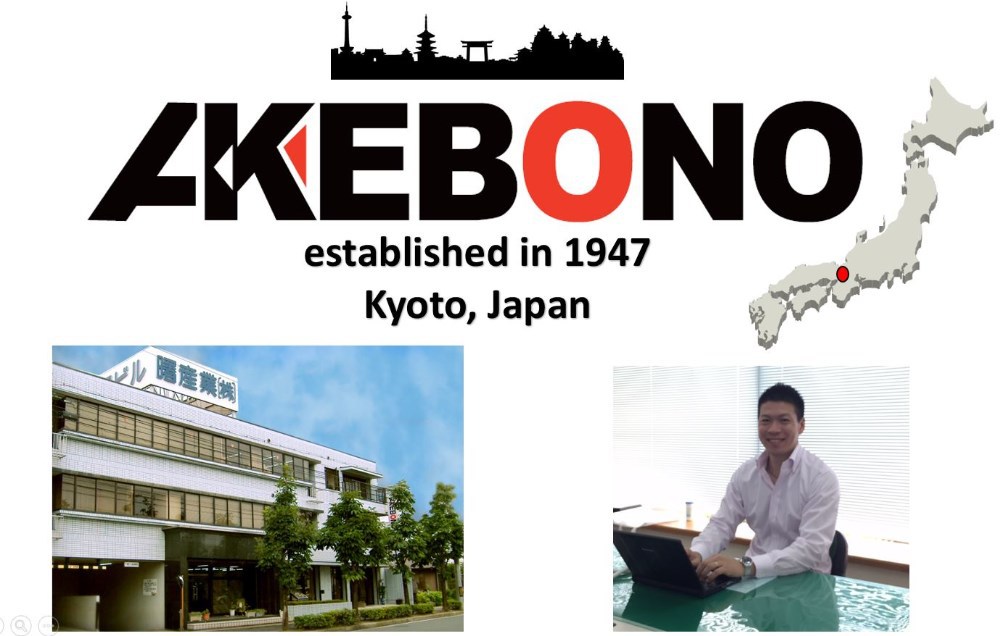 Q1) What is AKEBONO CORPORATION all about?
A1) Based in Kyoto, we are a specialized manufacturer of machinery components that has been in business for seventy years. Our team of personnel are deeply versed in specialist knowledge.
Q2) What products do you carry?
A2) Our core lineup is machine tools. We also carry an extensive range of products used for
manufacturing and crafting in factory environments.
In addition to the sale of products, we are poised to offer you a range of proposals and
solutions based on our expertise. Do not hesitate to contact us for any of your needs.
Q3) What languages do you speak?
A3) English, Korean, and of course Japanese.
Q4) Forms of payment
A4) T/T, L/C, and Paypal
Q5) What are the terms of trade?
A5) We support FOB, C&F, and CIF (please contact us for other terms)
Q6) What are your hours of operation?
A6) Monday through Friday, 8:15 AM to 5:15 PM. Our office is closed on Japanese holidays.
We endeavor to reply to inquiries immediately.
Q7) What services distinguish AKEBONO CORPORATION?
A7) • Prices better than anywhere else
Our seventy years of business have allowed us to create a pricing structure that is better than
anywhere else.
• Rapid delivery
We have been exporting goods to Korea, the US, Southeast Asia,
and elsewhere for twenty years, and we can offer you the best and speediest service for your needs.
• We welcome small lot orders
• Wide range of products lets us offer one-stop service.
Order all your needs in one place for greater efficiency.
Q8) Can you come to our office directly?
A8) As necessary, we can pay you a visit to negotiate.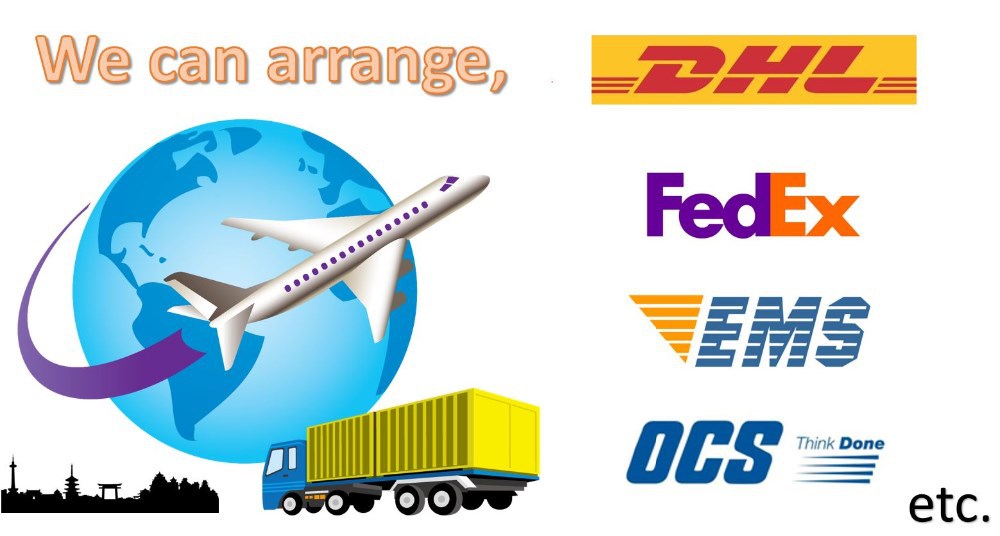 We can ship the product in a method that suits your needs.
We offer air shipment and surface mail. (We are authorized in import/export).
Naturally, we can also arrange for courier services.
Delivery Time
Parts will be ordered after receipt of payment and shipped immediately after completion (depending on delivery conditions of parts)