| | |
| --- | --- |
| Port: | OSAKA |
| Supply Ability: | 5 Forty-Foot Container per Month |
| Payment Terms: | T/T,Western Union,MoneyGram |
| Packaging Details: | About 600pcs of bicycle can be load for 40FT HQ, 220pcs for 20FT. For ease of packing/transportation, the front wheels, pedals, saddle, and handle are removed from each bicycles. |
| Delivery Details: | Within one week after receiving deposit. |
| Type: | CURVE/STRAIGHT/KIDS etc. |
| Wheel Size: | 26" |
| Frame Material: | Steel |
| Fork Material: | Steel |
| Rim Material: | Steel |
| Brand Name: | GIANT/PANASONIC/HARD ROCK etc. |
| Model Number: | bicycle01 |
| Place of Origin: | Japan |
| Gross Weight: | 15 |
| Color: | mixed |
View All
ACE JAPAN EXPORT CO.,LTD
Japan | Trading Company
Response Time

24h-48h
Response Rate

45.6%
Transactions

--
Supplier's local time is 14:58
Product Name:
USED JAPANESE BICYCLE
| | |
| --- | --- |
| Port: | OSAKA |
| Supply Ability: | 5 Forty-Foot Container per Month |
| Payment Terms: | T/T,Western Union,MoneyGram |
| Type: | CURVE/STRAIGHT/KIDS etc. |
| Wheel Size: | 26" |
| Frame Material: | Steel |
| Fork Material: | Steel |
| Rim Material: | Steel |
| Brand Name: | GIANT/PANASONIC/HARD ROCK etc. |
| Model Number: | bicycle01 |
| Place of Origin: | Japan |
| Gross Weight: | 15 |
| Color: | mixed |
| | |
| --- | --- |
| Packaging Details: | About 600pcs of bicycle can be load for 40FT HQ, 220pcs for 20FT. For ease of packing/transportation, the front wheels, pedals, saddle, and handle are removed from each bicycles. |
| Delivery Details: | Within one week after receiving deposit. |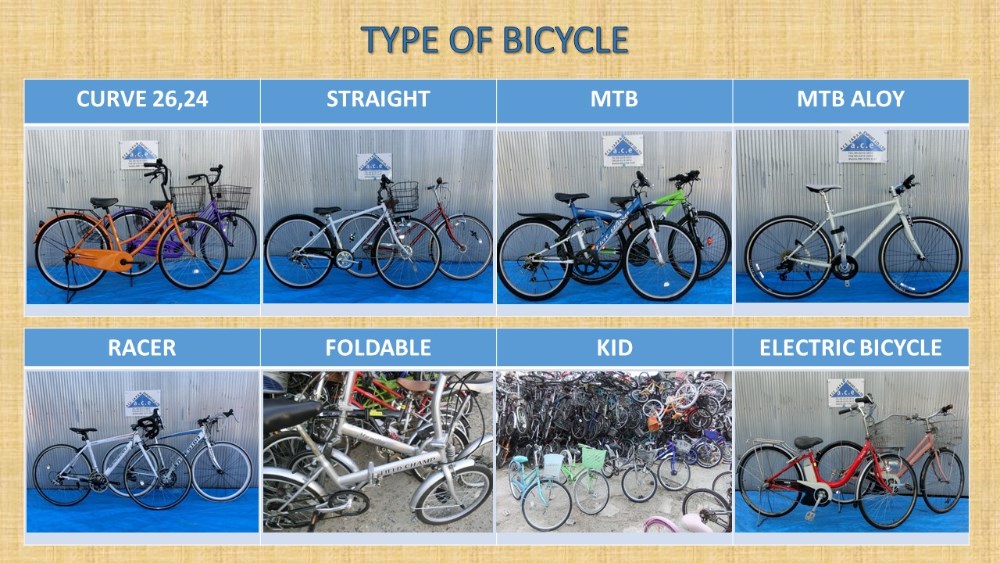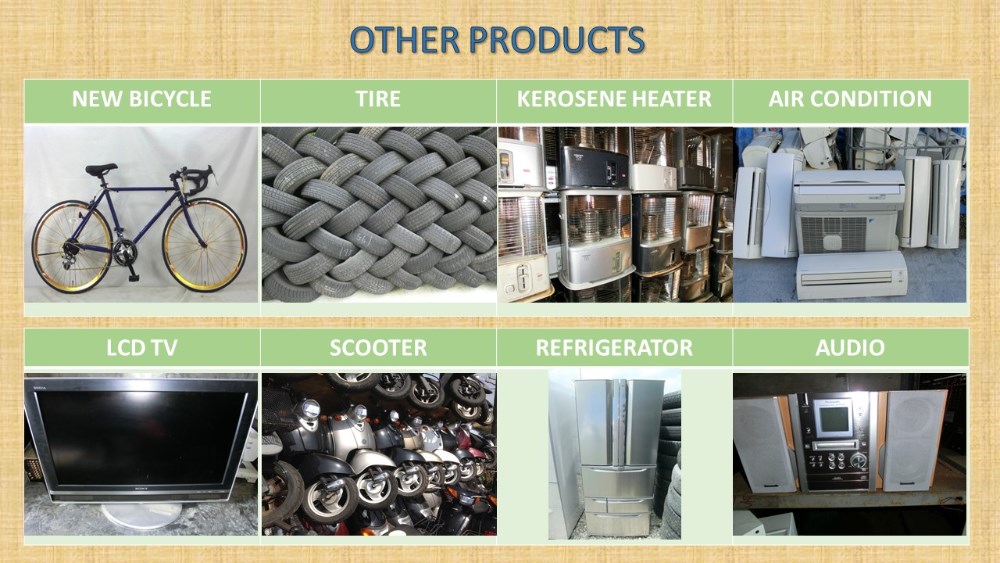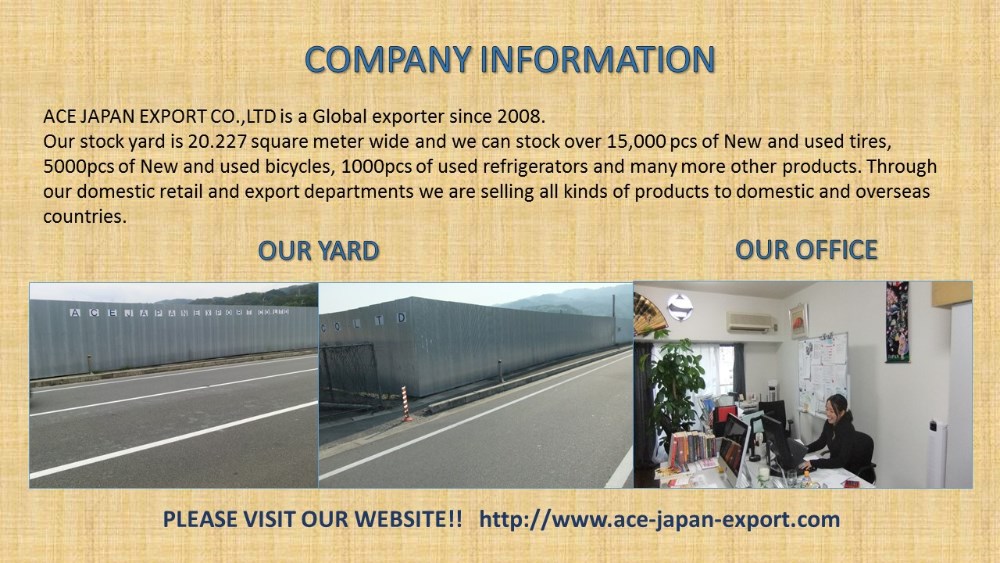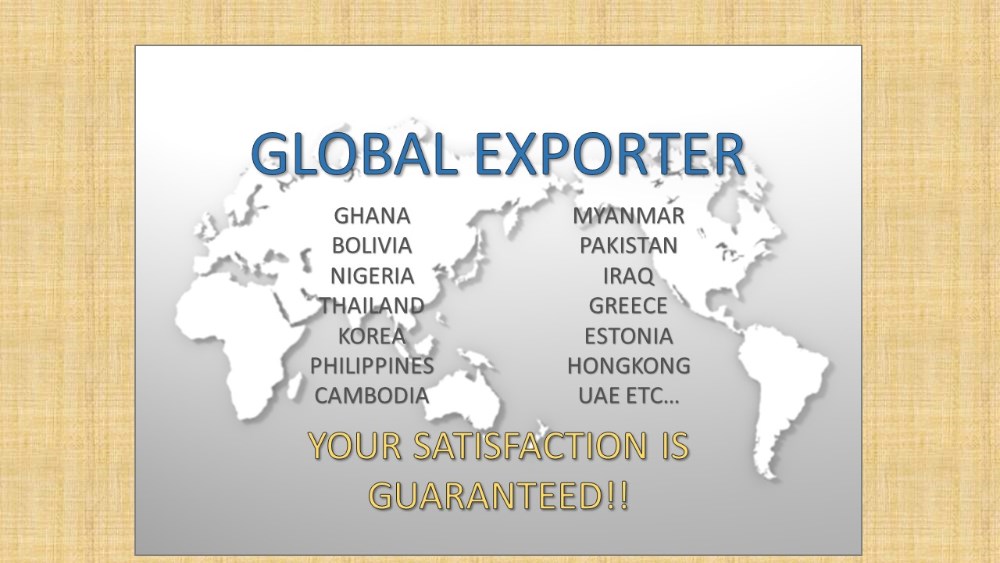 1. Only a small number of the bicycles come equipped with a key.
For each bicycle, a new key can be provided at $10.
2. A number of bicycles that have been shipped will require minor maintenance before use(adding air to inner tubes, checking brakes etc.)
3. If you prefer without removing front wheel of the bicycle, we can do based on your request.
Normally we remove the front wheel from each bicycles for ease of packing/transportation.
QTY SAMPLE
Curve bicyle size 26,27---40FTHQ 580-600pcs
Curve bicyle size 26,27---20FT 220pcs
Curve, Straight half each model---40FTHQ 600pcs
Kerosene heater mixed size---40FTHQ 1100-1200pcs
OUR COMPANY ADDRESS
Grande Maison 802, Minami Senba 1-3-16 Chuo Ku, Osaka city, Osaka Japan
TEL: 81-6-6210-2613
MOBILE: 81-8037-955147
SKYPE: charlesthekid
http://www.ace-japan-export.com
1. What is payment terms?
We require minimum of 50% deposit prior to shipping.
The original Bill of Laden or Surrender will be sent to you, after full payment has been confirmed.
Full payment must be made within 5 business days after the Onboard Date.
2. What terms do you accept?
We accept FOB, C&F, EXW.
Minimum order is 20FT, but we recommend 40FT to save expense.
3. Can I visit your office?
We always welcome you. Please visit our stockyard and inspect by yourself.
We can have meeting at the office and take you to the stockyard.
Please make sure to inform your schedule in advance.
4. Can I mix the products?
Of course you can mix products. For example, used bicycle with new bicycle, bicycle with tires, bicycle with e-goods. In case we load bicycle with e-goods like TV, we will use cushion to avoid damage.
5. Do I have to come on loading date?
If you want to see our loading, of course you can come to the stockyard.
But if you live in far place, we can load for you and send you loading photos.
PLEASE FEEL FREE TO CONTACT US!!