Features:
Supports BBC iPlayer, You Tube, VOD, Social Networking and main AV formats

Enjoy the best 3D Blu-ray movies

Allshare (DNLA ) - connect and share with connect all your devices

Directly connect and sync external hard drives

Fast loading and booting
Connect your worlds with Native Apps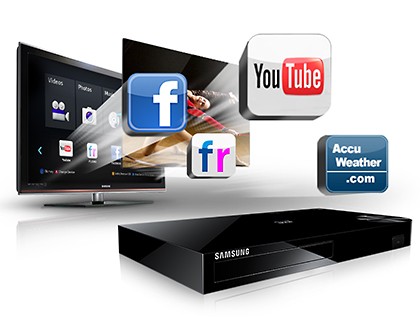 Connect to your onine content with absolute east thanks to the Native Apps available through the Samsung BD-F5500 Blu-ray player. Featuring popular apps like Youtube, Facebook and Accuweather, your Blu-ray player experience will keep you entertained and connected. This is an obvious choice for those who love their content ready to go.
Watch movies from your USB
With ConnectShare Movie, simply plug your USB memory drive or HDD into your Blu-ray player and enjoy the content you love. ConnectShare Movie feature reduces the number of devices needed to view, listen and play your favourite content. Play music directly through the speakers of your Blu-ray player and transfer movies and photos to the big screen. Now, experience a wide variety of content from the comfort of your living room.
Experience the next level of Full HD 3D entertainment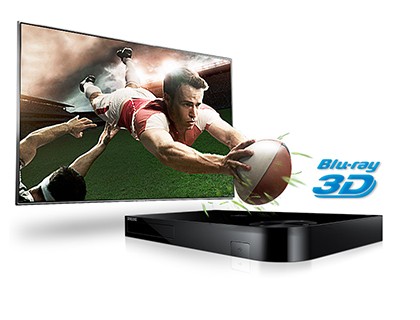 Brinhg home a more immersive and spectacular 3D experience. With Full HD 3D, your 3D home entertainment will be more exciting and vivid than you had imagined, with powerful features to maximise your enjoyment. Thanks to 3D Auto Contrast, you'll have a crisper image with sharper and more dramatic contrast.
Enjoy content from USB memory drive or external HDD
Access all your multimedia with great connectivity. Sync and enjoy movies, photos and music on from your USB memory drive or external hard drive.External HDD Connectivity allows you to connect your external storage directly to your Blu-ray player via USB and quickly access video, audio or images. It's designed to handle a wide range of content, so you can enjoy all your home movies, downloaded music and holiday photographs all in the comfort of your living room. Just connect, sync and enjoy.