natural alkaline electrolyzed water without cleaning chemicals made in Japan
EPOCH-MAKING CLEANER TO CLEAN, STERILIZE, ANTIBACTERIALIZE AND DEODORIZE AT THE SAME TIME.
item code : POWER WATER S126EX
materials : electrolyzed alkaline water
volume : 500 ml
This product is environmental and safe for workers because it doesn't contain any chemicals or surfactants. It is safe at a site handling a food.
Cleaning and sterilizing can be done at the same time even without a rinse.
Sterilizing and cleaning work will be completed faster.
Thanks to anti-oxidation ability of GSE, the effectiveness in sterilizing bacteria or viruses, which are difficult to be removed by the electrolyzed water alone, is recognized.
Escherichia coli (gram-negative bacteria) and staphylococcus aureus (gram-positive bacteria) can be sterilized within 30 sec. to 1 min. Sterilizing ability for norovirus, adenovirus, Trichophyton tonsurans, Trichophyton fungus and mold is also recognized.*1
It keeps antibacterial activity for 24 hours by just spraying S-126 and naturally drying it.*1
*1 cf. test result below
Safety
S-126EX doesn't contain any surfactants, chemicals or chemically synthetic additives.
It doesn't rust metals or affect ecosystem. It is safe cleaner for environment and human.
Detergency
S-126EX infiltrates detail part of dirt and decompose it by the strong alkaline power.
Its surprisingly strong detergency can clean tough stains such as oil stains or cigarette stains.
Sterilization
Anti-oxidation ability of GSE is added to the sterilizing power of electrolyzed alkaline water. It is effective in bacteria or viruses which cannot be sterilized with electrolyzed water alone.
Antibacterialization
Sanitary condition can be kept for a long time by the effectiveness of GSE, which is natural sterilizing and antibacterial material. Antibacterial activity lasts for 24 hours.
Deodorant
S-126EX can remove organic matter which becomes origin of a malodor by the supreme detergency to protein. It can also decompose the source of a malodor by the sterilizing effect in bacteria.
Power water S-126EX is a product which is reinforced power water S126 in sterilizing virus.
E,coli bacteria O-157, salmonella and Vibrio parahaemolyticus can be sterilized in 30 seconds.
Norovirus (substituted by Felin calicivirus ) can be sterilized in 1 min.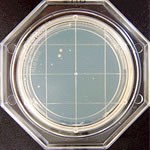 before washing with Tap-water spraying power watter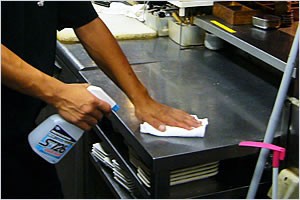 useful at kitchen for sterilization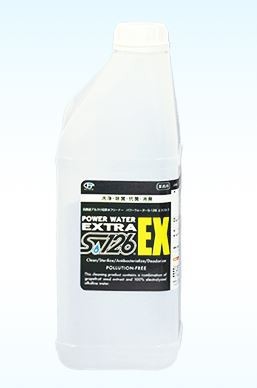 2 L bottle
18L container
Detergency test
Compared detergent
Washing amount
Washing rate
Average value
Power Water S-126
1
1
1
Power Water S-126 EX
1.03
1.06
1.05
Bactericidal effect test
Testing pathogen
The number of viable cell in 1ml of testing water
At the start
After 30sec.
After 1min.
After 5min.
Escherichia coli O-157
6.6 x 107
<1
<1
<1
Pseudomonas aeruginosa
5.9 x 107
1.0 x 102
<1
<1
Salmonella
1.4 x 108
<1
<1
<1
Staphylococcus aureus
2.8 x 107
-
<1
<1
(Conventional product S-126) Staphylococcus aureus 10min. After 3.5 x 107

→ 3.3 x 10

6
Testing pathogen
The number of viable cell in 1ml of testing water
At the start
Same day
After 1 day
Bacillus (spore-forming bacteria)
1.2 x 108
1.2 x 103
<10
Aspergillus niger (bread mold)
1.4 x 107
4.2 x 103
<10
Candida (yeast fungus)
2.8 x 108
<10
<10
Testing pathogen
The number of viable cells in 1ml of testing water
At the start
After 15min.
After 60min.
Trichophyton fungus (Tinea Pedis)
1.8 x 106
<10
<10
(Conventional product S-126) Trichophyton fungus 10min. After 1.8 x 106

→ 2.9 x 10

5
Testing pathogen
The number of viable cell in 1ml of testing water
At the start
After 15sec.
After 1min.
After 5min.
After 15min.
Trichophyton tonsurans
7.4 x 105
4.5 x 105
3.4 x 105
8.2 x 102
<10
Testing pathogen
log TCID 50/ml
At the start
After 1min.
After 20min.
Adenovirus
8
<2.5
<2.5
-
At the start
After 1min.
After 15min.
Norovirus (by a substitute experiment with Feline calicivirus)
6.6
<1.5
<1.5
Sterilizing Test
Sterilizing Test using acrylic plate(processed* /not processed)
*"processed" means the state that spray S-126EX onto acrylic plate and dry it before the test
*appraisal standard of the sterilizing ability is ≥2.0 Antibacterial activity
Testing pathogen / Escherichia coli
common logarithm values of viable cells
The number of inoculation
4.15
Not processed acrylic plate
6.13
common logarithm values of viable cells after 24H of culture
Processed acrylic plate
<-0.20
Antibacterial activity
6.3
Testing pathogen / Staphylococcus aureus
common logarithm values of viable cells
The number of inoculation
4.26
Not processed acrylic plate
4.68
common logarithm values of viable cells after 24H of culture
Processed acrylic plate
<-0.20
Antibacterial activity
4.8