USB 3.0 Memory Stick 64GB, Metal 64GB USB 3.0 Flash Drive, U3 Disk Driver 64GB
Description:
Super Speed USB has a 5 Gbps signaling rate offering 10x performance increase over Hi-Speed USB 2.0.
Super Speed USB is a Sync-N-Go technology that minimizes user wait-time.
Super Speed USB will provide Optimized Power Efficiency. No device polling and lower active and idle power requirements.
Super Speed USB is backwards compatible with USB 2.0. Devices interoperate with USB 2.0 platforms. Hosts support USB 2.0 legacy devices.
Feature:
* Brand New chipset
* USB 3.0 interface, compatible with USB 1.1 & 2.0
* 10 times faster than High-speed USB 2.0,
* 2 channel
* Capacity: 8GB-256GB
* LED indicate the connection, read and write
* Custom VID/PID serial number
* 1.2V low power consumption, built-in 1.2V to 3.3V LDO regulator
* ECC error correction ability to modify: 6/24/27 bits
* support 30MHZ crystal
* Test by Windows7 DTM logo
* Support system: for Win7/Vista/Win XP/2000/Me; Mac OS 9.X / X; Linux
* Package: 64LQFP/80LQFP
Products iamge:
1. Packing: polybag, plastic box, gift box, tin box...
2. Packing details: 500pcs/ctn, 15kg/ctn, 45*36*26CM
3. Delivery time: 2~3 working days for sample making; 5~7 working days for small order.
4. MOQ: 50PCS
5.Shipping method: DHL, UPS, FEDEX, TNT, Air, EMS, Ocean, ETC.
Mostly shipping depends on customers' requirements. Please contact us for details.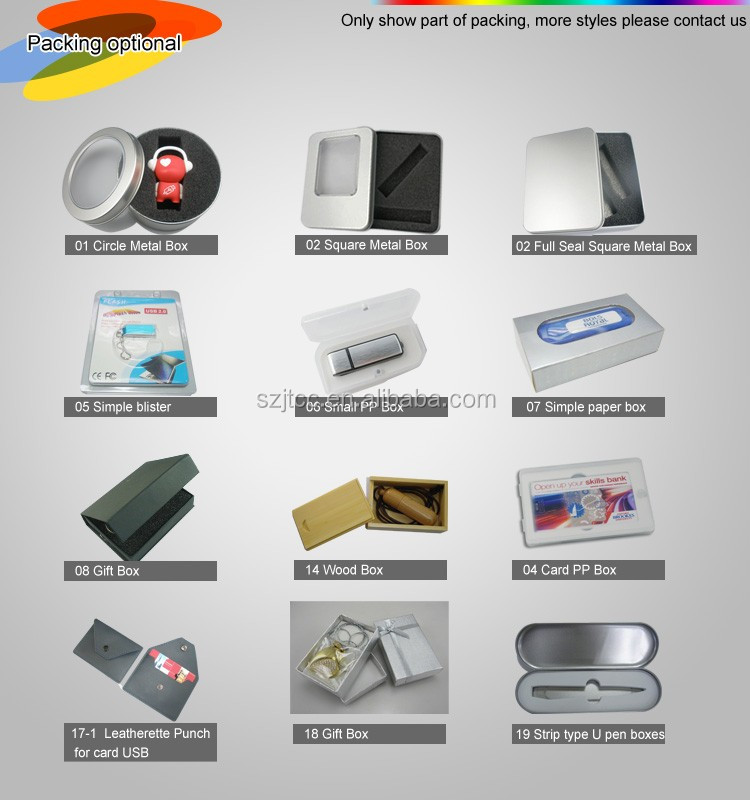 1. We can provide single color or full color logo branding service, and gift box package customization.
2. OEM or ODM are accetable.
Shenzhen Jintian Tech Developoment Co.,Ltd is a professional manufacturer of USB products.Main product are USB Flash Drive,SSD,USB HUB,Charging Cart, etc.Nearly twenty years' experience,we are sure that our strong R&D capability will meet your OEM/ODM requirements and only 3 days are needed for your sample.About 100 skilled workers,who can turn out 300-500K USB products per mouth.

Equipped with SMT mounted,reflow equipment,ultrasonic welding machines,ultrasonic cleaning machine's and automatic sealing machines,our factory is sure to meet your demands of volume orders.Besides,we have passed CE,FCC and RoHS test with qualification rate of 99.7%.

Our customers come from worldwide like Europe,North America,South America and Asia etc.Welcome to visit our factory!
1. What's the warranty of your products?
1 year
2. What is the range of the memory size your factory provides?
16MB, 32MB, 64MB, 128MB, 512MB, 1GB, 2GB, 4GB, 8GB, 16GB, 32GB, 64GB, 128GB, 256GB
3. What is the volume of your factory's monthly production?
300K
4. How many workers does your factory have?
50-100 workers
5. How many production lines does your factory have?
3 production lines, 4 set SMT machine, reflow equipment, ultrasonic welding machines; ultrasonic cleaning machine's and automatic sealing machines etc
6.Are you manufacturer?
Yes, our factory located in Shenzhen, China
7. What's for Real Capacity?
1) Full capacity can pass H2 test software (Download had H2 test software)
2) Different calculated stoarge between manufacturer and computers
Manufacturer calculated as follows:
1 MB = 1000 KB
1 GB = 1000 MB = 1000000 KB
Computer calculated as follows:
1 MB = 1024 KB
1 GB = 1024 MB = 1048576 KB
That is for both. Such as businessman 80G hard disk, the computer identification is commonly 74.7 G, also businessman 128GB, the computer identification is commonly 120-124G, and some capacity will for cache.