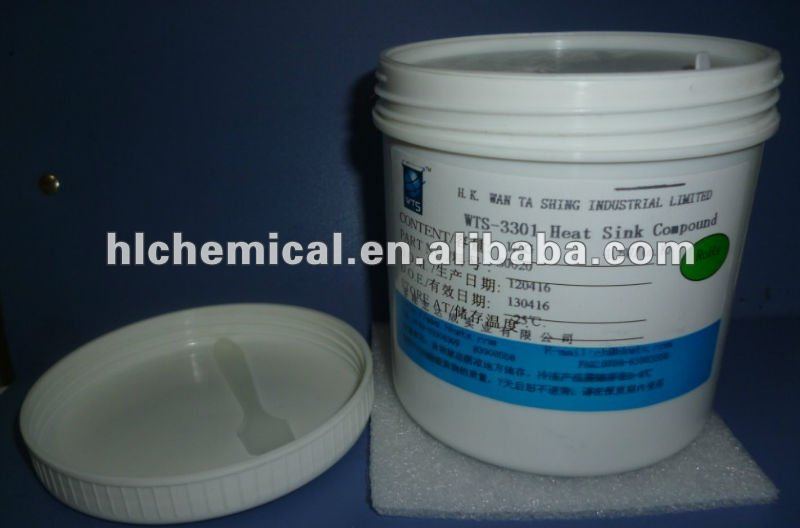 Specifications of WTS-3301 Heat Sink Compound
WTS-3301 is gray paste, a mixture of organic silicone and filler with excellent thermal conduction and insulation properties. It will not dry, not hard, not melt under long-term condition ≥200 °C. This thermal grease is odorless, no corrosion on iron, copper, aluminum with excellent properties such as electrical insulation, anti-moisture, anti-shock, anti-aging of radiation. It is able to speed up the electronics, electrical device to the heat conduction velocity, and thus achieving a substantial increase in thermal efficiency.
Application:
It is widely applied in LEDS, CPU, speakers etc. It is filled in the high-power component and assembly surface of the radiator, filling up the air gap to increase the heat flow channel and reduce thermal resistance, reduce the temperature of electronic component, improve reliability extend component life ,also used for thermal conduction between computer CPU fan and the heat sink.
Features and Specifications:
| | |
| --- | --- |
| Appearance | Gray paste |
| Penetration of (1/10mm) 25°C | 200~250 |
| Volatile (200°C,24h) | ≤ 3.0% |
| Oil separation (200°C 24h) | ≤ 1.5% |
| Volume resistance | 1×1012Ω·cm |
| Permittivity (1MHz) | 4.0~6.0 |
| Dielectric loss(1MHz) | ≤ 9 x10-3 |
| Breakdown voltage | ≥ 5KV/mm |
| Thermal Conductivity | ≥ 2.8 W/( m·K) |
| Bond Strength | > 500N/cm |
| Corrosion test | passed |
| Vertical flow test | passed |
| Operating temperature | -40~180°C |
Storage / Shelf Life: (stored in a cool dry place) 25 °C,12 months
Packing: 1Kg / can, 20Kg / barrel, 40Kg / barrel