SKYMEN Subemersible Ultrasonic Cleaner transducers & generators
ultrasonic transducer and generator system immersible
Model (JTM models)

JTM-1006

JTM-1012

JTM-1018

JTM-1024

JTM-1030

JTM-1036

Ultrasonic transducer box size (mm)

L

305

355

406

500

550

500

W

250

305

305

355

406

460

H

100

100

100

100

100

100

Housing material

SUS304/SUS316L

Surface finishing

Hard-Cr plating treatment (20+microns)

Ultrasonic frequency

28KHz / 40KHz

Ultrasonic transducers

6pcs

12pcs

18pcs

24pcs

30pcs

36pcs

Ultrasonic power

300W

600W

900W

1200W

1500W

1800W

Electronic generator

KG300

KG600

KG900

KG1200

KG1500

KG1800

Ultrasonic generator work separately control transducers

power suppy

AC 110V/220V or 220/240V, 1,13AMP

*Custom made:68KHz/80KHz/120KHz and size are all available
Features:
Original BLT type transducer
SUS stainless steel housing Hard-Cr plating Treatment ( 20 + microns )
Adaptable for continuous operation
Adjustable ultrasonic power
With separate control ultrasonic electronic generator
Custom made size is available
Transducer no./transducer box: range[6pcs~40pcs per box]
Ultrasonic power: range[300W~2000W]
Ultrasonic frequency: 28KHZ/40KHz
Skymen immersible ultrasonic transducer box-embedded in your existing tank.
good quality-custom made size-chemicals resistance-moveable-convenient install
JTM series immersible ultrasonic transducer system includes transducer box and generator.
It can be used when the standard model ultrasonic cleaner is inapplicable in the specific working conditions, besides may have the special specification made to order.
The transducer box and generator are separate but work together to operate ultrasonic cleaning process with transducer box immersible mounted in fluid tank.
The transducer box is moveable in the tank for more convenience. The number and placement of transducers is selected to give maximum results in any parts cleaning tank with any cleaning load.
Immersible ultrasonic transducer units can be installed in the tank by three ways:
side and/or bottom mounted or top mounted depending on the tank geometry.
The specification of transducer boxes are available for custom made.
Advantages:
ODM & OEM are accepted.
MOQ: 1 piece
Warranty time: 1 year
Customer logo is welcome!
Distributors are welcome!
With rigid tube With flexible tube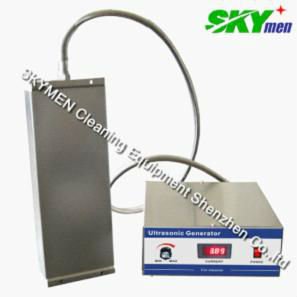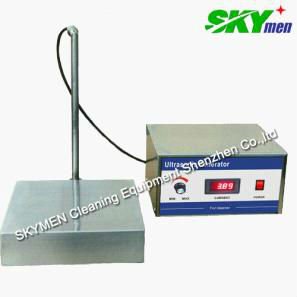 BLT type ultrasonic transducer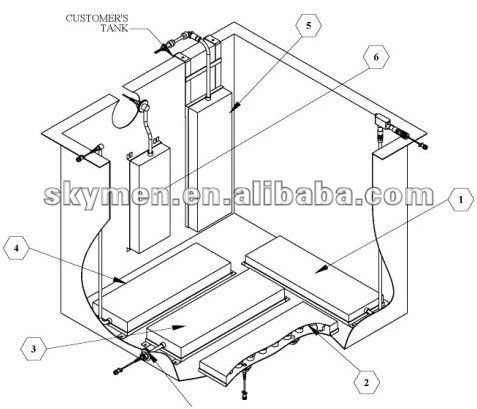 8 types for cables lead-out of transducer box: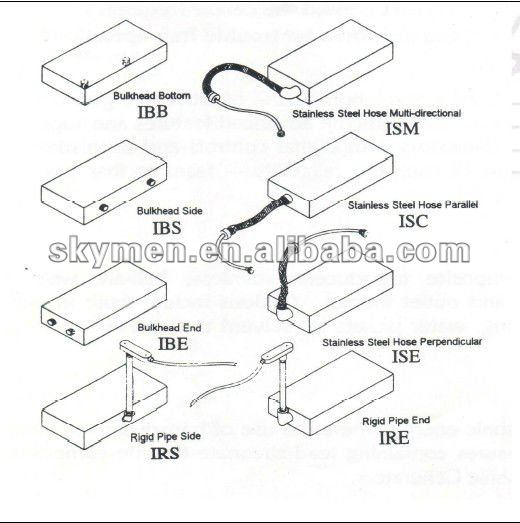 Skymen factory