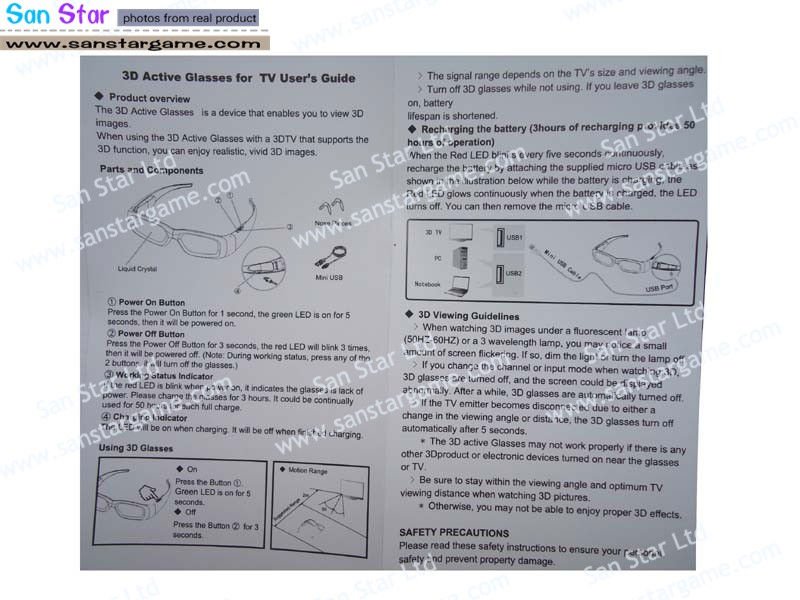 Watch your favorite movies in 3D with these rechargeable 3D glasses, communicate wirelessly with your 3D panel, serving up a vivid, immersive 3D viewing experience at home. This single pair of glasses features a built-in rechargeable battery, offers a one-size-fits-all design, that are compatible with select Samsung, LG, Sony HDTVs and Blu-ray players. Delivers a true 3D experience - For watching your favorite movies in a new way.
Key Features
Available: Compatible with select Samsung models: Including 7000, 8000 and 9000 series LED-LCD HDTVs, 750 series LCD HDTV, 7000 and 8000 series plasma HDTVs and BD-C6900 Blu-ray players.
Communicate with the TV's emitter - To create a beautiful, full HD 1080p 3D experience.
Rechargeable design - For long-lasting use.
Power: Built-in rechargeable battery
Signal transmission: IR communication with compatible 3D HDTVs
Key Features
Can support:
| | |
| --- | --- |
| 3 D GLASSES CODE | SUPPORT |
| GBSG03-A | Hisense LED46XT39G3D |
| GBSG03-A | Hisense LED55XT39G3D |
| GBSG03-A | Hisense LED42K16X3D |
| GBSG03-A | TCL L55X11FE3D |
| GBSG03-A | TCL LED46P6100D |
| GBSG03-A | Haier LE46H330 |
| GBSG03-A | Haier LE55H330 |
| GBSG03-A | LG 47LX6500-CA |
| GBSG03-A | LG 55LX6500-CA |
| GBSG03-A | LG 72LEX9-CA |
| GBSG03-A | Konka LED55TS98D |
| GBSG03-A | Konka LED42IS95D |
| GBSG03-A | Samsung UA46C7000WF |
| GBSG03-A | Samsung UA55C7000WF |
| GBSG03-A | Samsung UA55C8000XF |
| GBSG03-A | Samsung UA65C8000XF |
| GBSG03-A | Samsung LA55C750R2F |
| GBSG03-A | Samsung PS58C7000YF |
| GBSG03-A | Sony KDL-46NX710 |
| GBSG03-A | Sony KDL-55HX800 |
| GBSG03-A | Sony KDL-60NX810 |
| GBSG03-A | Sony KDL-60LX900 |
| GBSG03-A | Sony KLV-60NX810 |
| GBSG03-A | Sharp LCD-52LV925A |
| GBSG03-A | Sharp LCD-60LV925A |
| GBSG03-A | Panasonic TH-P46GT20C |
| GBSG03-A | Panasonic TH-P50VT20C |
| GBSG03-A | Panasonic TH-P65VT20C |
| GBSG03-A | Toshiba 55ZF1C |
| GBSG03-CN | Changhong 3DTV50738 |
| GBSG03-CN | Changhong 3DTV63938FS |
| GBSG03-CN | Hisense LED46XT39G3D |
| GBSG03-CN | Hisense LED55XT39G3D |
| GBSG03-CN | TCL L55X11FE3D |
| GBSG03-CN | LG 55LX6500-CA |
| GBSG03-CN | HaierLE55H330 |
| GBSG03-CN | LG 72LEX9-CA |
| GBSG03-CN | KonkaLED55TS98D |
| GBSG03-CN | Samsung UA46C7000WF |
| GBSG03-CN | Samsung UA55C7000WF |
| GBSG03-CN | Samsung UA55C8000XF |
| GBSG03-CN | Samsung UA55C9000ZF |
| GBSG03-CN | Samsung LA55C750R2F |
| GBSG03-CN | Samsung UN55C7000WF |
| GBSG03-CN | Samsung PS58C7000YF |
| GBSG03-CN | Samsung P63C7000 |
| GBSG03-JP | Sony KDL-46NX710 |
| GBSG03-JP | Sony KDL-46HX800 |
| GBSG03-JP | Sony KDL-55HX800 |
| GBSG03-JP | Sony KDL-60NX810 |
| GBSG03-JP | Sony KDL-60LX900 |
| GBSG03-JP | Sony KLV-60NX810 |
| GBSG03-JP | SharpLCD-52LV925A |
| GBSG03-JP | SharpLCD-60LV925A |
| GBSG03-JP | Panasonic TH-P46GT20C |
| GBSG03-JP | Panasonic TH-P50VT20C |
| GBSG03-JP | Panasonic TH-P65VT20C |