Product:Vanillin (Eternal pearl brand)
Certificate: KOSHER CERTIFICATED,

Conforming to GB3861, BP, FCC, USP.
Description: white or pale yellow crystalline powder.
Odor: similar to vanillin
Melting point: 81.0-83.0°C
Solubility(25°C): 1gram completely soluble in 3ml 70% or 2ml 95% ethanol makes transparent solution.
Loss on Drying: 0.5% max
Arsenic content: 0.0003% max
Heavy Metal (Pb): 0.001% max

Uses: Widely used in making food, drink, tobacco, wine, medicines, chemicals and various cosmetics.
It is a food additive and fine aroma chemical with stable and long lasting fragrance.

In 0.5kg tins or 25kg cartons or 50kg iron drums.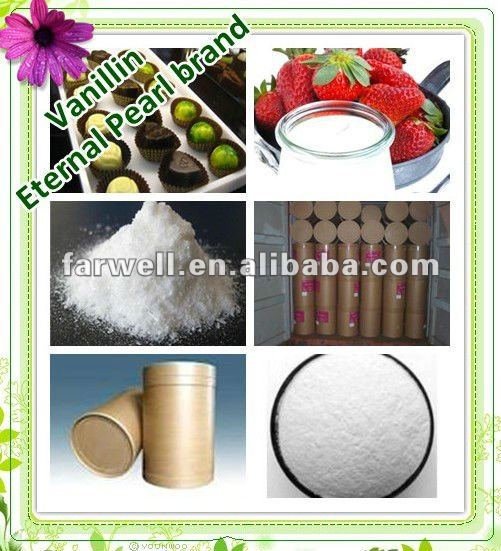 -----------------------------Fuzhou Farwell --------------------------