2018 Crop Dried Organic Goji Berries fruits
The Goji berry has been documented in history and used over time as an important medicine. As documented in "Shennong's Classic of Materia Medica (Shennong Bencaojing)", the first medical book written in China some two thousand years ago. There was also detailed record about the Goji berry in "Ben Cao Gang Mu" which was written by Li Shizhen who was a medical scientist during the Ming Dynasty. These medical texts say that â??Goji can supplement energy by nourishing the liver and kidney, adjust the Yin and Yang balance, improve eyesight, reduce inflammation and help enhance resistance to wind and humidity, enjoy the ten magic function.
Our Goji Farm

Small Package of Dried Goji Berry
Qixiangchun Dried Goji berries are produced with extra care. The product has the superior features of high quality, plump fruit, brilliant red color and sweet flavor, is a genuine all-natural fruit, that retains the integrity of the Goji berry to enrich the nutritional content, can be directly consumed.
Functions:
1.Maintain healthy blood pressure;
2.Support eye health and improve your vision;
3.Support healthy liver function;
4.Support normal kidney function;
5.Maintain healthy blood pressure;
6.Reduce cholesterol;
7.Make you feel and look younger;
8. Increase calcium absorption.
9.Fruit,stems and leaves can lowers blood sugar;
Nutrition Facts:
*Contain 18 amino acids.
*Contain 21 trace minerals.
*Contain more protein than whole wheat.
*Contain B-complex vitamins.
*Contain a complete spectrum of antioxidant carotenoids, including beta-carotene and zeaxanthin. Goji berries are the richest source of carotenoids of all known foods.
*Contain Vitamin C at higher level than even those found in oranges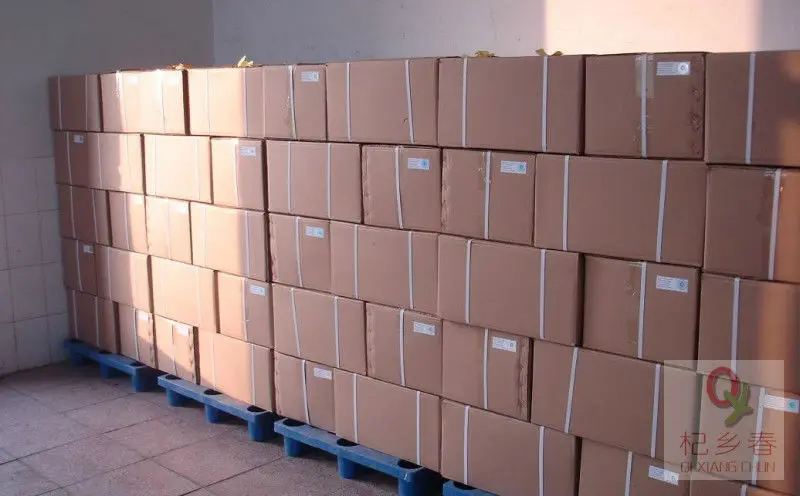 Package: 10kgs/carton box ( Or according to your request)
Size: Mixed size(390 grains per 50g)
Moisture: 15
Certificatae: BCS organic certification, BRC CERTIFICATION, halal, kosher
Category

Items

Content

Category

Items

Content

macronutrient

Heat,Kcal

343.9

Ingredient

LBP,mg

6500

Carbohydrates,g

57.82

Betaine,mg

25.0

Crude fat

7.14

essential amino acids,mg

150

Crude protein

12.1

Taurine,mg

5.2

Vitamin

VB1,mg

0.2

Class sulfonic acid,mg

542.5

VB2,mg

1.3

Carotenoids,mg

290

Niacin,mg

4.32

Cryptoxanthin,mg

8.6

Vc,mg

18.4

VE,mg

12.1

Zeaxanthin,mg

56

Microelements

Ca,mg

96.8

Fe,mg

9.2

AA-2βG,mg

1.0

Zn,mg

6.74

Se,mg

13.25