Product name: canned tomato paste
1) size: 70g-4.5kg
2) brix: 18%-20%,22%-24%,24-26% 28%-30%
3) Package:Tins in cartons
A.lithographic tin & paper label tins
B.normal lid&easy open lid
4) certification:HACCP, ISO22000, KOSHER, HALAL,FDA, QS, BRC
5) Payment term:T/T or L/C.
6) Delivery:About 25 days after confirmed.
7) MOQ:1*20'FCL.
8) Shelf life: 2 years in normal temperature.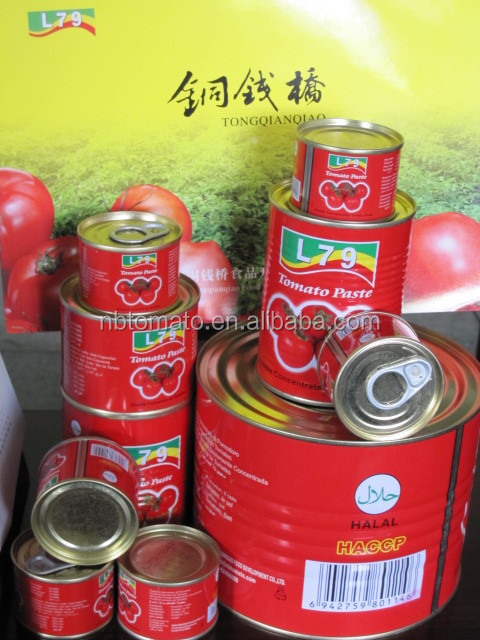 1.we can supply tomato paste with high quality and good price .
2. We can supply brix 22-24% & 28-30%, in net weight of 70gm,198gm, 210gm, 400gm, 425gm, 800gm, 850gm, 1000gm, 2200gm,3000gm & 4500gm.
3. Now we can supply 6 kinds of tomatoes with 30 specifications, such as tomato paste, tomato ketchup, peeled tomato, diced tomatoes and tomato juice.
4. We have obtained national pollution-free food A grade product certification, ISO22000:2005 quality management system certification, HACCP food security management system certification and QS certification.
· Hot break: heated to about 100°C; is preserved -> thicker -> ketchup.
· Cold break: heated to about 66°C; colour and flavour is preserved -> juice
Tomato paste quality standard
1.Sensory Properties.
1.1 Bright to dark red
1.2 Taste and Smell: typical sweet and acid with tomato smell.
1.3 Texture: Smooth homogeneous, proper thickness.
2. Physical and chemical index
2.1 Soluble Solid : 28-30%, 30-32%(20,brix)
2.2 Lycopene :≥22mg/100g
2.3Ph Value:4.0-4.5
2.4 Bostwick 7-9cm/30sec.
2.5Packing: 10g/sachet,70g/can,70g/sachet,140g/can,170g/can,198g/can,210g/can,425g/can,500g/can,800g/can,850g/can,1kg/can,2.2kg/can,3kg/can,4.5kg/can
3. Hyienic standard
3.1 Howard mould count:≤50%(max)
3.2 Pathogenic Bacteria:0
3.3 Heavy metal contents:
Sn:≤100mg/kg
Pb:≤0.3mg/kg
As:≤0.2mg/kg
SPEC

PACKING

BRIX

LOADING PER20FT(CTN)

70G

70G*50TIN

28%-30%


22%-24%


18%-20%

HARD OPEN LID

AND

EASY OPEN LID

4750

70G*100TIN

2420

140G

140G*25TIN

4750

140G

140G*50TIN

2400

198G

198G*48TIN

1600

210G

210G*48TIN

1710

245G

245G*48TIN

1650

400G

400G*24TIN

1960

425G

425G*24TIN

1850

500G

500G*24TIN

1500

800G

800G*12TIN

1900

850G

850G*12TIN

1800

1000G

1000G*12TIN

1500

2200G

2200G*6TIN

1560

3000G

3000G*6TIN

1000

4500G

4500G*6TIN

700