Heat pipe solar system
Technical Parameters
Heat Pipe

Solar Collector

Spec.(mm)

Φ47×1500 Φ58×1800

Tube (pcs)

12 / 15 / / 20 / 25 / 30

Vacuum Tube

Borosilicate glass, red copper heat pipe, aluminum fin

Manifold

Copper flow passage, PU insulation, Aluminium alloy shell

Water Tank

Capacity

100 ~ 500L for storage tank

Inner Tank

Food-grade stainless steel SUS304-2B 1.2-2.0mm

Copper coil

High-quality red copper coil Φ12X1.0mm

Insulation

High-density polyurethane integrated foam-forming 50mm

Tank shell

Color steel plate

Collector Bracket

Spec.(mm)

1.5 ~ 2.0mm in thickness

Material

Aluminium alloy plate

Accessories

Workstation system, Electric heater, E-Parts box, thermostat, Switch,

Anode magnesium bar, T/P valve, Relief valve, dustproof ring

Working Pressure

≥ 6 bar

Hail Resistance

Φ25mm diameter
Features description:
The split pressurized solar water heater composes of heat pipe solar collector, storage water tank, workstation system, related accessories and interconnecting pieces, etc.
Heat Pipe Solar Collector:
1) Heat pipe solar collector for thermal collection, with a very quick start and super heat collecting and exchanging efficiency.
2) Closed collector loop, no water or medium flows into vacuum glass tubes, system works well even withdrawal of one or several heat pipe vacuum tubes
3) Efficiency generated about 55% in summer and 42% in winter much more than the normal glass vacuum tube.
4) Modularized collector, arbitrary combination with architectural structure, adaptable to either slope or flat roof structure, almost maintenance free system
Pressurized Water Tank:
1) Inner water tank: Thicken food-grade stainless steel SUS304-2B as inner tank keeps the water clean and drinkable, automatic argon-arc welding technics ensures no leakage and long lifespan ( more than 30 years)
2) Tank shell: color steel plate with outer painting or baking treatment as exterior shell, much durable and appealing.
3) Insulation Layer: High-density polyurethane Integrated-foaming with twice slaking treatment, preserves water temperature constantly
4) Pressurized water tank with super hydraulic pressure bearing makes your hot water using more comfortable
5) Copper coil inside storage tank exchanges heat from collectors medium to water very efficiently, one more copper coil installed in the tank top could be connected with radiator for house heating or with other heating devices such as gas boiler to assist solar water heating in bad weather.
Workstation System:
1) An integrated system composes of intelligent controller, circulating pump, flow meter, relief valve, pressure gauge, expansion vessel, check valve, etc.
2) More intelligent system operation, when temperature discrepancy between collector medium and water in storage tank reaches set value, the controller shall start the circulation pump automatically for heat exchange, or start auxiliary heating element to assist solar water heating when colder water presents
Accessories:
1) Electrical heater, as an auxiliary heating element in case of raining or snowing days so as to ensure a continous hot water supply
2) Anode magnesium Bar: soften hard water in system so as to protect storage tank and copper coil from water scale effectively
3) T/P valve, Stainless bolts & nuts, anti-aging rubber seal, pipe holder make their life as long as other parts of the system
Warranty:
3 years international responsibility for integrated system exchange and 15 years for glass vacuum tube compensation due to original quality problems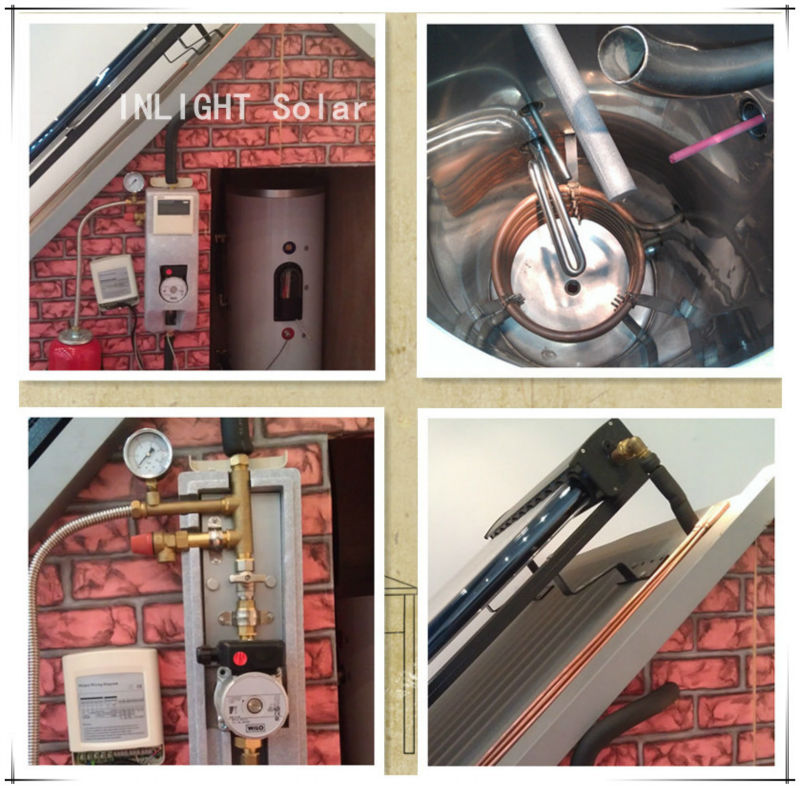 About us
Since 1995 Haining Yinuo Electric Company has dedicated itself to saving global resources by supplying the world with superior solar water heating systems.
Its solar water heaters and solar collectors are certified with Solar Keymark EN12975, SRCC OG-100, CE and ISO and have a quality reputation throughout China, East Europe, South America, South Africa and many Middle-East countries. It produces 48,000 solar water heaters and installs 2,700 largescale industrial solar water heating systems per year, 60% of which are exported to overseas markets.
You are welcome to surf around HAINING YINUO Company's website, compare our products, and ask us questions, we are just a click away from you.