food additives calcium formate preservative
Product Introduction
Calcium Formate is an odourless, free-flowing white crystalline solid.It is a convenient source of calcium and formate ions for aqueous solutions.
Physical and Chemical Properties
PH Value: 6.5-7.5
Solubility (per 100g water): 16g at 0°C, 18.4g at 100°C
Specific Gravity (20 °C): 2.023
Decomposition Temperature: over 400 °C
Grade Specification of Calcium Formate
Industry Grade of Calcium Formate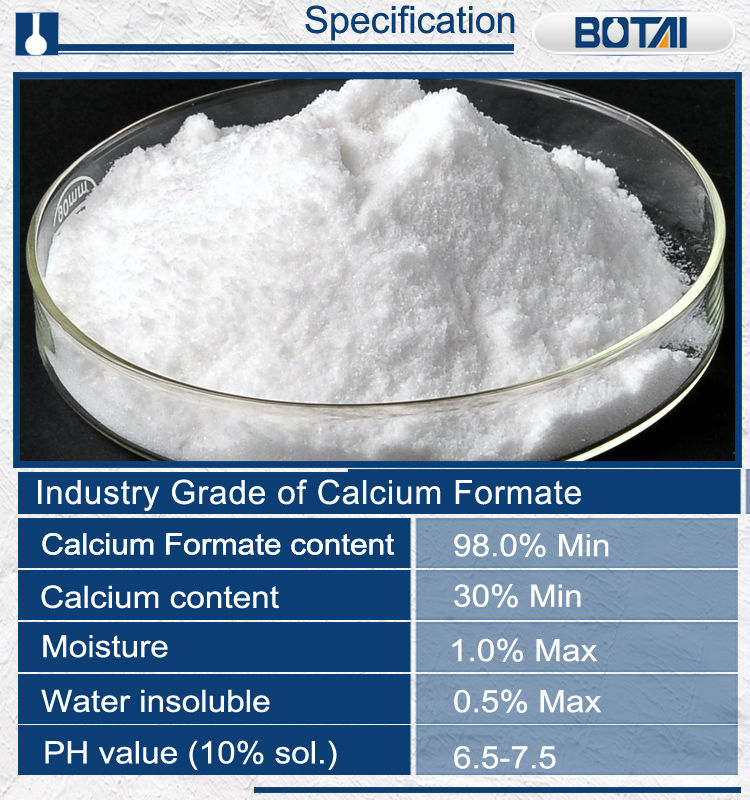 Feed Grade of Calcium Formate
Product Features
1. Speed up the hardening of cement
2. Shorten the setting time (coagulant), In the standard curing condition, it can make the the final set within 4 hours
3. Improve the early strength of mortar in low temperature
4. Prevent frostbite and corrosion
5. Environmentally non-toxic and antiseptic.
6. Adjust pH
Uses and Aapplications of Calcium Formate
Calcium formate as a new-model feedstuff additives with extensive uses, can be used as acidulent instead of citric acid, fumaric acid, and substitute for calcium propionate as preservative and fungicide, apply to using in all kinds of animal feed, preventing diarrhea, assisting to digest the feed,etc.
In addition to the large number of applications in the feed industry, Calcium formate also could be widely used in food, chemical industry, building materials,tanning, oil and other industrial productions. Used in cement can speed up the rate of hardening of cement, shorten the setting time. Calcium formate could also be made into oral agent, to cure the demic calcium deficiency, and most of calcium drugs on the market are made from it. Calcium formate also is a better ideal crop growth regulator, increase the crop production about 10% .
Uses
1.Leather Tanning
Calcium formate is used extensively in the leather industry as a masking agent in the chrome-tanning process. The addition of calcium formate to the tannage formulation promotes faster, more efficient penetration of the chrome in the leather. Calcium formate can also be used as a replacement for formic acid in the pickling operation.
2.Cement Additive
As an additive to grouts and cement, calcium formate imparts a number of propertiesdesirable in the final product, e.g. increased hardness and decreased setting time in comparison to ordinary cements. The addition of calcium formate is desirable for work at low temperature and for inhibition of corrosion of metal substrates. It is also effective in the prevention of efflorescence. When used in gypsum board, calcium formate functions as a fire retardant.
3.Silage Treatment
Calcium formate is commonly used as a component of an ensiling agent for silage treatment. The use of calcium formate in the silage suppresses the formation of side reaction products such as propionic acid, while promoting the formation of desirable lactic acid in anaerobic fermentation
4.Gas Generation
A mixture of calcium formate with ammonium nitrate or with chlorate, perchlorate, peroxide, superoxide or permanganate of an alkali metal will rapidly evolve large volumes of gas when ignited. Be- cause the released gases are cool, non-poisonous and non-irritating, they could be used for the inflation of automobile passenger restraint bags or other similar applications.
5.Flue-gas Desulfurization
SOx is abated in the flue-gases from the burning of high-sulfur fuel oil if the oil has been emulsified with a solution containing calcium formate before burning. As much as 95% of the SOx is removed.
6.Safety Explosives
Calcium formate can be used as the fuel component in explosives designed to have improved deflagration behaviour. Such explosives are suitable for use in hazardous atmospheres often encountered in coalmines.
7.De- icing agent
Mixtures of calcium formate with urea are excellent agents for the melting of ice. Less corrosion of steel and cement surfaces is observed than with other de-icers.
Other uses
Calcium formate can be used as an additive to improve solution stability of various resins, as a corrosion inhibitor in moulding and wire-drawing operations, or as a catalyst in place of calcium acetate.
Main applications
1. For custruction
Used for the rapid solidification, lubricants, early strength agent of cement.Used in building mortar and concrete.
2. As a new-model feedstuff additives
Using calcium formate as piglet feed additives can promote appetite and decrease the rate of diarrhea piglets to achieve the effect of weight gain.
Other applications
1. Used for chemical industry
2. As PH-regulator
3. Fertilizer additives
4. Well completion or cementation of oil drilling
5. As a processing aid,as an intermediate
6. For glass and ceramics product
7. For printing and reproduction of recorded media
8. For tanning of leather,for impregnation
9. Dyes,pigments and optical brighteners
10. In adhesive and sealants etc.
Packaging and Shipping
25 kg Net PP woven bags,
500 kg or 1000 kg jumbo bags
According to customers' request
20 GP Container: 24 MT with pallet,25-26MT without pallet
Quality Monitoring
All of our products are strictly according to Quality Management Systerm with MSDS and TDS. And calcium formate is our patented product. Certificated by REACH and ISO9001-2008. If any product meet your demand, please contact us. We are sure any your questions will get our prompt reply.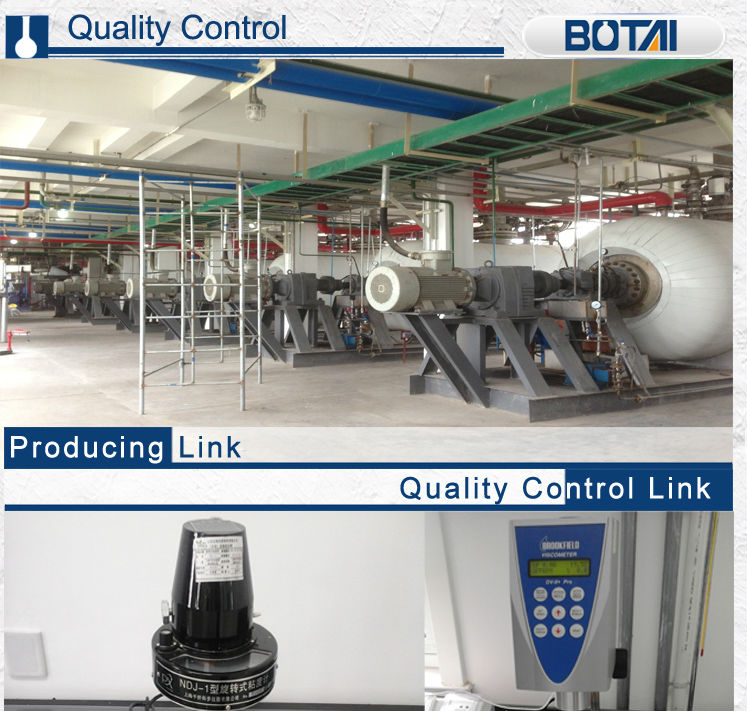 FAQ
About the dosage of calcium formate
1. The range of dosage of Calcium Formate is normally included in the range of 0.5 and 2.0% on the total weight of the cement depending on the desired result.
2. In cement based tile adhesives the optimal dosage is 0.7% on the mixture.
3. Different dosages can be used, according to the different needs, after carrying out preliminary tests.
About the storage and validity of calcium formate
1. Calcium Formate has 12-month validity beginning with delivery, if it is stored in a dry place and in the original bags kept perfectly closed.
2. Should moisture be absorbed by the product, this does not affect its efficaciousness, but it makes its dosage difficult and the distribution in the finished mixture not homogeneous.
3. It is therefore advisable to close bags carefully after each collection.
About the precautions of calcium formate
1. Calcium Formate is not irritant by contact with skin. It is easily removable from any surface with water and soap.
2. Inhalation can cause an irritation of the first part of the respiratory tract. This trouble disappears immediately by stopping handling; it is therefore advisable to use a dust mask and avoid its dispersion in the environment.
3. In case of accidental loss it must be picked up in the dry state and discharged in an authorised waste dump.
More Products Recommendation
Main products: Calcium Formate, Polypropylene Fiber, Redispersible Polymer Powder, Methyl Cellulose, Hydroxy Propyl Methyl Cellulose, etc.