High speed mobile case making 3d printer / digital phone case 3d printer
DeMing Technology Development Co.Ltd is a subsidiary company of Boyichuang Science and Technology Co.,Ltd, which is located in Kunming City.
Since 2001 we have been producing the Flatbed Printer.
After more than 10 years of development and research, we are the leader of the small A3 size Flatbed Printer in China.
We have grown fast and we now have over 60% of the Chinese market for the A3 Flatbed Printer.
We have three branch offices in Shenzhen,Shanghai and Guangzhou.
We produce 200 sets of Flatbed Printers per month. We employ 150-200 workers. We have 30 technicians and engineers.
We created the famous brand----Byc168, which was the best seller for five consecutive years.
The A3 Flatbed Printer has been called the best friend of the personal business.
DEM-JET-M3, the classic version of a3 multifunction flatbed inkjet printer, produced from 1996.
Under the help of dedicated uv inks , it can print directly on any color any material items, such as pvc, wood, stone, ceramic, leather, glass, metal, except textile .
Why eco solvent multifunction printer suitable for phone case printing?
1)Highest 5760dpi resolution:
can output much more vivid, soft hand-feel, colorful image;
2)Much cheaper printing cost:
if only need to print white phone cases, this model is the best choice, as the inks are cheapest but with most stable effect.
3)8 full colors:
Photo black, black, red, magenta, yellow, cyan , orange, gloss(Make the printed design much brighter)
4)Special coating for phone case:
Pretreatment before printing, play a role of protect inks, make the printed image won't remove by water, nail, sunshine etc.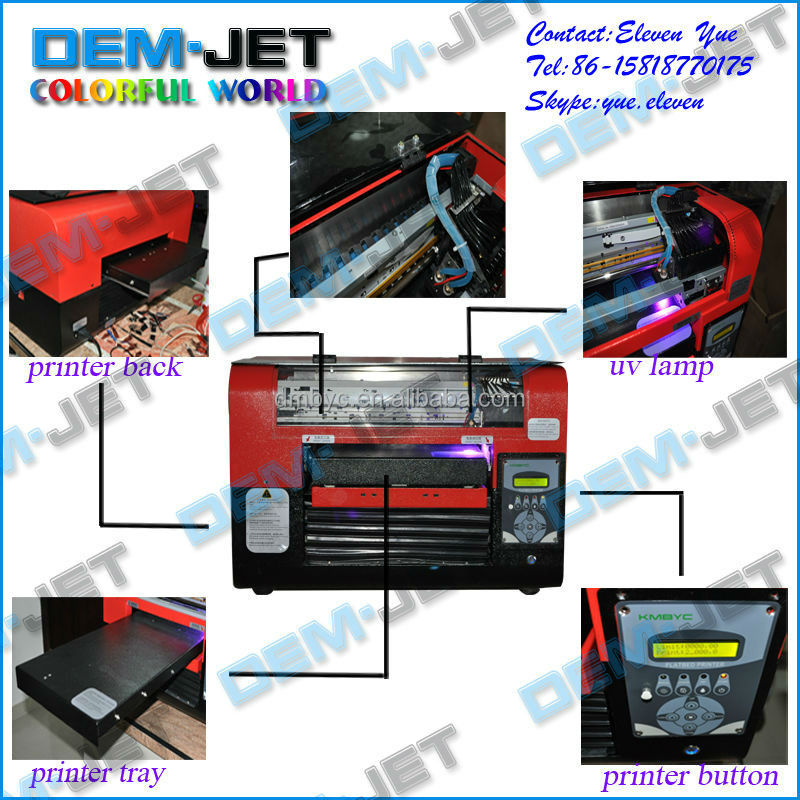 Main Parameters:
Printing Technology

Advanced Micro Piezo 8 color pigment inkjet technology

Ink colors (6 colors)

black, magenta, yellow, cyan ,light cyan , light magenta

Printing speed

5760 dpi, only need 62 seconds/A4 size, the fastest model

Object Pretreatment

Coating first or directly print; For garment, color fixing agent and white ink first or directly print

Print head

Original dx5 R1390

Max resolution

5760 *1440 dpi

Printing interface

USB 2.0

Max Printing Size

A3+ (330mm×600mm)

Max Media Thickness

190MM

Height adjustment

automation

Language

English,Chinese

Voltage/ Power

110-220V / 36W

Printer head Protection

Intelligent Self Protect System

Ink type

Eco Solvent Ink and Textile ink

Ink system

CISS built inside (70ml-100ml per color)

Ink consumption

10 ML/SQM

Working environment

10-35 degrees

Net /Gross weight

65kg / 110kg

Package Type

Complete MDF Board Case+ Carton

Printer/packing size

87cm*67cm*63cm/100cm*76cm*72cm

Special Remarks

Customized service is available

Operation System

Windows 7 / 98 / Me / 2000 / XP / XP x64 /

Vista*4MacOS X10.2.8 or later (PPC & Intel CPU)

Software

Photoshop, CoreIDraw, Illustrator, BR RIP, Micro Office etc

Standard Accessories

USB line,software-driven,power lines,

product manual( with vcd disk), cleaning and ink adding tools

Warranty Notes

One year warranty, lifelong maintenance!

Seller will replace the spare parts for buyer free within one year, except print head, cleaning unit, CISS!

Print Examples

pvc, wood, stone, ceramic, leather, glass, metal etc
If no need coating, we also have uv printer for sale: total 100% direct print, here with you our full models as follow:
How to print :
Printing Photos:
Ink show :
Any further questions about our printing process, pls feel free to:
1)Send us an enquiry or
2)Add us by skype or
3)Call us directly or any methods you prefer,
We promise to give you the most satisfactory answers within 12 hours, ok?
Extra Multifunction eco solvent inks to share
We always produce a superior product ! What we offer you is not only the printer, but
1)10 years Professional printer knowledge;
2)10 years printing experience on lots of different materials;
3)10 years after sales tech support experience.
Contact:Eleven Yue Mobile: +86 15818770175 Skype: yue.eleven