Shengzhou Sanjian Netting Co., Ltd. is one of the biggest producers in China of outdoor anti-UV Ray products, we are specialized in this line more than 5 years. Mainly manufacture two series fabric of sun shading protection products, we adopt both 100% virgin HDPE (High Density Polyethylene) and 100% Polyester with PU coated (waterproof) fabric.
Half-finished product: 100% virgin HDPE(High Density Polyethylene) shade cloth / shade net; finished products including: shade sail, shade net, fence net / balcony screen, roller blind / window shade, and other shading items for leisure and outdoor uses.
The products are widely exported to Europe,America,Japan, the Middle East ,Africa, Etc.
Our advantage: We can develop, design and produce the high-grade shading products on our own. The international advanced technology and advanced equipments are applied to our production.
With the qualified 100% new HDPE materials and U.V. stabilizer materials, we make the high-quality products for the customers all over the world. " Quality First " is our aim, and therefore we will try our best to provide our customers with the high-quality products to meet their diversified demands.
Customers are welcome to visit us and to have mutually beneficial discussions about business co-operation. Please also don't hesitate to contact us by email, by telephone or by fax. Your enquiry will be promptly answered.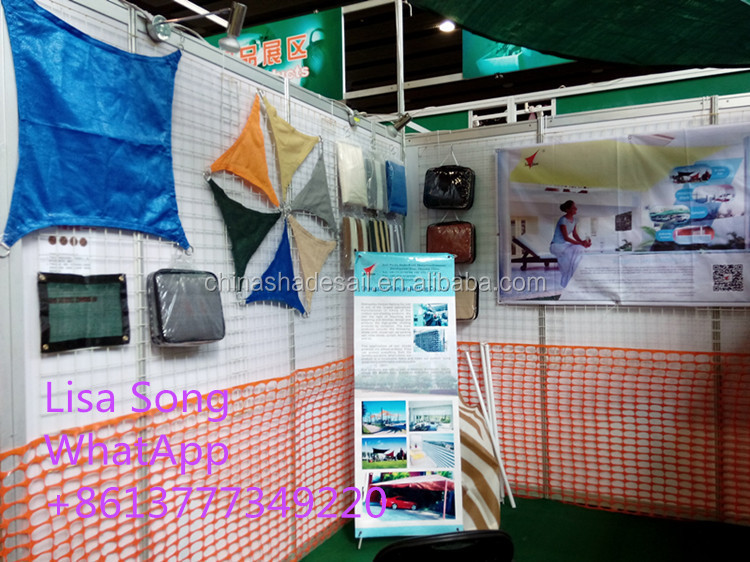 1. Protection From the Sun`s harmful rays

2. Customize various weight and color are avaliable to meet your needs

3. Place to use: Children play areas, swimming pools, courtyards, cars packing and other outdoor or such garden place etc.

4. Available in many sizes such as 3x3m, 3.6x3.6m, 5x5m, 3.6 x 3.6x 3.6m, 5 x 5 x 5m and 3 x 3 x3m etc. We can also make customized sizes.
5. Stainless steel rings (usually SUS 304) at each corner.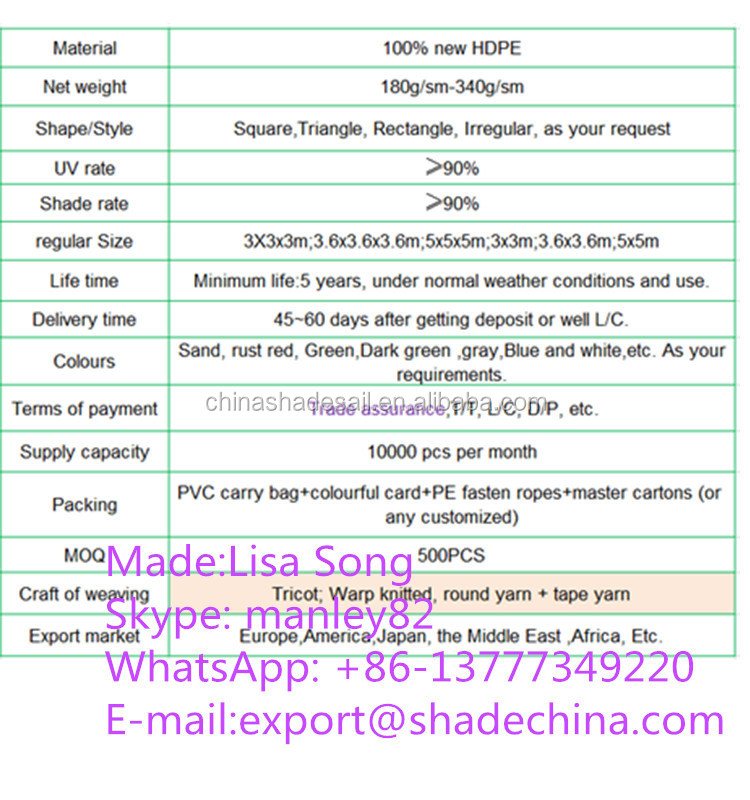 1. The fabric is knitted, not woven, so it won't tear or fray
2. Provides up to 95% blocking against UV Rays
3. Polymer knitted fabric allows cover to 'Breathe' reducing temperatures by up to 10 degrees
4. Easy to install, mounting hardware kit includes Turnbuckles, Snap Hook, and Pad Eyes, which is made by Marine Grade Stainless Steel (SUS316).
5. Strong, durable, and colorfast for years
6. Completely mold and mildew resistant
7. Easy to clean
8. Protected by a 3 year fabric warranty against UV degradation
Wechat: 13777349220
Tel: 0086-13758598378/13777349220
WhatsApp: +86-13777349220
Skype: manley82