Medical Adhesive Coated Paper for Syringe/Needle
Type: 2232 60/70gsm paper+5gsm coating
sterilization; EO
Material
France Arjo Wiggins adhesive dialysis paper.with printing
Features
Apply to automatic packing machine material of various medical device manufactures
Both size and print content can be produced and designed by the customer's request.
How to use
Apply to medical supplies such as glovesgauze,sponge,cotton swabs,masks,surigical instruments,dental instuments,injector etc
Apply to ETOsterilization,GAMMA RAY sterilization.
Product advantage
1.Medical Grade Kraft Paper,good bacteria resistance
2.Independent development glue, Our adhesive coated paper have good adaptability to the equipment, stable operation, high efficiency, good Sealing strength, and good peeling effect.
3. Authority test report for Customer review;
4. In accordance with EN868-7 and ISO11607 Standard. full range of testing equipment, reliable quality;
5. We can provide customers with professional printing services. With several four-color flexographic printing machine, gravure printing machine, and high speed multi-color flexographic printing machine, we can print clear, and deliver fast, and the minimum text can be number six letter.
6. water base printing ink, odourless, safty;
7. Good sealing effect with PE, good Sealing strength, good peeling effect. No paper scraps;
8,Manufactured under ISO9001 and ISO13485 quality System,Quality traceability, have Insurance.
Printing Method
Flexography
Sterilization Method
Gamma Ray, ETO
Usage
This product is suitable for blister packaging paper used for medical syringes & infusions; on-line vacuum packaging paper for medical accessories such as medical gauze,tapes etc ; automatic packaging machine material from medical equipment manufacturers.
Company certification
GMP 100000-grade purification workshop, ISO9001,ISO13485 quality system,
EN868-7 international product standard
Products Certification and test report
1. Technical Report -for heavy Metal organ: TUV page: 1-5
2. Physical and chemical index according to EN868-7 organ: TUV page: 1-2
3. Biocompatibility
1) Cytotoxicity Test page: 1-11
2) Skin irritation Test page:1-10
3) Microbial Barrier Test (Dry) before sterilization page: 1-4
4) Microbial Barrier Test (Wet) before sterilization page: 1-4
5) Microbial Barrier Test (Dry) after sterilization page: 1-4
6) Microbial Barrier Test (Wet) after sterilization page: 1-4
organ: TestCenter of Sanitation&Environment technic Institute, SoochowUniversity
Packing
polybag+ brown Paper + pallets packed
EXAMPLE: Size:415mm*1000m/Roll

,

36rolls/pallet

;

Delivery time
15 days
storage condition
temperature lower than 25°C, humidity lower than 60%;
Usage Guide
1.heat-sealing with PE film, for packing automation
2.heat-sealing with PP/PE, for packing automation
OEM
Size and printing can be custom-made
Produced and packed by customer's request!
Our factory located in anhui province China.we sent our products to shanghai port only one day.
1. Customized design is available. OEM&ODM are welcome.
2. If you have any inquiry,we will response in 24hours by email,tel or fax.
3. Experienced technical engineer will answer all your questions in professional and fluent English.
4. Exclusive, considerate and unique solution can be provided to our customers by our well-trained and professional engineers and staffs.
5.sample are free.
certificate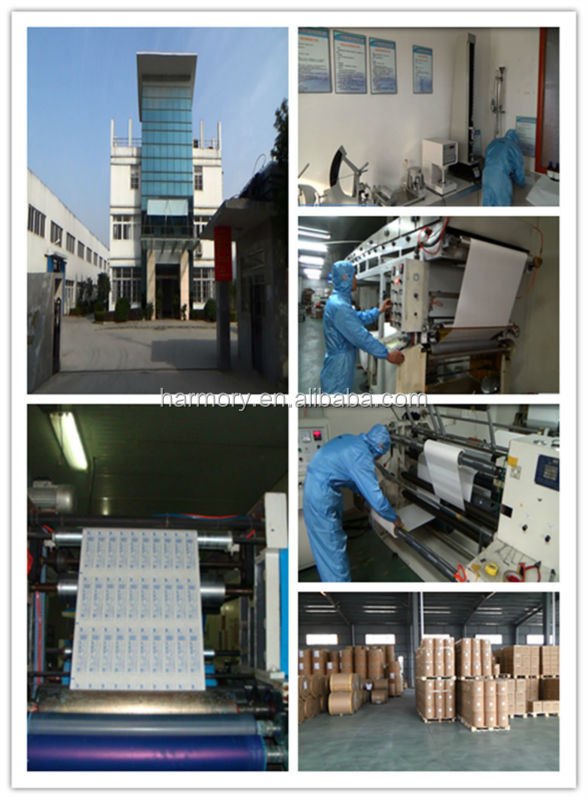 Anhui Harmory Medical Packaging Material Co., Ltd was established in December 2011, is specializes in manufacturing sterilization packaging for medical devices and sterilization monitoring products.With large focus on PE bags for the medical device factory, paper-film pouches for medical device, middle/edge-sealing bag article breathable, breathe freely window PE film bag etc. Medical packaging materials contain medical adhesive coated paper, medical composite film, syringe blister packing PP/PE film,medical crepe paper,autoclave tape, sterilization indicator strip, bowie dick test pack etc. The products are aboard to European, America, Asia countries, and have been an affirmation of customers, we and the customers at a long-term good cooperation.