JP-060s( digital , 15, 4 gallon)
Skymen digital ultrasonic cleaner for hospital instruments cleaning

Ultrasoic cleaner for laboratory use
Skymen high quality ultrasonic cleaner with 1 year warranty---free parts can be sent if any quality problems

customer is welcome!
distributors are welcome!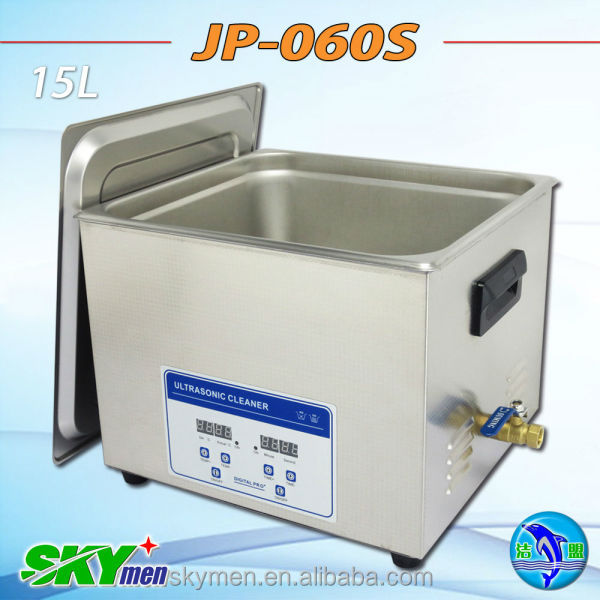 specifications:
Frequency

40KHz

Material

Stainless steel SUS304

Tank capacity

15L

Timer

1-30min, digital timer

Power supply

AC 100-120V, 50/60Hz

AC 220-240V, 50/60Hz

Ultrasonic power

360W

Heating power

300W, digital heating

Unit size

360x325x285mm( L x W x H )

Tank size

330x300x150mm( L x W x H )

Package size

470x400x390mm( L x W x H )

N.W

9.0kg

G.W

10.0kg
features:
1. stainless steel tank has resistance to wear and long work life.
2. tank capacity:15L(4gallon), with digital timer & heater control
3. with Stainless steel basket
4. use just tab water, or industrial alcohol and solvent cleaner for more
higher cleaning requirement
5. industrial control chip microcontroller. flexible circuit boards control,
more secure & stable
6. temperature tunable from 20°C to 80°C
7. with drainage
8. certification: CE&RoHS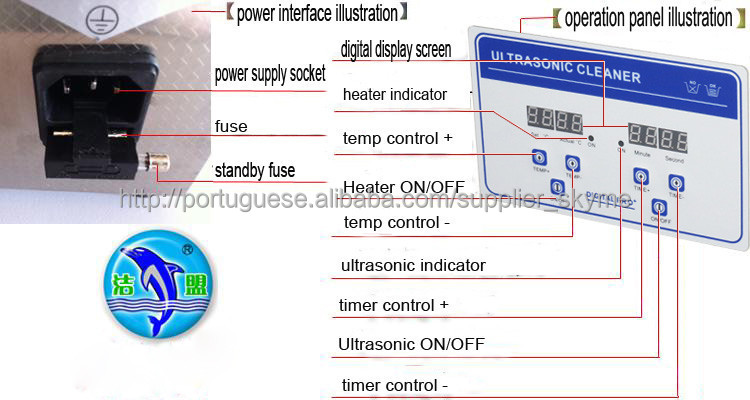 applications:
Jewelry industry, medical industry, electronic factory, molding factory, car workshop, diesel workshop, car industry, scientific laboratory, university, dental clinics, eyeglass shop, hardware tools shop.
shipping info: measurement for 1pcs:package size 430x350x380mm(LxWxH),0.057CBM, weight
8.5kg; 18ps perCBM.
delivery detail: 2-3 days after the receipt of payment.
Quality control:
1. QC and engineers would make strict inspection of the material and production procedure step by step to ensure the quality of every product.
2. salesmen must follow the production process to ensure the machine completely according to the sample.
3. Each unit would be tested at least 4 hours before packed.
After-sale service:
1. Providing 1 year warranty, any technical problem can be asked, any replacement parts will be sent free.
2. After warranty time, technical support is also available for every customer.
Skymen Cleaning Equipment Shenzhen Co. Ltd., that has worked on ultrasonic cleaner for many years.
Our ultrasonic products fully range from mini household ultrasonic cleaner, benchtop stainless steel small ultrasonic cleaner, and industrial large tank ultrasonic cleaner as well as Immersible ultrasonic transducer system.
Our company devote to research and development, with strong engineer teams. Otherwise, we accept custmoer's idea and want to develop new products together.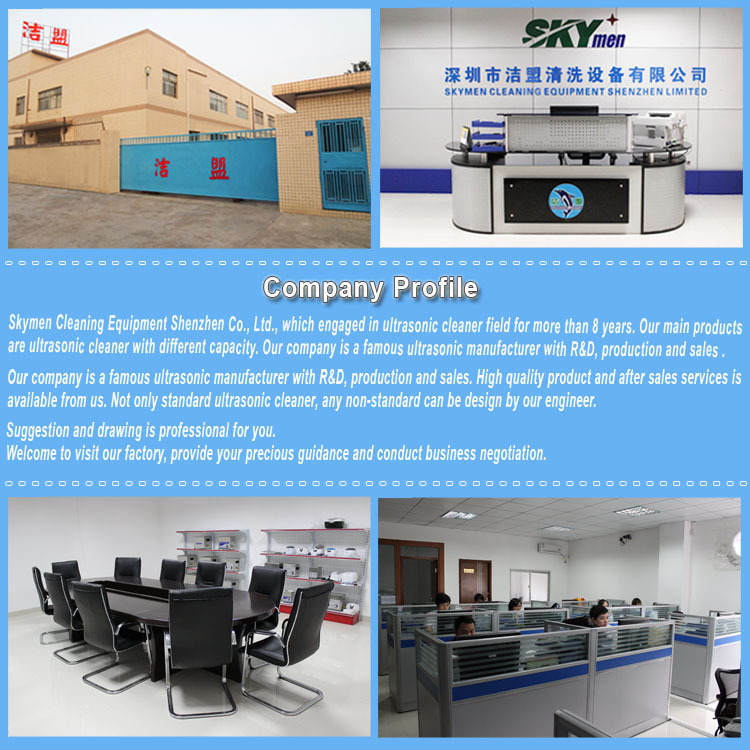 Q: How to control the cleaning time?
A: Generally, 3minutes is enough for daily goods clean.
Q: Does ultrasonic cleaner damage the articles?
A: Ultrasonic cleaning is considered safe for most parts; although in some cases it is necessary to observe caution. Although the effect of thousands of implosions per second is very powerful, the cleaning process is safe.
Q: What about after-sale service?
A: our company provides 1 Year warranty. If any technical problem during warranty time, replacement parts will be sent free of charge. After warranty time, technical support is also available for every customer.
Q: What kind of cleaning solution should I use?
A: A large variety of different formulas designed for specific applications. Proper selection is crucial for acceptable cleaning activity and to prevent unwanted reactions with the work piece.
our related products: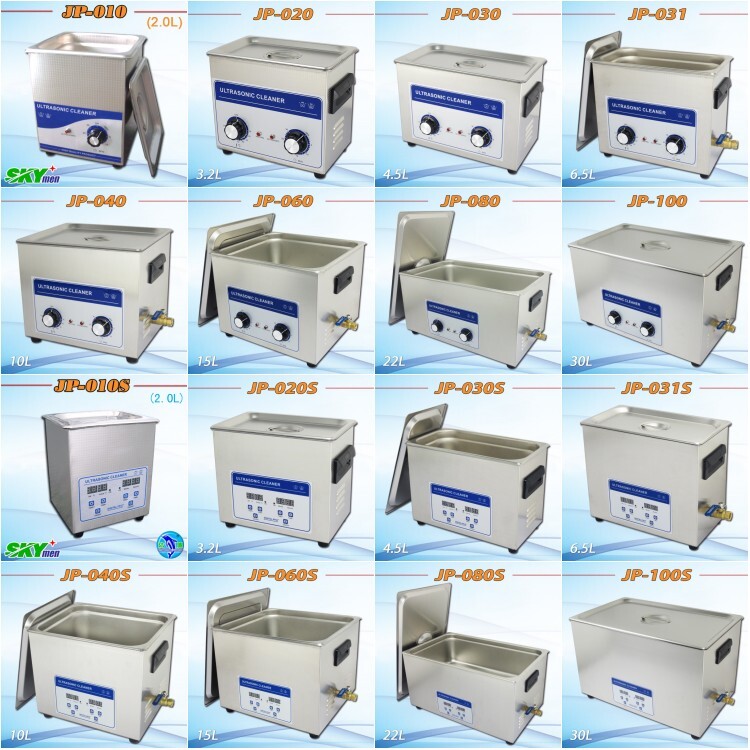 Skymen new designed ultrasonic cleaner JP-1200(1.2L) with detachable tank & touch key screen, you can know about it from the following website:
http://www.aliexpress.com/item/2014-New-design-jewelry-denture-watch-eyeglasses-ultrasonic-cleaner-with-detachable-tank/32229639454.html