Good bonding self adhesive transparent film with paper for label
Pinghu Zhanpeng Hot Melt Adhesive Web&Film Co.Ltd are specialized in Hot Melt Adhesive Film and have 5 types: EVA,PES,PA,PO.TPU. We are one of the Chinese manufacturer which holding the complete range and steady quality of the products which is Eco-friendly, excellent in water and dry wash, resistance, antisepsis, low melting temperature
Applications
1,Underwear etc .elastic-fabric field:application of waterproof with three-tier;no cracks bonding for pants and underwear;application of gluing for swimsuit;application of a bra-to the middle of bond;elastic cloth cutting word
2,Clothing label(embroidery badge)field:application of embroidery badge;application of woven label;application of paillette embroider;gluing of reflection material
3,Field of conductive cloth:conductive aluminum foil;conductive cloth and conductive foam
4,Recombination of cloth:aluminum pasting;radium shoot film processing;bonding of sponge and non woven;waterproof zipper
5,Bonding of metal plate:bonding of beehive aluminum material;aluminum density of wood;application of rustless steel galvanized plate recombination
Specifications
*Soft handle
*Pass the Oeko-tex
*Environmental protection
*Good bonding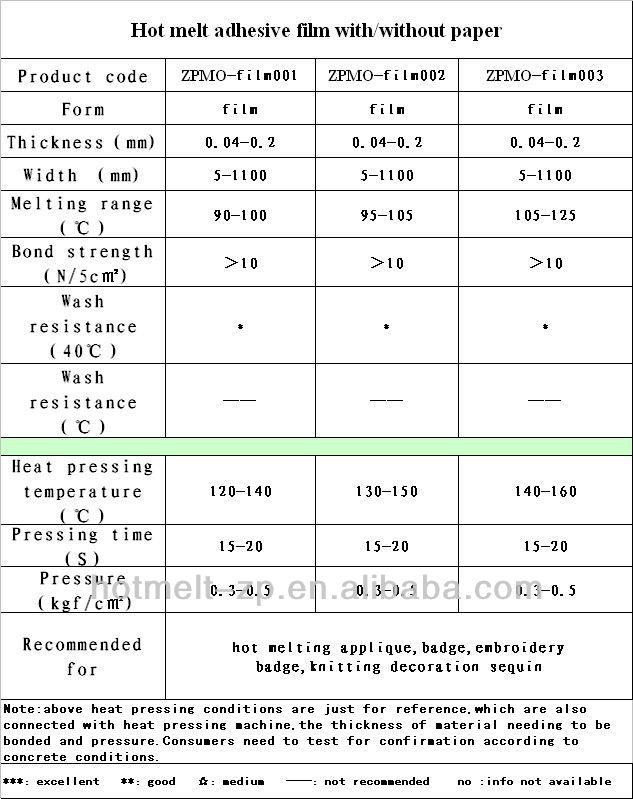 Note:heat pressing conditions are for reference only, which are also connected with heat pressing machine, the thickness of material needing to be bonded and pressure. Consumers need to test for confirmation according to concrete conditions.
The Hot Melt Adhesive Film with the advantages of double sides adhesiveness, gloss surface, strong adhesiveness, acid and alkali resistance, excellent in water wash and dry wash, and low melting temperature.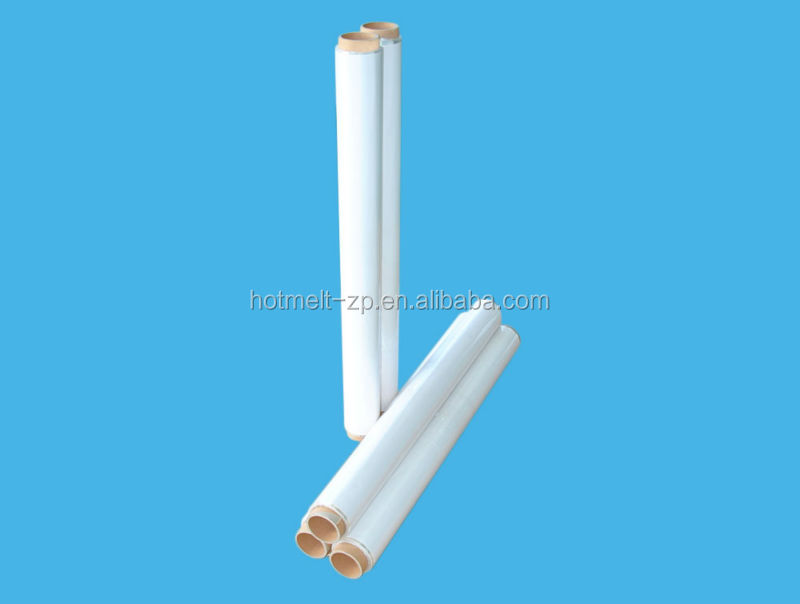 How to use
About us
Pinghu Zhanpeng Hot Melt Adhesive Web&Film Co.Ltd was founded in 1997. The area of the factory is more than 15000 square meters. It is specialized in producing hot melt adhesive products.