Wholesale 3D cinema system/3D cinema equipment/3D cinema chair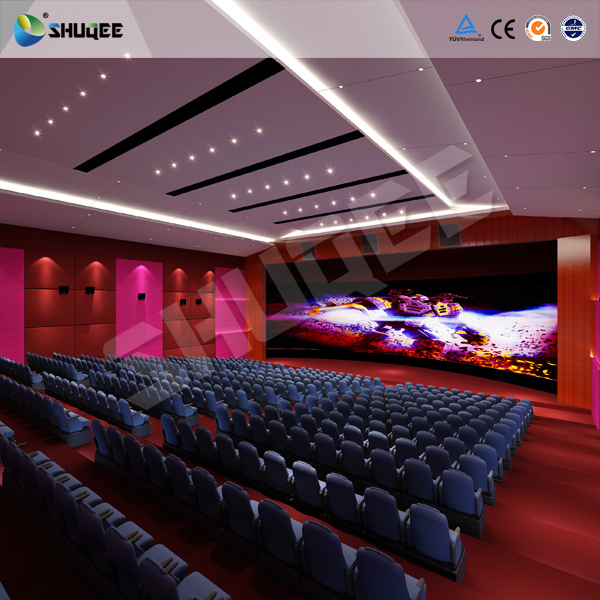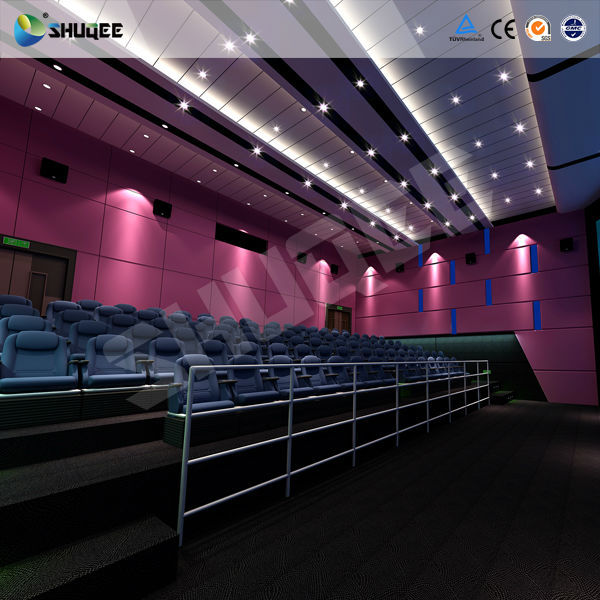 3D cinema consists of the following:
Projector
The projectors that are used to present 3D images are not normal ones in regular movies. The frame rate of normal projectors is 60 Hz, while the rate of 3D projectors is 120 Hz. The proportion is doubled. This is due to the fact that more output details are required in showing a 3D movie. The 3D projector must also possess a resolution of at least 2k (2048x1080p) for a clearer image on a wide screen. The most popular providers of commercial cinema projectors are Dolby 3D and IMAX.
Screen
Silver screens are usually used in 3D cinemas. Since plenty of light is used in showing a 3D movie, a silver screen is needed to provide more light for contrast. White screens, which are much cheaper, have soon replaced silver screens in cinemas. Right now silver screens are making a comeback in 3D movie houses.
Sound System
A 3D cinema should not only provide a wonderful visual experience but a great auditory experience as well. In an IMAX 3D theater, up to 44 speakers are used to provide the viewers with surround sound. The speakers require 12,000 watts of electric power to ensure a fantastic viewing experience.
Glasses
The viewers need to wear 3D glasses to enjoy the 3D effect. These glasses are polarized and matched with the projector. Therefore, the audience can't just use any type of glasses; instead, the glasses should be compatible with the projector.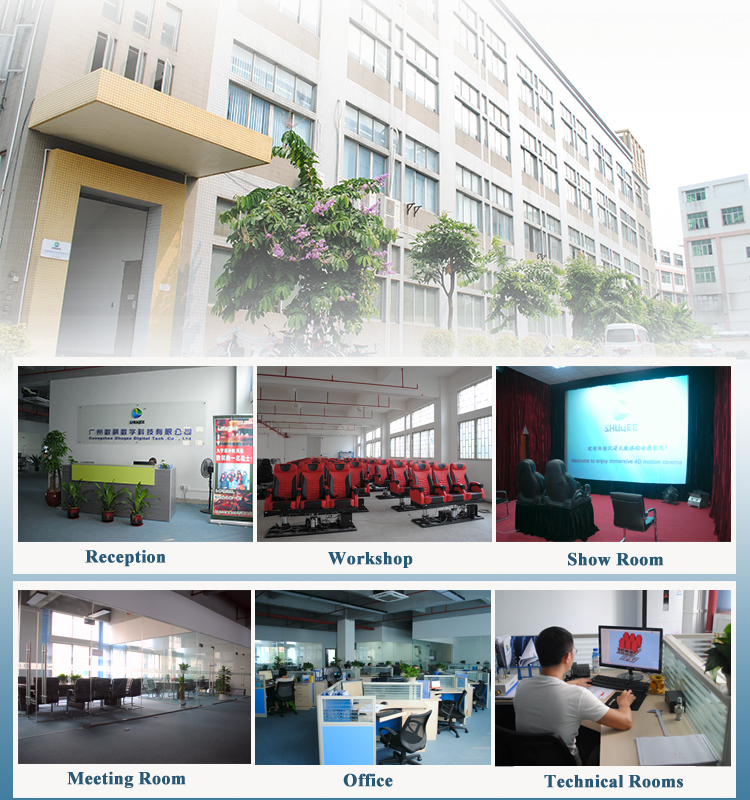 Guangzhou Shuqee Digital Tech. Co., Ltd adopts advanced video imaging technology, citing the international forefront of innovative design concepts, gathering many senior professional technicians. We are fully implementing the ISO9001: 2008 quality Management Implementation of Standards. A technological, cultural and creative company which realizing a set of 3D Theater system development, equipment production, planning and construction, operation and maintenance to form a whole industry chain.
Customers with Us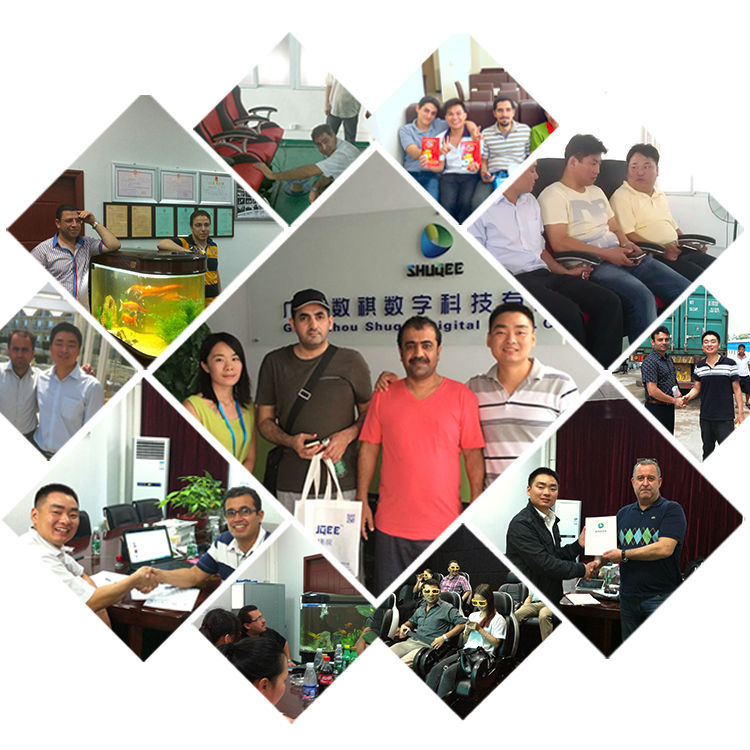 Why Choose Us
Certificate: CE, ISO9001:2008, GMC, Patent Certificates;

The top team to research and develop the intelligent 3d cinema system – All electric system of green environmental protection;

Perfectly transform 3D/4D cinema into 5D cinema - Environmental effects deep accurate synchronization;

Dozens of related technology patents – Focused more professional;

Customized design – Prominent theme;

Standard cinema construction process – High-grade effect assurance;

Respond within one working days – Instant after- sale service.
Pictures of Process
Installation:
All the whole system can be installed according to our Installation Instruction Manual;
That is easily to install because all the parts finished installation before shipment.
we will pack one set,you just plug the power,the motion smulator can work.
Operation:
The simulator can work automatically,you can let audience operate by themselves;or let one worker just open movie.
The motion and specail effect will work automatically.
Sucessful Cases and Certuification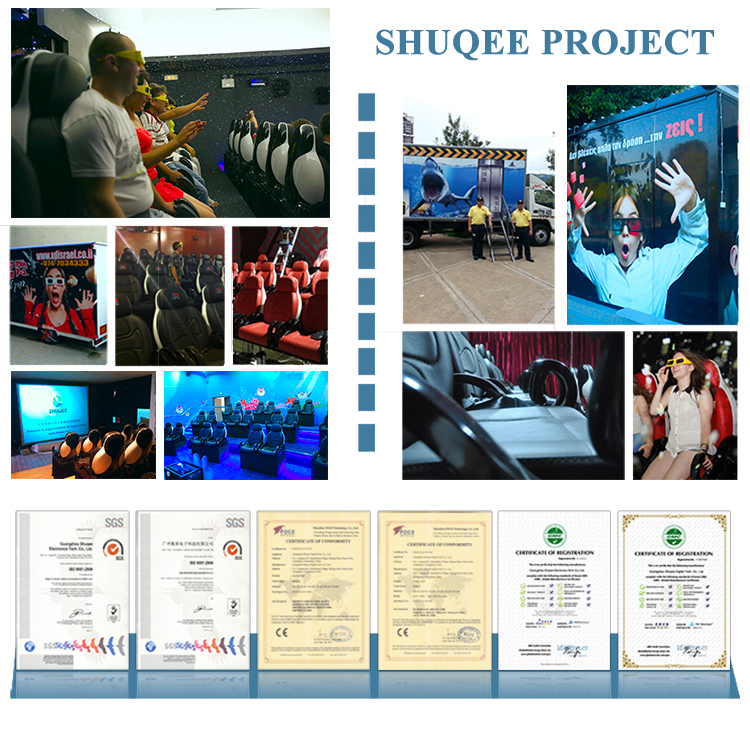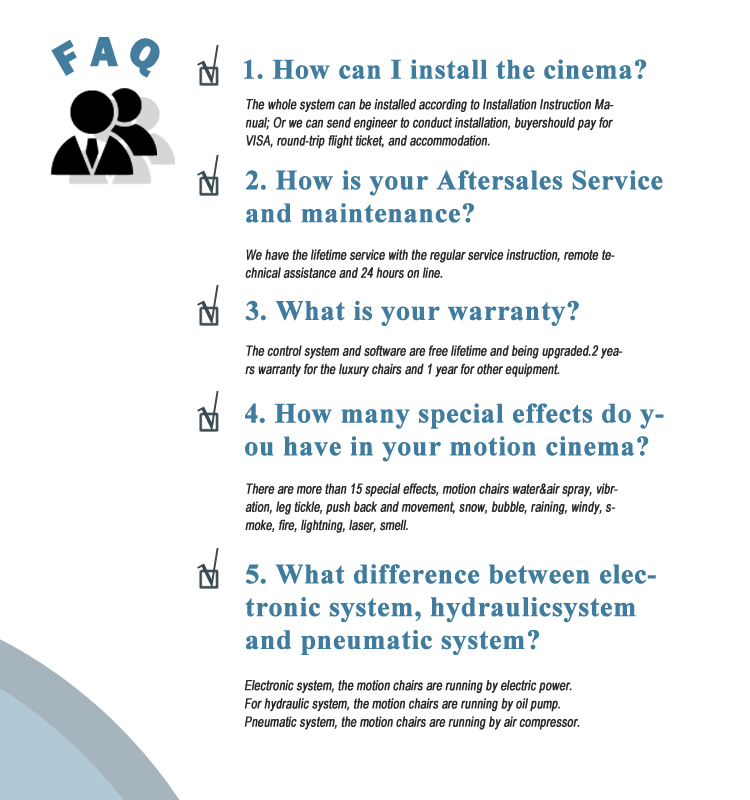 Please feel free to contact us if you have any demands or questions on our 3D cinema system/3D cinema equipment/3D cinema chair or services.