Metric Rivet Sizes Lantern Wholesale Rivets Aluminium Blind Rivet
Standard: GB 12618, DIN 7337, IFI-114
Material: Aluminium
Type: Lantern
Finishing: Polishing
Production Experience: 18 years
Company Informaion:
Set up by 1996, located in Jieyang city,Guangdong province. Our company is specializing in producing the best quality rivet and screw.
We exported our products all over the world and sold more than 5 billion pieces per year.
Our mission is to provide customers with the highest quality products and the most competitive price .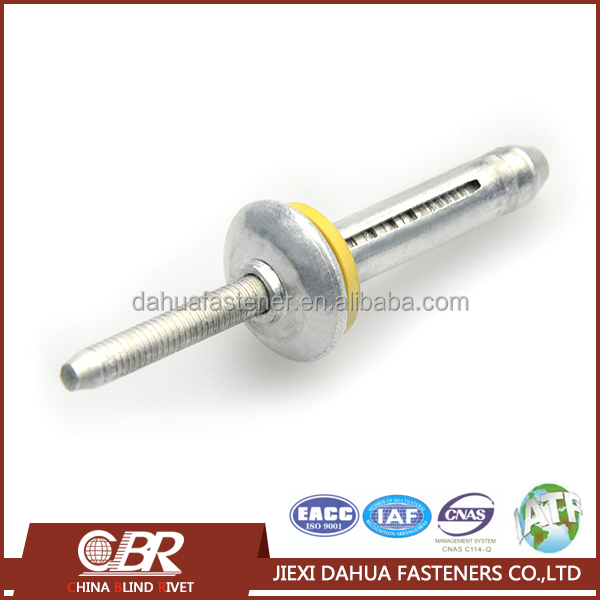 1)Available in a variety of materials:
Brass Body/Steel Mandrel
Copper Body/Steel Madrel
Stainless Steel Body/Stainless Steel Mandrel
Stainless Steel Body/ Steel Mandrel
Steel Body/Steel Mandrel

2)Advantages

Production Experience: 18 years
Type of Company: Manufacturer&Exporter
End Type: Open end , Closed end
Head Type: Dome head, Flat head, CSK head,Large flange
Service: OEM

Products: Stock Available

3)Types

Open type blind rivets
Grooved type blind rivet
Seald type blind rivet
Multigrip type blind rivet
Unigrip blind rivet
Anlock rivet
H-lock rivet

4) Sizes Available

Rivet Dia
Rivet Length
Rivet Dia
Rivet Length
D MM INCH
L MM INCH
D MM INCH

L

MM INCH

Φ4.8 3/16''

6.0 .236''

8.0 .315''

10.0 .394''

12.7 .500''

14.0 .511''

16.0 .630''

18.0 .709''

20.0 .787''

22.0 .866'' 25.0 1.00''

Φ3.2 1/8''

6.0 .236''

8.0 .315''

10.0 .394''

12.7 .500''

14.0 .511''

16.0 .630''

Φ4.0 5/32''

6.0 .236''

8.0 .315''

10.0 .394''

12.7 .500''

14.0 .511''

16.0 .630''

18.0 .709''

20.0 .787''

22.0 .866''

25.0 1.00''

Φ6.4 1/4''

8.0 .315''

10.0 .394''

12.7 .500''

14.0 .511''

16.0 .630''

18.0 .709''

20.0 .787''

22.0 .866''

25.0 1.00''