FRP Grating Stair Tread Cover, Fibreglass Stair Nosing, FRP Stair Tread
Product Description for stair tread cover
MEISHUO anti-slip safety stair nosing is designed to apply where pedestrian safety, stair appearance and stair longevity are of particular concern, carborundum stair nosing is Inserted with carborundum, adhesive carborundum and Rubber with stainless steel. stair edge nosing will beideal for inside or outside concrete steps, carpet, ceramic tiles or vinyl floors.
Infill materials with Carborundum, adhesive carborundum, pvc rubber(if needed) are available. And the finish of aluminium can be anodized aluminium, mill finish or powder coated. step nosing can also be made of aluminum base frame with no insert materials as requested, or can be recessed into new work or recessed into existing floor finishes.Customized safety stair nosing available.
Products Specifications and Details for stair tread cover
| | |
| --- | --- |
| Product | stair tread cover |
| Materials | Alloy 6063 Temper T5 |
| Infill Material | Carborundum, adhesive carborundum, pvc(if needed) |
| Sizes | 75*25mm, 68*32mm, 53*7mm, 41*17mm or Customized |
| Finish | Anodized aluminium, mill finish or powder coated |
| Certificate | ISO9001 2008 Certificate |
| Application | Inside or outside steps, carpet, vinyl floor, ceramic tiles |
| Colours | Natural anodized color, black, safety yellow, green, or other |
| MOQ | 100 meters |
| OEM Service | Welcomed for curved stair nsoing |
| Sample time | Normally 3-5 working days |
| Payment Terms | L/C, T/T, WESTERN UNION, PAYPAL, MONEY GRAM |
Pictures Gallery for stair tread cover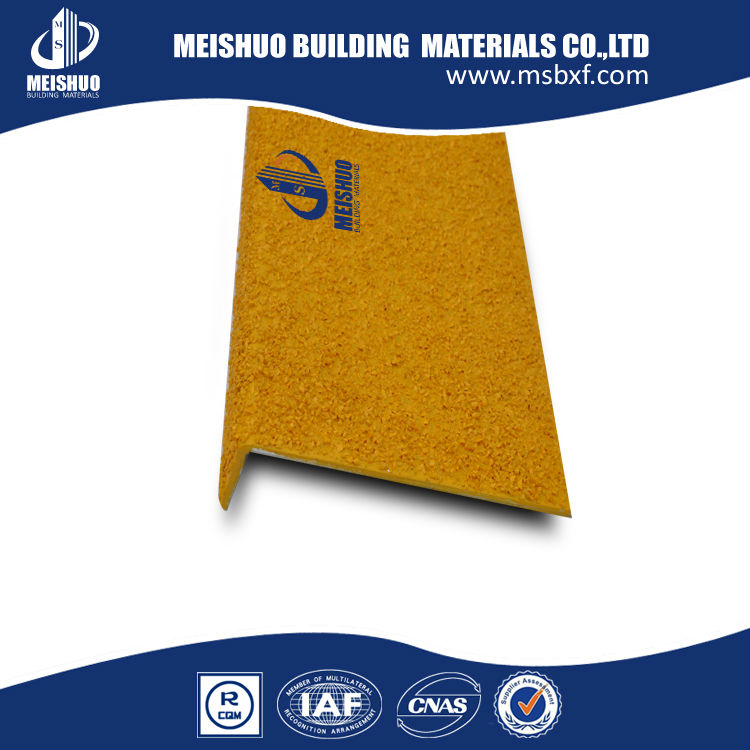 Packaging and Shipping for abrasive stair nosing - Standard Plywood box packing
Nanjing MEISHUO Building Materials Co., Ltd, founded in 2000 in China, has more than 12 years' experience in designing, manufacturing and installation of building expansion joint systems (floor, wall and ceiling, roof),Movement joint,Aluminum Entrance Mat,carborundum stair nosing, Grates, and so on.
We can annually manufacture 360,000 meters of expansion joints, 20,000 square meters of aluminum entrance mats, and 100,000 meters of aluminum baseboard.Sales volume has reached 10,000,000 USD with export sales increasing year by year.Customized stair nosing profile available.
Jackie Liu
Nanjing MEISHUO Building Materials Co., Ltd
Mob: 0086-15250962725 Tel : 0086-025-58196288 Fax:0086-025-58196399
Address:No.2208, Huaqiao Square, Pukou district, Nanjing, Jiangsu, China
E-mail: sales01(at)msbxf.com
MSN: jackie365ll(at)hotmail.com
Skype: jackie365361
Contact us for details about Price, sample, delivery
......