Hookah Base / Stand with LED Lights, Luminaire Glass for visual effects
♦ Super Bright LEDs That can be submerged in water.

♦ on/off, change 13 colors with remote control .

♦ Uses replaceable 3 AAA batteries.

♦ Available in steady on white LEDs and multi-colors .

♦ 3inch 7 cm in diameter.

♦ The Sub-10 HAS flat top All which Will allow you to stand an object on top of the unit.
♦ Create ambience with this colour-changing waterproof LED light:
let it shine out from flower vases, water features or even your bathtub!

♦ Set the stage for an ambient evening at your next soiree - place the remote controlled aqua mood light into a vase,
pond or water feature to enhance your space with soft decorative hues.Set the light to gentle colour fade rotation,
jump between the tones or select one solid colour.
♦ The Aqua Mood Light comes with a remote control so you can set the mood at the touch of a button.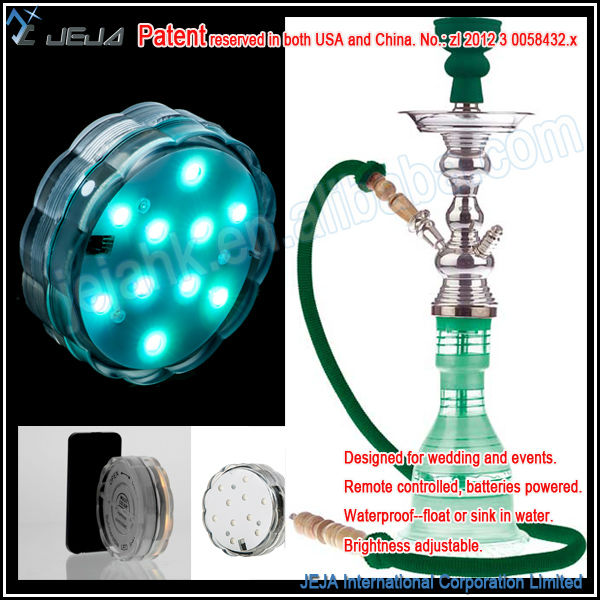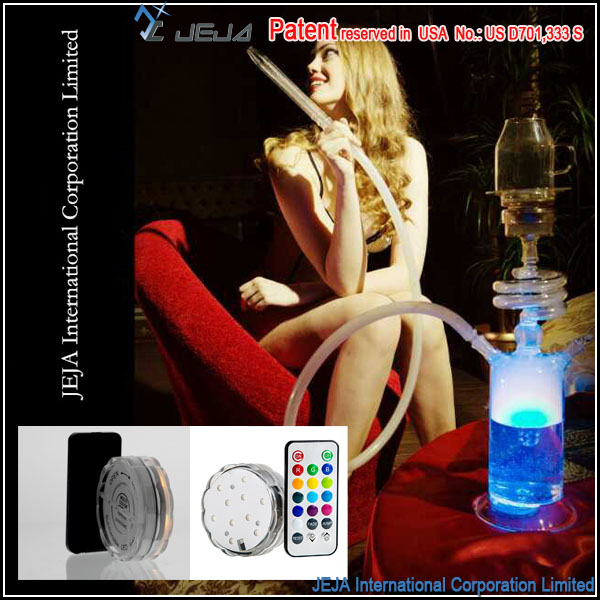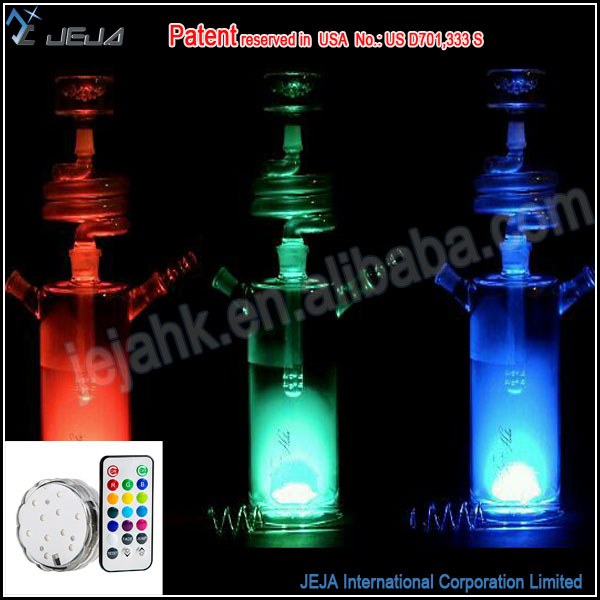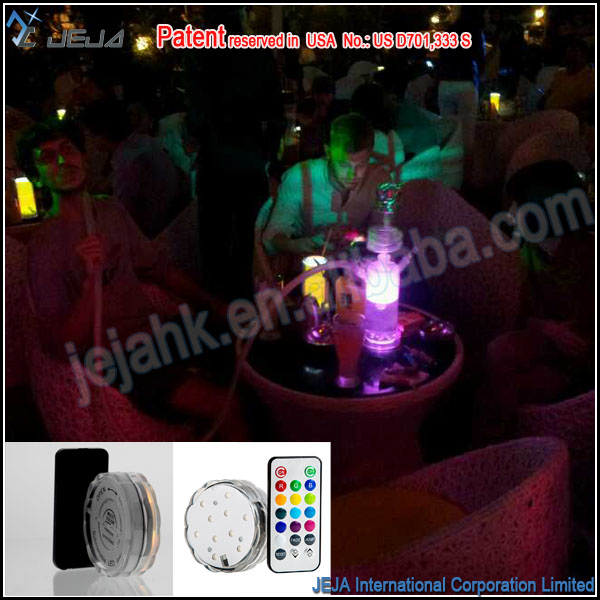 ♦ Shenzhen JEJA Electronics Co., Ltd is located at Gushu industrial area in Shenzhen Guangdong.

We have been researching and developing many kinds of LED lighting products for events designs, parties and ceremonies.

We applied patents of our products both in China and the USA.
♦ We have workshop with 50 workers. The production capability is more than 200,000 pcs of various lights.

All our products are checked many times starting from materials, producing process, finished products to packing.

Customers can rest assured that the quality of our products is very good.
♦ Our products are popular in the USA , Europe, Australia, South Africa and countries in South America.

We also produce customized products for our customers.
♦ Our hard and wise work will help you in your business!
♦ How can I buy your products?

Answer: Please send me inquiry with the QTY and the product model NO., we will to help you make the purchase in 6 hours.
♦ How shall I make the payments?

Answer: We suggest our customers pay through bank transfer (TT) if the amount is over thousands of US dollars,
or through Paypal, Escrow and Western union for small amounts.
♦ How long is the lead time?

Answer: We usually have some products in stock. For some small orders, we can delivery goods in 2 days after payment received.
If the stock is sold out, we need 3 - 5 days to ship small orders, and 5 - 10 days for big orders.
♦ How long can the batteries work?

Answer: We suggest customers use 3 AAA alkaline and rechargeable batteries. They will continuously work 20 hours
on mode FADE and JUMP. On solid colors, 15 hours for Red, Green and Blue colors, 5 hours for White color,
10 hours for other colors. If the brightness is on the second grade,the working time would be 2 times longer,
and on the third grade, working time be 3 times longer... ...
♦ How many lights can I control with one remote controller?

Answer: If you point the IR remote to the black receiver on the lights, you can control all lights in distance of 9 meters.